Fritz Leiber
What you get to see in this book is a collection of author Fritz Leiber's fantasy and science fiction novels, many of which have proven to be very hard to obtain and are finally presented in this collection of his.
Huge Career
Fritz Leiber has had a wonderful writing career that spanned close to 50 years in which he has had the honor of receiving every major award that could belong to fantasy and science fiction writers.
Day Dark, Night Bright Book
Hard to Obtain
If that doesn't speak for itself, we don't know what does. Be sure to check out this book review of Day Dark, Night Bright to see what stories you can expect inside and find out a bit about them and the author as well. You can also learn more about his other work in our Gather, Darkness! book review.
As we mentioned, many of the stories that you get to read in this collection have been hard to find until now. Some of them are obtained by magazines and other publications, but the others are found from long lost manuscripts from the author's personal papers.
Check Price on Amazon
Long-Awaited Gem
What makes this collection so special is the fact that many of these short stories inside have never been seen by anyone before, and for the huge fans of Fritz Leiber, this book is definitely a long-awaited gem. It includes 21 amazing short stories that are all filled with a lot of suspense, thrill, excitement, humor, amazing fantasy adventures, and much more.
Night Passage
A special bonus that you get to find in this short story collection that may actually be the rarest thing you could possibly read by Fritz Leiber is a short story called Night Passage which we will tell you a little bit about it in this Day Dark, Night Bright book review.
In Night Passage, you get to read a straightforward short story by Fritz which is narrated by a simple fellow who spends a night gambling in a casino. The story is something different as it proves to be very simple and quite memorable as well, although seeming like nothing special at all.
Interesting Coin
This guy in the casino spots a woman that he sees something about her that no one else does. What was special about her was that she held a coin that proved most fascinating to the narrator. As a bit of time passes, he approaches this woman and starts a conversation with her, mainly about the coin.
She says that this coin is not that special as they are standing on the edge of Astrological Territory. A lot of hidden meanings will be behind the words that you will see in this story, but it is still a fun to read experience by Fritz.
Fascinating Stories
We can say that the stories you get to read here are truly fascinating and unique as much of Fritz's content is. If you like what we say about them in this book review of Day Dark, Night Bright, then be sure to read all of them for yourself and see if you find them fascinating as well.
And if you do, we have for you two more articles about Fritz's Leiber books. Check out our Smoke Ghost & Other Apparitions book review and Swords Against the Shadowlands book review.
Check Price on Amazon
Author
Books and Authors From the Same Genre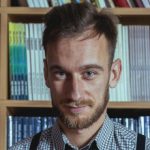 Robert is a science fiction and fantasy geek. (He is also the best looking Ereads writer!) Besides reading and writing, he enjoys sports, cosplay, and good food (don't we all?). Currently works as an accountant (would you believe that?)