Mark Curtis
Author Mark Curtis brings his new book to the public as a way of explaining his thoughts on modern technology and how it is affecting our individual and personal lives.
Many topics and questions are discussed in this book as Mark Curtis has a worry that this technology like the very mobile smartphone that almost every person in the world has might be changing the way we see reality and changing our lives in other ways that will have troublesome effects.
Distraction: Being Human in the Digital Age Book
Important Answers
We explain what you will find out about in this story in our book review of Distraction: Being Human in the Digital Age and help you discover some important answers of your own that might be helpful for you and many around you.
Historian and Journalist
Mark Curtis is a British historian and journalist who has a lot of experience in writing and explaining important topics such as the one in this book in his own words and speaking freely what he has on his mind.
His intentions are never bad in the books he writes as all Mark wants to do is to help the people understand some of the things that he views in this world that could be bad for humankind in general. In this particular story, Curtis talks about the digital age, technology that we use every single day in our everyday lives that is slowly making us forget the bigger picture in life.
Uncomfortable Conclusions
You might see the same as you read the book, the author does draw some uncomfortable but very real conclusion about this topic that is a big part of our lives.
These conclusions are intended to make you better understand what part the technology in our lives plays and that we should use it to better our lives and to become closer, not to steer us away from reality and from each other.
Why We Don't Have Time?
A large number of questions are answered by the author, questions like why people have a huge problem with not having enough time in their lives and why technology isn't a very big help in this area when it should be?
He discusses the question why are our fundamental notions of space and time changing? The book proves as one of the most exciting reads for radical thinkers as it raises certain questions that need answers immediately which will help out the digital era a lot.
Healthy Boundaries
Curtis talks about the boundaries of private and public when it comes to technology like the web, email, social networks, and so on. Are these boundaries clear or are they breaking down as time passes?
Among the things that you read about in this Distraction book review, there are plenty of other topics discussed in the book itself that will definitely be an entertaining read if you enjoy reading about things like the ones mentioned here.
Author
Books and Authors From the Same Genre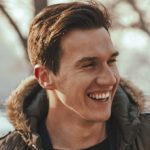 Michael is a graduate of cultural studies and history. He enjoys a good bottle of wine and (surprise, surprise) reading. As a small-town librarian, he is currently relishing the silence and peaceful atmosphere that is prevailing.