Lindsay Buroker
The Dragon Blood book series tells a thrilling fantasy story by Lindsay Buroker about a world in which magic has long been forgotten and their world is much like ours where science and technology prosper in every aspect of life and the ancient creatures and magic users are nothing but myth and legend now.
Dragon Blood
You get to meet a lot of fascinating characters, some of them still have the dragon blood in them and those people are feared by many as they have out of the ordinary abilities which hold so much power to be used for good or evil. This review will make sure that you know exactly what to expect before you decide to read the entire journey in the series.
Dragon Blood Book Series
Colonel Ridge Zirkander
The epic series starts off with this book in which you get to meet a few of the first characters to show up in the story and get to find out what goes on in this amazing world of Dragon Blood.
One of the first characters to appear in the book is Colonel Ridge Zirkander. He is described as a character who isn't very caring for anyone and is not exactly professional with his career or behavior.
Sardelle Terushan
He always says what's on his mind and manages to offend many people but always ends up unaffected as the army needs him because he is the best pilot in the air force. Speaking of being the best, you must check out our review of the best dragon books!
Another character who introduces you to more of the story is Sardelle Terushan who has just woken up from 300 years of sleep in a mage stasis shelter. There are many more characters to meet in the first book of the series and even more as the series goes on.
Check Price on Amazon
Caslin Ahn
The second book of this series introduces you to a few more characters who will be taking you on yet another adventure. This time, one of the main characters in this story is another military person, Lieutenant Caslin Ahn, and she has just joined Wolf Squadron.
Tragedy
Her story immediately follows tragedy as she was shot down and assumed dead by her own people while she was dragged off and taken as a prisoner of war. In the dungeon where she was taken is where the fun in this story happens as she meets another character who will prove very fascinating to all.
Deathmaker
He is her new cellmate, a notorious pirate called Deathmaker. These two have a lot of interesting things to tell each other and you get to read about a thrilling plot to escape this terrible prison together as former enemies.
Check Price on Amazon
Powerful Sorcerer
Sardelle Terushan comes into play in this book again as you get to find out much more about her as a character. Sardelle is a powerful sorcerer and healer but she knows that she should never show this off as magic is strictly forbidden in the land of Iskandia.
Another Complication
Anyone who dares to use magic in this world is either shot down, drowned and simply killed in any way they see fit, you get the idea. There is another problem here as she has fallen in love with Ridge Zirkander and she is putting both her life and his in jeopardy.
Devastating Weapons
An even bigger problem presents as the Cofah military scientists have discovered dragon blood and they now have the resource to create devastating weapons, it's up to Sardelle and Ridge to strike and steal it before something terrible happens that will leave no one in Iskandia safe.
Check Price on Amazon
Extinction
The story continues in this book as more and more secrets about the dragons and their strangely powerful blood are revealed. Everyone in this world has known for a long time that all of the dragons have gone extinct and that none remain, but the Cofah Empire proves otherwise.
Tolemek
They have found at least one dragon that remains and are using the poor creature and its blood to do all sorts of experiments and create weapons. All of Iskandia is concerned with this and is working on the matter but Tolemek, a new character who appears in the series, is only concerned with finding his missing sister.
Check Price on Amazon
Utter Mess
The fifth book of Dragon Blood book series tells you a story that has gotten so much more serious for Ridge and Sardelle as they now can't even show their faces in Iskandia without being shot or arrested. It's all a mess as the King is now missing and a secret organization is hunting sorcerers and killing them off.
Thrilling Story
To make matters worse, the enemy has finally finished creating their deadly dragon blood weapons and are ready to deploy them, there are definitely many problems to be fixed here and this thrilling story will tell you if these characters have what it takes to do this job.
Check Price on Amazon
Astuawilda Kaika
A new fascinating character appears for the first time in this book of the series and her name is Captain Astuawilda Kaika. She is an elite force soldier who loves to go on secret missions of great importance and she is also a demolitions expert.
Important Mission
Her life is about to become a whole lot more complicated after she is assigned on a very important mission that will take place in a research facility that has been overtaken by enemy soldiers. She won't be alone on this dangerous and thrilling mission as King Angulus himself, and General Zirkander will be accompanying her.
Check Price on Amazon
Caslin Is Back
This is the sixth book in this book series, you get to see a lot of old faces from the previous books as Lieutenant Caslin Ahn herself is back but she definitely isn't in a very joyous state.
Responsibility
She feels responsible for the death of her friend and only wants to be left alone. You get to find out that she doesn't feel like she is worthy to be a part of the Wolf Squadron any more but is left without a choice after the King sends her on an important mission with her team.
Check Price on Amazon
Presumed Dead
Soulblade is the seventh book of the series and the book where you get to see even more dangerous situations before our favorite characters. After the events of the previous book, Ridge is now missing and presumed dead by many but Sardelle just refuses to believe this so she goes by herself to search for him.
New Threat
There are many more problems to fix here as well as Sardelle manages to discover a new threat that could mean the end of all of them and Iskandia is also threatened by the Cofah Empire as they are really mad about the loss of their airships.
Check Price on Amazon
A Bit Different
This is a different book than the others in this series as it tells about a few stories that happen between Soulblade and Shattered Past as these stories first appeared only on Lindsay's blog and were so good that were later included in a whole book about the events inside.
Four Stories
Inside are four great short stories that tell you a bit more about the personal lives of the characters and give you a little break of all of the extremely important and serious events that are going on in all of their lives. A little spoiler from us in this Dragon Blood book series review is that you also get to read about a marriage proposal between Ridge and Sardelle.
Check Price on Amazon
Lilah Zirkander
This is the story about professor Lilah Zirkander, a close relative to the famous pilot known as Ridge Zirkander, and you get to read about a fascinating story in which there is a great deal of mystery involved.
Ice Blades
She is excited to spend her summer in the pantheology lab as she gets to research some more fossils, but her plans take a different turn when the King asks of her to go into the Ice Blades, secret mines in which ancient dragon fossils have just turned up. There is much more to these mines and you get to find out all about that for yourself.
Check Price on Amazon
Marriage
The last book of Dragon Blood book series is Oaths, a story in which you finally get to read about Zirkander and Sardelle's marriage as these two famous characters definitely bring some of the most interesting scenes.
Problems to Solve
They believe that this is the perfect time for their wedding as it has been a couple of months since any serious threats have appeared in their lives, but there are still many things that they mustn't forget such as the resident dragon who believes that he is a god and is forcing Ridge to build a temple for him and countless other small details.
Exciting
Be sure to read all of these books if you have found an interest in this fascinating story and find out how these characters end the story as their lives are definitely quite exciting and it's completely understandable why many fans absolutely adore this book series.
Check Price on Amazon
Author
Books and Authors From the Same Genre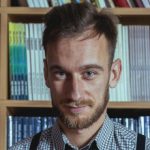 Robert is a science fiction and fantasy geek. (He is also the best looking Ereads writer!) Besides reading and writing, he enjoys sports, cosplay, and good food (don't we all?). Currently works as an accountant (would you believe that?)