George R. Stewart
Earth Abides is a science fiction book written by author George R. Stewart in which he has set the scene as a post-apocalyptic world where everything is way out of control and it will surely make you glad that you are at home reading this book safe and sound.
Isherwood Williams
The story follows the main character, the protagonist named Isherwood Williams as you find out that there is something special about him that might bring the last hope that this post-apocalyptic world has left.
Earth Abides Book
Snake Bite
The story opens with the main character himself, Isherwood, as he is carelessly working on his graduate thesis in geology in the Sierra Nevada mountains while he is suddenly bitten by a rattlesnake. Isherwood finds shelter in a nearby cabin and after a while, he manages to slightly recover from this bite but he is still slipping in and out of consciousness.
It's Only Starting
The bite from the rattlesnake makes him sick with some kind of disease that looks similar to measles. After feeling like he can get back on his feet, Isherwood goes back to town only to discover that his worries have just begun.
Civilization as he knows it has managed to collapse in the time that he was gone. A strange new lethal disease has spread simultaneously all around the globe and is killing people at a very fast rate.
Check Price on Amazon
Unaffected
You can imagine Isherwood's shock when he sees all this from what you can see from this Earth Abides book review and how he would react to finding out that countless people have died and are still dying. At first, Williams doesn't know what to do and how much time he has before it gets to him too, but strangely, he might be immune to this new disease as he seems unaffected for so long.
Anyway, he travels back to his home in California and this massive event has made him realize that until this point, he has been throwing his life away on unimportant things and things that don't make him happy at all.
Emma
So, despite all of the death and suffering that is currently going on in the world, you find out from our book review of Earth Abides that Isherwood decides to start a new chapter in his life even though he is living in a post-apocalyptic world. He meets a girl called Emma who lives nearby and they make a decision to have kids together and act as a married couple.
Two Decades Later
The events that you read in this story by George actually span for many years as you jump twenty-two years after and see a community that is becoming more and more populated. Isherwood and Emma have children and other survivors have decided to join their little town.
You get to read about a newly created society in which everyone uses their own specific set of skills to make sure everyone survives together as a union. They gather what they can from this wretched world, even after electricity starts to fail they still manage to find ways to survive.
Fascinating Ending
Some might not have the same opinion, but we in this book review of Earth Abides believe that the book has a truly fascinating ending as a lot of time passes and Isherwood is now an elderly man who witnesses a truly changed world. If you like this book, you might be interested in our selection of the best post-apocalyptic books.
The people have switched to a more traditional lifestyle where they use tools like bows and arrows for hunting instead of guns that not always work. Every character you meet here starts living in a new world where the old civilization has ended and they now have a second chance of rebuilding it the right way.
Check Price on Amazon
Author
Books and Authors From the Same Genre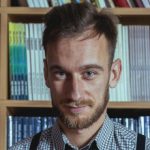 Robert is a science fiction and fantasy geek. (He is also the best looking Ereads writer!) Besides reading and writing, he enjoys sports, cosplay, and good food (don't we all?). Currently works as an accountant (would you believe that?)