Dan Simmons
Flashback is a novel by science fiction author Dan Simmons who brings his readers a great piece of content that describes a world affected by a widely consumed drug called "flashback". Take a look at our selection of the best Dan Simmons books, where you can find out more about the author and his work.
Flashback
This drug that has the ability to make the consumer relive the most beautiful and happiest memories of their lives and that is the reason why many can't seem to break their addiction from it.
Flashback Book
Detective on Drugs
In this fiction story by Dan, you get to read about a special character, a detective who is also affected by this drug and his journey to finding a better way to live than just through the good memories that this drug offers.
Find out about this journey in our book review of Flashback. You can find out more about this brilliant author and his books in our Phases Of Gravity book review.
Check Price on Amazon
Nick Bottom
His name is Nick Bottom and he is now an ex-detective actually because this flashback drug has managed to ruin his life too after he loses his wife in a car accident and his teenage son thanks to a flashback related incident, he too starts using this drug as a way to feel better about the tragedy that he has witnessed in his life.
Thanks to this drug addiction, he manages to lose his job and is now in hard times. His story is not entirely hopeless though as although his soul is mainly under the influence of this drug, Nick is still an excellent detective which is why he is hired to do one more job that might actually prove to have a meaningful connection to this drug.
Widespread Drug Addiction
In the United States, 87% of the current population is under the influence of this drug addiction and most of the country is controlled by Japanese federal advisers. One of these nine federal advisers happens to hire Nick to find out who murdered his son.
His name is Nakamura and while Nick is now investigating this case he finds a disturbing connection between this Japanese man and the death of his wife. As things progress in the book, you find out through this book review of Flashback that events quickly get more complicated as Nick teams up with this billionaire's chief of security,
Hideki Sato
Hideki Sato, who helps him get some good progress with the case. As they follow clue by clue, their investigation leads them straight to Santa Fe that is now ruled by Mexican armies which are controlled by drug cartels.  After some events there, their path takes them to Los Angeles where Nick's world is about to turn around once more.
He finds out that his 16-year-old son is there together with his 74-year-old father, both alive. Nick discovers that his drug-addicted son is about to be drafted in the poorly paid and poorly trained United States Army. The bad thing about this is that this army is used as a mercenary to die for the richer nations.
Thrilling
Will Nick find a way to save his family and put a stop to this drug once and for all? You can find out all about that as you read the book for yourself after seeing what you can expect from our Flashback book review.
Check Price on Amazon
Author
Books and Authors From the Same Genre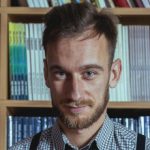 Robert is a science fiction and fantasy geek. (He is also the best looking Ereads writer!) Besides reading and writing, he enjoys sports, cosplay, and good food (don't we all?). Currently works as an accountant (would you believe that?)