Bio
Author Melissa Scott was born on the 7th of August, 1960, in Little Rock, Arkansas, United States of America. Scott is an American sci-fi and fantasy writer known primarily for her science fiction stories whereby a multitude of LGBT characters are prominent.
Life
Scott, herself, studied history at Harvard College and Brandeis University. Her PhD. Was acquired in the field of comparative history. Her very first novel was published in 1984. She has since then written and published more than twenty sci-fi and fantasy works. Three of these works were even co-authored with her own partner Lisa A. Barnett.
Best Melissa Scott Books
Career and Writing Style
Scott's work, like we mentioned, is known for her incorporation of LGBT characters. The usage of such characters isn't anything 'in your face' or something that sticks out, but something that adds to the story, instead of being a primary focus or a debilitating factor.
Her settings are also masterfully constructed. Scott was awarded the John W. Campbell Award for Best New Writer in Science Fiction in 1986, and has also won a number of Lambda Literary Awards.
Life
Additionally, while Scott is primarily focused on the art of writing, she also does a bit of teaching on writing. She lived with her partner, fellow author Lisa A. Barnett, in Portsmouth, New Hampshire for more than twenty-five years, before the untimely death of Lisa. Now, we can take a look at the best books by Melissa Scott.
Short Series
The Julian Lynes and New Mathey series is one of the plenty that Scott has written. It is one of her shorter, though, as it only has two books in its composition. If we made this list of Scott's books ranked, it would be definitely among the top ones. The books are:
Death by Silver, published in 2013.
A Death at the Dionysus Club, published in 2014.
Ned Mathey and Edgar Nevett
In Scott's Death by Silver, we have Ned Mathey. Ned is a metaphysician. Ned isn't a renowned person in his field, so he really needs work. So, when a certain Mr. Edgar Nevett comes asking him to check whether his home is cursed because of some silver, Ned can't refuse.
We soon learn that Edgar is the father of Victor Nevett, someone that bullied Ned in his school days. Edgar is, however, soon murdered, and Ned can't do anything but enlist the help from old friend Julian Lynes.
Tragic Memories
Their memories of the abuse they experienced in their school days is a genuinely tragic one to read, even though details aren't abundant. That might be the magical factor in Scott's writing: she lets us imagine the pains and sorrows they were subject to.
It is no secret that the duo are homosexuals, but romance isn't present in the way that one might be led to think. They don't even speak about their relationship openly.
Solemn Tone
The book's tone is a wholly solemn one, lacking any impulsive conflicts, and it makes for the story to be an effective one. The characters are ones that bleed into reality, truthfully.
The books are some of the most popular Melissa Scott books that feature very memorable, tragic, yet loveable characters. As such, this series is probably the one that comes to mind first when speaking of Melissa Scott's best books.
Trilogy
One of the best Scott series called Roads of Heaven features some of the oldest books that the author has written. The three books that consist of the series are the following:
Five-Twelfths of Heaven, published in 1985.
Silence in Solitude, published in 1986.
Empress of Earth, published in 1987.
These best-rated books are singularly fascinating and make for a highly enjoyable sci-fi and fantasy mashup. The trademark writing style, characterization, and the awesome world-building that Scott is famous for, make for one of the greatest trilogies in the sci-fi/fantasy joined genre.
Silence
The world where our protagonist, the heroine Silence, lives is a wholly hostile, antagonistic one. The belligerent attitude towards the female portion of the population is an important part of the trilogy, especially in the first one.
Silence is, in fact, the very first female magus. While to become a magus, you don't exactly have to be born one – not in the same way that a wizard in the 'Harry Potter' universe is chosen –, but you become one by way of being taught. Truly one of the top Melissa Scott books.
Ideal Number
Dreamships is one of the best book series by Scott that also consists of only two books. One could make an assumption that if she were to write ten or twenty-book series that they might become subject to diminishing returns. The two books that Dreamships consists of are these two:
Dreamships, published in 1992.
Dreaming Metal, published in 1997.
Amazing Science Fiction Universe
This series features a distinctly hyper-realistic, engaging, even entrancing, science fiction universe. From the start, we see that Scott isn't going to fall into some of the rabbit holes that similar writers are liable to. Things aren't just perfect as in a utopia, nor are they appalling as in a dystopia. Instead, they are of their own character.
Brewing Tension
There is a class system and brewing tensions between races, there are arguments of moral character against AI, there are even subtle intricacies that add to the beautifully painted story of Scott: formalities, food and cuisine, groups, entertainment.
The special sort of worldbuilding that we know Scott for is ever-present here. The futuristic world is a realistic, worthwhile, entertaining treat to read about and makes the novel Melissa Scott's best book for many of her fans.
Diverse Characters
Even though Melissa's characters are extremely diverse, they never fall into stereotypical caricatures or bland attempts at diversity. Instead, they all have their own voice. The juxtaposition between Jian's non- sexualization and the fact that she doesn't try to undermine any form of sexuality in her thoughts makes for a genuinely complex character. These two books are doubtlessly among the best-selling books by Melissa Scott, to date.
Recent Series
One of the most recent series in our best Melissa Scott book reviews, The Order of the Air, is comprised of five novels. As such, it is one of her longest, but it isn't something that undermines the efforts of Scott. The series boasts the following books:
Lost Things, published in 2012.
Steel Blues, published in 2013.
Silver Bullet, published in 2013.
Wind Raker, published in 2015.
Oath Bound, published in 2015.
Between the Wars
The story starts out as we learn that World War One has just recently come to an end, while the time for the second World War has not yet come. From the start, we feel a grievous, even melancholic air around the characters knowing what they, sadly, yet don't. We learn of their experiences during the Great War.
Forty-two-year old Alma, during the war, was an ambulance driver, while now she's a pilot. For everyone that is interested in the technology of flying during this period of time will doubtless enjoy the intricacies that Scott wonderfully explains. It is clear, from the start, that her research was extensive.
Characters
Then we have Louis Segura, a pilot like Alma, who in the second book has married Alma. Mitch is a wartime ace, yet another pilot, though he bears wounds from the Great War.
Jerry, however, isn't a pilot, but an archeologist; an archeologist that lacks a large portion of his leg because of reasons already explained. The characters are also a part of a small group of magicians that are attempting to save the world, in the miniscule ways that they can.
Ambitious
We see Scott's writing as it is some of the most ambitious that she's attempted. We have a demonic entity in the first book along with a tremendous crash of a sizeable airship, then an air-race from coast to coast, and we see inventor Nikola Tesla and his experiments. The final two books are even more intriguing and some of the best Melissa Scott books, if such a thing is possible.
Standalone Novel
Trouble and her Friends is the only standalone book and one of the best Scott novels that we're taking a look at today. It was published in 1995.
Our main character in this book is Trouble. Trouble, as her name might imply, is going to get in trouble. Trouble is an infamous 'cracker'. A 'cracker' isn't something edible, but a futuristic representation of a hacker.
Dystopian United States
Details abound in Scott's story, as we learn that users of the web are able to experience being online via virtual reality, and they can even smell colors. The story is set in a dystopian version of the United States, where the environment isn't at its highest point. Beaches aren't recommended as they are rather toxic, 'cracking' is illegal. Trouble, in an attempt to protect her own wellbeing, vanishes.
Sci-Fi Mystery Thriller
A flaw we immediately notice in Trouble, which makes her more relatable, is the fact that she has an ego. Someone starts using her name and Trouble is out of hiding trying to get things back.
While the story's description might make it seem complicated, it's very readable. A proper mystery thriller that happens in a troubling time of the future. Some of the best Melissa Scott books are Astreaint – which she cowrote with Lisa – and Stargate Atlantis.
Author
Books and Authors From the Same Genre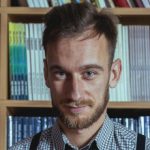 Robert is a science fiction and fantasy geek. (He is also the best looking Ereads writer!) Besides reading and writing, he enjoys sports, cosplay, and good food (don't we all?). Currently works as an accountant (would you believe that?)