Rudy Rucker
Rudy Rucker, the author of this novel, is one of the first founders of the cyberpunk writing genre. As well as being an astonishing fiction writer, Rudy is also a great mathematician and a skilled computer scientist.
You might have heard of his name from his most famous work yet, the Tetralogy called Ware.
The Sex Sphere Book
Cyberpunk Founder
His science fiction books have proven to be among the best a science fiction fan can learn to love as they include all of the things that make a great science fiction story, such as the most unique and mysterious characters, advanced technologies, other weird and alien words, devastating plots of great destruction, and many thrilling adventures that can just kill from the suspense. Currently, Rudy Rucker is the editor of the science fiction webzine Flurb.
Check Price on Amazon
Phenomenal Story
This book review of The Sex Sphere offers you a short look at what this novel talks about and what the general plot of it is that has had a wide range of positive feedback from Rudy's fans. If you are one of them, you must take a look at our selection of the best Rudy Rucker books!
Rucker opens this phenomenal and very erotic story with a thorough explanation of the Fourth Dimension, what it is, how it works. Don't worry, it will make sense why he does this as you read further in the book and our The Sex Sphere book review.
Kidnapping
Now, the plot is the following. After reading about the Fourth Dimension, you read about a disaffected young physicist, Alwin, as he is simply on a vacation with his wife in Florence. 
Everything is going great, until Alwin is kidnapped, carefully, by a group of terrorists who have planned this out thoroughly and know what they are doing and that Alwin is going to be a key component in their plan. The story of these mysterious terrorists couldn't be any weirder as they are planning to build a terrible bomb, capable of causing so much harm which they need Alwin for to help them in its construction.
The Sex Sphere
That's not even the weirdest thing about them, it's that they have captured and trapped a four-dimensional creature of hyper-matter that resembles the shape of a very attractive naked woman and is referred to as The Sex Sphere thanks to her ability to release pheromones that can blind anyone with strong feelings of love, passion, and desire.
This Spherical Naked woman has taken this shape because of her understanding that these human lifeforms can be used to do anything for something that they desire. She simply wants to gather power and after that, return to her home which is the Fourth Dimension.
Dangerous Adventures
This is why Rudy mentioned some facts about this Dimension so that it would be much clearer as you read the book as well as this The Sex Sphere book review. We also covered another book written by Rucker, check out our Spacetime Donuts book review!
For the purpose of not giving out all of the juicy spoilers, you get to read on from here and discover what this book holds further, the erotic scenes that follow, the dangerous adventures, and find out whether this fourth-dimensional creature gets to return back home.
Check Price on Amazon
Author
Books and Authors From the Same Genre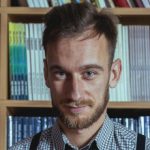 Robert is a science fiction and fantasy geek. (He is also the best looking Ereads writer!) Besides reading and writing, he enjoys sports, cosplay, and good food (don't we all?). Currently works as an accountant (would you believe that?)