Harlan Ellison
This is another one of Harlan Ellison's popular and well-desired short story collections. Among writing fascinating novellas, essays, poems, even teleplays that many of which have won him various awards like the Hugo and Nebula Awards.
Harlan is also, if not most popular, for his amazing short stories. We had no other option than to include this book among the 5 best Harlan Ellison books in our article.
Strange Wine Book
All Kinds of Genres
His stories range in a variety of genres and are all unique and very relaxing to read as he does not make them intensely complicated for a short story.
You will see exactly what we are talking about in this book review of Strange Wine and get to know Harlan Ellison and his work a little better so that you know what to expect if you haven't read anything from the author before.
Check Price on Amazon
Mix of Everything
The stories in this short story collection visit many genres such as science fiction, fantasy, horror, occult fiction, and similar. It's perfect for readers that prefer one genre over another as they are not overly exaggerated and present a great read even if you are not a fan of horror or science fiction.
Recognition from Stephen King
Harlan definitely makes you become interested in the story as it is pretty interesting from the beginning and as short stories people know that they don't take away too much time. Many of the stories here are horror stories, and the master of horror writing himself, Stephen King, has described this book as one of the best horror short story collections of the period between 1950 and 1980.
Croatoan
It has quite a few stories actually which we won't mention all of them in this Strange Wine book review, as we don't want to give out too many spoilers, but describing a few is definitely needed. For example, there is Croatoan, a short story that was published in The Magazine of Fantasy and Science Fiction in 1975 by Harlan and it talks about a man named Gabe who is forced by his girlfriend to go into the sewers of New York City and dispose of her aborted baby.
Very Disturbing
Gabe does this and when he enters the sewers, he finds something very disturbing, the word Croatoan, written on a wall near the entrance of the sewers. That's not even the most disturbing thing that Gabe found there, he witnessed the sewers being filled with fetuses that resemble the appearance of crocodiles. The mystery of this story is sure to get you interested in it very quickly and in many of the others, for that matter.
Many More
Other stories in this collection by Harlan include From A to Z, in the Chocolate Alphabet which is actually a pretty cool short story collection that is, ironically, inside another collection, and it tells very fun to read and interesting short stories about each letter of the alphabet.
Must-Read
It's definitely a very interesting read that shows you how fun to read something by Harlan can be. There are many other short stories that we won't spoil for you in this book review of Strange Wine and you can read about them yourself and experience the excitement of Harlan's writing.
Check Price on Amazon
Author
Books and Authors From the Same Genre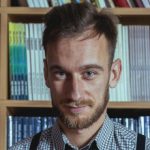 Robert is a science fiction and fantasy geek. (He is also the best looking Ereads writer!) Besides reading and writing, he enjoys sports, cosplay, and good food (don't we all?). Currently works as an accountant (would you believe that?)