Julie Garwood
Authoress Julie Garwood was born in 1944, in Kansas City, Missouri, United States of America. Julie is a well-known American author of more than twenty-five books.
Garwood frequents a few genres, and they are the following – young adult fiction, romance novels, historical, and suspense books. Thus far, Garwood has sold more than 35,000,000 copies of her novels, with twenty-four of them being dubbed as New York Times bestsellers.
The Bride Book
Childhood
As we mentioned, Garwood was born and raised in Kansas City, Missouri. She was the sixth child of seven, in a sizeable Irish family. Garwood had one brother, Tom, and five sisters, Sharon, Kathleen, Joanne, Mary, and Marilyn. While only a six-year-old, Julie had a tonsillectomy, with her missing quite a bit of school time because of this.
In fact, Garwood's mother didn't come upon the realization that Julie can't read until she was already eleven-years-old. One of Julie's teachers, Elizabeth, spent the whole summer with her getting Julie to learn how to read. Because of this graceful act, Julie named one of her children Elizabeth.
Check Price on Amazon
An Odd Segue in Writing
The first books of Garwood came up when she was persuaded by a professor to try her hand in novel writing. She'd been taking pursuing her double major in history and nursing at the time – in fact, this came up by happenstance, as Garwood wanted to be an R. N., but while taking a history of Russia course, her interest had been piqued, and the rest is history.
Garwood married Gerry Garwood at a pretty young age, and the two have had three children thus far. They are daughter Elizabeth, and two sons Gerry Jr. and Bryan Michael. At the present moment, the family lives in Leawood, Kansas. With that said, we can now give our book review.
Lairds' Fiancées Series
This book is, without a doubt, amongst the best novels that have been penned by Julie Garwood. It is a part of her equally brilliant series Lairds' Fiancées; it's the first book in the series. On a side note, the series consists of only one more book, The Wedding, but it is just so wonderful. It was published in the year of 1989. You can also find it in our selection of the best medieval romance books.
What the Story Entails for the Reader
The story of The Bride book is set during the medieval times, namely in Scotland. The main character of Jamie, the youngest daughter of Baron Jamison. Jamie is English and is going about her time being the most beautiful person that you've probably ever set your eyes on. The point really can't be overstated; she's just that beautiful.
Well, the day is a pretty normal one except for one very important point. Jamie's father had neglected the law for paying the taxes, so his penalty is to give up one of his daughters for marriage.
Lords of Scotland
The two lords of Scotland are granted the right to make their own choices, and it just so happens that one of them, Alec Kincaid, chooses Jamie by virtue of her inexplicable and markedly astonishing beauty. The edict of the King is something that can't be overlooked or ignored, so Jamie has no other choice but to go with Alec to his castle.
Check Price on Amazon
Alec Kincaid, from the very first moment that he lays his highlander eyes upon the proud, endlessly attractive English girl, is moonstruck and a fire is set aflame inside of him. The bold, valiant soul of his has finally found a woman that is worthy of being his bride. Alec feels his body cramp up with the inexpressible need and craving to have Jamie all for himself.
A Promise Against Bowing Down
However, when they are to take their wedding vows, Jamie mumbles her very own oath, though no one outside of earshot is capable of hearing her covert words. Jamie vows to never give her love to the barbarian beside her.
All of her life Jamie had been warned and advised against the kind of Alec, the Highlanders. He, insofar as Jamie is able to perceive and deduce, is nothing more than an arrogant, menacing brute. An arrogant, menacing brute that also kindles the passion inside of her, the passion that courses through her blood.
Peculiar Events
With the passing of days, Jamie begins noticing a peculiar set of events and incidents that have come to happen. Jamie has also observed a rumor from the people that Alec Kincaid took the life of his first wife, and this olden rumor is gaining traction once more.
However, with time we learn that Alec's first wife wasn't befallen by his mighty blade, but by her own hands. She took her own life rather shortly upon their marriage's consummation. With this point of his past, Alec has struggled.
Instant Interest
When he first meets Jamie, though instantly interested in her, he regards her only as a wife, and doesn't think that she will be bothersome to him. However, Jamie in the sassily brave, sweetly naïve manner that she espouses shows Alec that if he wants her as a wife, he'll have to make an effort.
The two of them make such a loveable couple. Their romance would jump out of the pages if the laws of physics allowed such a thing, but the laws of the heart do, and they do.
Recommendation
The Wedding which is the second book of The Lairds' Fiancées is a treat to read, too. It isn't a sequel, but is brilliant in its own way – if our The Bride book review has you interested, it's sure to satisfy. Additionally, Garwood's Saving Grace book or The Prize book can be taken up, too.
Check Price on Amazon
Author
Books and Authors From the Same Genre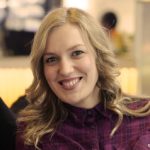 Alissa is an avid reader, blogger, and wannabe writer. (She's a much better cook than a writer actually). Alissa is married, has one human, one feline, and two canine kids. She always looks a mess and never meets a deadline.