Kristen Callihan
Writer Kristen Callihan is amazing at her job. In her very own opinion, Kristen is a novelist because there exists not a job in the world that she would prefer to writing. The superb authoress' devotion to her craft can be seen by her many accolades.
Achievements
Callihan has been atop the USA Today, Wall Street Journal, and NYT bestseller lists. She has been the recipient of the Romance Writer of America's RITA award, has won the RT Reviewer's Choice awards twice, and been nominated thrice. And, the RT Magazine's Seal of Excellence was awarded to Callihan for her first novel.
The Hook Up Book
Keeping to Herself
Kristen Callihan isn't a writer who likes her information being all over the Internet, seeing as the particulars of her life aren't available, though we do know what Callihan loves doing when she isn't writing her next bestseller. Callihan loves reading whenever she isn't invested in writing. Now, we can proceed to our book review of Hook Up.
Check Price on Amazon
Game On Series
This book is very much worthy of being mentioned whenever the best novels of Kristen Callihan are the topic of discussion. This book is a part of the Game On series that Callihan adores and which is composed of five novels. It was published in the year of 2014. It can be also found on our list of the best college romance books. 
Creative and Inventive
The Hook Up book is justified in its lofty position among the works of Callihan seeing as it offers a potent point in its storyline, a beautifully told story, a smoothly paced plot, character that drive the novel instead of the novel being driven or dragged on by them, and an idea that cannot be described as anything below creative or inventive.
It is the type of novel that stays with the reader and one that will ask of the reader to think about it, to ruminate, and to brood. A wholly gripping volume is what Callihan has penned and without further ado let us meet the main characters.
Anna Jones
Anna Jones is one-half protagonists. At the present moment, Anna is trying to get to class in a rushed manner seeing as she came in a tad late than what is to be expected. As she takes her seat, she soon sees that one of the jocks, the extremely popular, as attractive as hell Drew Baylor has chosen to take the seat next to her. As college students are wont to be, the two awkwardly share a glance.
A Single Glare's Power Over Us
This glance, though, is not based in just the half-smile and short nod movements, but in complete absorption. Anna's eyes quickly dart back towards the ground and then towards the teacher while Drew's stare perpetually at Anna.
Anna notes that Drew isn't trying any funny business, but is actually drawn into the moment, though she tries to not pay attention. Though Anna tries to act cool, she does sense something building up in her that she isn't used to. She feels inclined to embrace Drew and be completely loose in the moment, entranced and free. That is, she felt all these things prior to Drew's first words that he imparts to Anna. As he is still staring at her, Drew utters Big Red to Anna.
Check Price on Amazon
Verbal Onslaught
Now, Anna is a curvaceous person and her hair is a bright red, but she is certainly not going to sit there and just have someone refer to her as something as immature, ignorant, and moronic as Big Red. One verbal onslaught later and Anna is certain that she doesn't want anything to do with him.
Besides, Drew is the complete opposite of the kind of guys that Anna usually likes. She is more interested in people that are emotionally charged, wordsmiths, and poetic enthusiasts, not jocks that can't keep their minds to themselves.
However, in spite of all this, Anna finds herself thinking about Drew all the time. If it so happens that Drew is in her general proximity, Anna instantly becomes flustered and tense. Noting this, Anna tries to keep away from Drew at all times and at all costs.
Getting What You Need
Drew, on the one hand, is drawn to Anna and he doesn't just stop trying to get her because she seems to be avoiding him. On the other hand, Drew is accustomed to being the most sought after person at school and has never been one to make an effort for others, but this is completely different.
He wants to have Anna, he needs to have Anna, and he's prepared to do whatever it takes. With time, he seems to have worn Anna down, and the two ease into letting themselves go as they come together in a passionate, fervent, and powerful embrace. After having had their first encounter, they are both sure that nothing will measure up to such a thing.
Ground Rules
Anna is however still petrified from the chance of being in the limelight. She knows how popular Drew is and what it could mean for her and she really doesn't want to be at the forefront of gossip.
Because of this, the two of them set up a few ground rules for their affair of sorts. They are not to kiss each other on the lips, there is no sleeping over, no one can know about them, and most importantly no falling head over heels for one another.
Following the Rules
Now, the question remains how are they going to go about following the rules when both of them are on a collision course with breaking the last one, even before they've agreed to the setup? The Game On series of Callihan has more stories to tell, but so do the other novels in the oeuvre of Callihan.
Check Price on Amazon
Author
Books and Authors From the Same Genre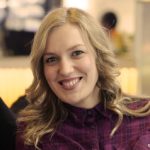 Alissa is an avid reader, blogger, and wannabe writer. (She's a much better cook than a writer actually). Alissa is married, has one human, one feline, and two canine kids. She always looks a mess and never meets a deadline.