Cormac McCarthy
The Road is a book that describes the events of a post-apocalyptic world where the reason for the state of the world is not explained and yet the novel manages to paint a clear picture of how hard a time to live in it truly is. The story is written by author Cormac McCarthy and published in 2006.
Only Two Characters
The whole plot revolves around two characters, a boy and his father who both remain unnamed which is kind of a downer but the book still manages to describe their current lives as they wander around through this truly devastating world.
Find out what they must do to survive and what events take place further into the novel as you read this book review of The Road. For more information about the book, take a look at our selection of the best Cormac McCarthy books.
The Road Book
Death and Destruction
The whole story describes a plot in which this boy and his father never stick in one place as they have a mission to reach a place where they aren't even sure what they will find or what awaits them there, but there certainly isn't anything better where they currently are, in the middle of nowhere, in ruins filled with death and destruction and where nothing but tragedy and misery is present.
Check Price on Amazon
Journey to the Coast
They make their journey through the devastated post-apocalyptic world through the southeastern United States and their destination is the coast where, as we mentioned in our book review of The Road earlier, there might not be anything better waiting for them either. If you are looking for more similar books, you must take a look at our review of the best post-apocalyptic books.
Not Much Hope of Survival
The land on which these two must travel is super cold where the rocks brake at only one touch, the snow that falls from the dark sky is gray and disgusting to look at. Nothing is as it was as this new world hardly offers these two characters any hope of survival.
All that they have to survive and give them hope is the clothes that they wear, the one gun that they have which does help in defending against bandits and others looking to survive, and the company of each other which might be the best thing they can have in times like those.
Good Guys
They are actually the only two "free" characters that you get to meet in this book who are not driven to murder, rape, or cannibalism. The things that they have to face on their journey are things that can definitely mess with the mind such as rotten corpses, devastated towns with burnt houses and dead people at every corner.
It's not just the things that they see which make this journey a hard one, it's the things that often try to steal from them or even kill them for food. The father tries desperately to keep both himself and his son safe from vicious murderers and broken and psychotic people.
More Tragedy
You find out later that this story has even more tragedies following, we don't want to spoil how the story ends, but it is definitely a story that might even bring you to tears as one of them has a worse future waiting than the other, the important thing is that they do make it to their destination.
No matter if you are a fan of post-apocalyptic fiction stories like this one or not, this book is simply packed with everything that is needed for the reader to have a truly wonderful time reading it.
Heartbreaking
In the end, it proves as the perfect but heartbreaking end to the story that might make you drop a few tears as well. Definitely give this book a read if you enjoyed what you saw in this The Road book review.
Check Price on Amazon
Author
Books and Authors From the Same Genre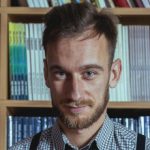 Robert is a science fiction and fantasy geek. (He is also the best looking Ereads writer!) Besides reading and writing, he enjoys sports, cosplay, and good food (don't we all?). Currently works as an accountant (would you believe that?)