King Of Horror
American author Robert McCammon is one of the most influential names to come out of the horror literature boom from the 1970s to the 1990s. He has had three books on the New York Times best-sellers list and won multiple literary awards for his work. But let me backtrack a little and give you a background on this prolific author.
McCammon was born in Birmingham, Alabama, and still resides there to this day with his family. He studied Journalism at the University of Alabama, and so began his career in writing. McCammon is one of those rare authors that actually retired some of his earlier works. He said he did it not because he disliked them, but rather because he feels they don't meet the standards of his later works.
Changing It Up
While McCammon is most well-known for his works in the horror fiction genre, he has since moved away from it. In 1991, he decided to try his hand at fantasy and historical fiction novels. He produced the book, Boy's Life, which won an award and was highly praised. McCammon wanted to try out historical fiction, because it is something he was always interested in.
This is how one of Richard McCammon's most popular series of books was born. The Matthew Corbett series is set in the early 1700s and follows the magistrate's clerk as he unravels the mysteries surrounding colonial America. This is only one of many best books by Robert McCammon, so stick around!
---
Best Robert McCammon Books
---
Wasteland
Of course, the first book I review of McCammon's has to be one of his famous horrors! This one is about an ancient evil that roams America's landscape, now desolate after it was ravaged during a nuclear war. This evil is known as the Man with the Scarlet Eye, and he feeds on the dark desires of his followers.
His only purpose is to find a child named Swan, for she is special, and a threat to His existence. He must destroy her. But there are those that protect the girl getting in the way, determined to fight for what is left of their destroyed world. It is now a wasteland of survivors, filled with rage, monstrous creatures, pillaging armies, and those that are fighting for their souls.
Good VS Evil
There is a battle between good and evil in this story, the outcome of which will decide the fate of humanity. It's a single girl against the world, but luckily, there are people who are willing to fight with her. This is a dark post-apocalyptic novel with scenes that will scare the life out of you.
There were so many elements to this top Robert McCammon book that I loved! The characters were amazing and I especially loved Swan and Josh. There was also a bit of a fantasy aspect in this novel with the manifestations of good and evil, which was a cool twist. But make no mistake, this is definitely a horror; some scenes had me sleeping with the bedside light on!
---
Child's Mind
In 1964, the people of Zephyr, Alabama either work for the local dairy or the paper mill. Life may be simple, but the imagination of twelve-year-old Cory Mackenson, an aspiring writer, is very impressionable. He swears he's heard whispering spirits in the churchyard and seen bootleggers lurking outside of town. Cory finds it all exciting, as only one of his age can.
While accompanying his father on his milk route one morning, Cory sees a car ramp off the road and land in the lake. Cory's father dives into the lake to rescue the driver, only to find a naked corpse, beaten and handcuffed to the steering wheel. Over time, the townsfolk seem to forget all about it, but Cory can't, and neither can his father.
A Chaotic Journey
This father and son go on a journey searching for the truth, and they end up right in the middle of where good and evil collide. As Cory learns more about the town of Zephyr and the mysteries surrounding it, he discovers that childish things quickly lose their shine, but growing up is a beautiful and chaotic ride.
This is one of the best books by Robert McCammon EVER, and absolutely one that you should be hastily adding to your list. It's difficult to put into words what this book made me feel, but it was so many things. On the surface, it is a murder mystery, but it's actually so much more. Five-hundred-star rating from me!
---
At The Stake
This is the best book series of Robert McCammon that I mentioned at the beginning of this article. There are eight books so far (I can only hope there will be more), but I will just review my two favorites. Of course, I have to start with the first book, Speak the Nightbird, because that's where the whole story starts.
In 1699, the citizens of Fount Royal believe that a young witch, Rachel Howarth, is the cause of all their tragedies, and demand that she be executed for witchcraft. Presiding over the matter is magistrate Woodward, along with his young clerk, Matthew Corbett. Corbett is convinced of Rachel's innocence and begins his own investigation.
Has It All
Book three is called Mister Slaughter and sees Corbett in Colonial America in 1702. He is now a "problem solver" for an agency and has just accepted the most unusual commission. He and his colleague have to escort a notorious mass murderer to the docks of New York. What Corbett doesn't expect, is for the killer to make a surprisingly tempting offer.
I would recommend that you read the books in this Robert McCammon series in order, as they follow a continuous timeline. Any fan of historical fiction and mystery novels will absolutely love this series! I don't have enough words to explain how good it is. It has everything: romance, mystery, horror, and adventure.
---
Vampire Army
Here we have a classic vampire story dripping in 80s horror. And no, these vampires are nothing like the ones we are familiar with today (I'm looking at you, Twilight). The vampires in this story are scary and evil and want to kill all of humanity. These vampires are definitely leaning more toward Dracula than Edward Cullen.
Prince Vulcan, the ancient leader of the vampires, and his followers have invaded Los Angeles; the first step in their plan to conquer the world. These vampires are on a mission, trying to turn every human into a vampire so they can build an army. On top of this, a serial killer known only as The Roach is strangling prostitutes.
Evil Awaits
Homicide detective Andy Palatazin is losing sleep over The Roach. He is working day and night to catch the person committing these murders all across the city. But what Andy doesn't realize, is that The Roach may be the least of his problems. There is something more sinister and evil hiding in the shadows.
Robert McCammon did the best job at bringing us a good old, scary vampire novel. It was so clever how he blended the modern (at that time) city of L.A. with the ancient twist of a dark castle. The story is so crazy and colorful that it almost reads like a movie. I highly recommend this one to any horror fans!
---
Wolf-Man
Another one of the best series by Robert McCammon, and this one has such a cool concept that totally caught my interest when I read the synopsis and reviews for this book. Michael Gallatin is a master spy – but he is also so much more. You see, Gallatin is also a werewolf. Crazy, right?
He is able to change shape in the blink of an eye, kill silently, and snarl with fury. He has faced many dangerous missions throughout his life, but he is about to face the most dangerous one of all: Gallatin has to uncover the secret Nazi plan known as Iron Fist. You can find out how he does it in The Wolf's Hour.
Background Stories
The second book in this best-selling Robert McCammon series is called The Hunter from the Woods. This one is a collection of stories about Michael Gallatin's life and fills any holes or questions you may have from the first novel. You will learn about Gallatin's early life in Russia and how he was recruited for the British Secret Service.
These collections have a little bit of everything, but more than anything else, it gives us a fantastic and imaginative story. It's erotic and tragic and horrifying and warm. I really enjoyed getting a bit more of an inside look into the life of our hero in this story. I adored the character because he is so complex.
---
On The Run
This highly-ranked Robert McCammon book is the perfect road trip read. The story is told from two perspectives. The first is Dan, a Vietnam war veteran who is suffering from the lingering effects of Agent Orange. He has lost everything: his home, his son, his wife, and his life. On his way to the loan bank as a last-ditch effort, Dan gets into a scuffle with a loan officer, who is killed.
Dan flees the scene, on the run from the law with a price on his head for murder. Heading towards the Louisiana bayou, Dan meets Arden, a woman with a purple birthmark on her face. Arden is looking for a legendary faith healer and Dan is the perfect person to help her find The Bright Girl.
Comedy Duo
Hot on Dan and Arden's tails are bounty hunter Flint Murtaugh, a Siamese twin, and his hunter in training, Pelvis Eisley, an Elvis impersonator. These two are like chalk and cheese, but they provide a lot of comic relief for the book, although not in a silly way. Their characters are also so well developed that at times I couldn't decide who to root for.
A very enjoyable book, this one has a super weird synopsis, but I think that's why it is so good. Robert McCammon did what he does best with this novel, and I promise you that when you finish it, you will never forget it!
---
A Mother's Love
When you finish reading this Robert McCammon book, you're going to be like, "what the hell did I just read?" – and that's why it is one of his best! Any parent will tell you that their worst fear is losing their child – and that can potentially happen in many ways. In this story, a child is kidnapped.
It's the 1980s and a heavily armed radical kidnaps a baby with the deluded hope that it will take her back to the simpler times in life. Of course, no mother is just going to take that lying down. The baby's mother teams up with a tracker and they begin a chase across the country, determined to get the child back.
Action And Horror In One
Prepare yourself, because this one is packed to the brim with action! Out of control violence, sex, drugs, you name it, this book has got it! You will be on the edge of your seat for this thrill ride. The reason why this story works so well, though, is because it's fairly believable.
Robert McCammon made this one of his top books by seamlessly weaving elements of horror into the story, which just makes it all the more terrifying (but in a good way). Any horror fans would definitely enjoy this book too, so do yourself a favor and give it a read!
---
E.T.
This entire story takes place within a twenty-four-hour period. The setting: Inferno, Texas. It's a town that's in a bad way; they have been driven to their ending by gang violence, racial tensions, and the economy collapsing. You would think things can't get much worse – except they can.
Robert McCammon does what he is best known for in this book and throws in an element that is completely unexpected: an unidentified spacecraft crash lands just outside of Inferno, in the desert. Didn't see that one coming, did you? A second spacecraft lands, and in it is the alien they come to know as Stinger.
It's The End Of The World
Stinger is on Earth because he has a mission to complete, and he will do so no matter the cost. But what he brings with him is the fascinating part. There's an endless amount of technology that the human race has never seen before. The kind of technology that could cause mass destruction and threaten the existence of Inferno.
But it's not just Inferno that is at risk; the whole world is too. This best-rated book by Robert McCammon is like a blend of all your favorite extraterrestrial movies or TV shows. It was honestly such a good read; I couldn't put it down! Make no mistake, it's definitely a horror, but you'll still have fun reading it.
---
Short Stories
If you are looking for the perfect Halloween read, then look no further than this book containing a collection of Robert McCammon's top stories! It contains some of his shorter works that he wrote in the 80s, plus the novella Blue World, which comes right at the end. You'll love them all.
There were some stories I loved more than others, but my favorites were: Yellowjacket Summer, which is a wrong turn kind of story; Makeup, about a thief stealing the make-up kit of a horror film star; and Chico, about a special child who gets revenge on his mother's boyfriend.
The Novella
Blue World is a highlight of this collection. It is about a Catholic priest who falls in love with a porn star. But the porn star is being stalked by a serial killer. I know the concept sounds crazy, but the story is really good! It's an interesting "will he or won't he" type of book.
The nice thing about this book being all short stories is that you don't have to read the whole thing in one go. You can read one or two in between some of your other books if you feel like shaking things up a bit. This might actually be the best book to introduce you to McCammon's writing, as it gives you a taste of what his other works are like!
---
Alien Race
Rounding up this article of the best novels by Robert McCammon we have The Border, which is actually one of his latest books, having been released in 2015. It's very much a post-apocalyptic tale, where two alien civilizations at war have destroyed the Earth.
But it is more than the Gorgons and the Cyphers that are endangering the last surviving group of humans; it seems as though the world itself has turned against them. Many survivors surrender to suicide and despair, but the worst off become cannibalistic creatures, called Gray Men, due to the alien pollution.
Last Of The Survivors
These mutant humans are driven by insatiable hunger, and a boy named Ethan may be the world's last hope. Ethan has powers that could be the salvation of the human race, but he must first learn to hone and control them. Having these powers makes Ethan a threat to the aliens, and they won't let one pesky human stop them.
You have to marvel at McCammon's imagination – I sometimes wonder how he comes up with these ideas for his books because I've never read anything like them. I especially loved the sci-fi aspects of this book, and it mixed in so well with the survival story theme. A truly phenomenal read!
---
Final Thoughts
There are so many great books to pick from when it comes to this author. My personal recommendation would be to read all of them because each story is so unique and exciting. Of course, these are just a few of many of his best works, so make sure to check some of the others out!
Robert McCammon has an imagination like no other, and he has brought us some new books this year, which I cannot wait to get my hands on! The King of Shadows is one, and I Travel by Night and Last Train from Perdition is the other – and the reviews are looking good!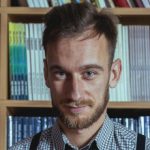 Robert is a science fiction and fantasy geek. (He is also the best looking Ereads writer!) Besides reading and writing, he enjoys sports, cosplay, and good food (don't we all?). Currently works as an accountant (would you believe that?)