Bio
Joe Abercrombie is an English writer. He received his education from the Lancaster Royal Grammar School and later graduated from Manchester University, where he got his degree in psychology.
Career
Before he began his professional trajectory as a prolific grimdark author, he briefly worked in television production and as a freelance film editor.
In between both jobs, he started writing the first of the First Law books, finishing it in 2004. Two years later, it was being published by Gollancz, and ever since then, he has had a steady and loyal fanbase that praises his outstanding writing skills.
---
Best Joe Abercrombie Books
---
Epic Fantasy World
The First Law is a trilogy containing three of the best books by Joe Abercrombie: The Blade Itself, Before They Are Hanged, and Last Argument of Kings. All three books take place in the epic fantasy world created by Abercrombie, clearly inspired in feuding Medieval Europe with which it bears many similarities.
The Union
The Union is the Kingdom where many of the main characters live; it is inhabited by a decadent society that is convinced of its civilization's superiority. However, the sound of war drums is rumbling off in the horizon, though faintly, and around its borders. The other territories have plans to attack.
The North
To the north is the area simply known as "The North" where the Northmen dwell, barbaric Viking-like tribes that have formed an alliance. To the south, the Gurkish Empire, a massive extension of land where the separation of state and church is weak, and the people's religious fervor borders on fanatic. In Gurkhul, the Magi have clout and a powerful influence over the ruler.
Not for the Faint-Hearted
The First Law is a fantasy trilogy of the grimdark subgenre, so expect many gory and violent scenes; war is everywhere, and in Abercrombie's world brutality is the way to survive. When characters wield a sword, it's because they plan to use it. Treason, blackmail, torture… all make an appearance in the desperate struggle to conquer or be conquered – with all the brutal consequences a defeat would entail.
Abercrombie's writing stands out due to his exceptional characterization. The depth and nuances of his cast have been praised extensively by readers, especially given the moral ambiguity that underlies all character actions and motivations in grimdark fantasy novels.
Characters
You will meet Logan Ninefingers, nick-named The Bloody Nine because of his missing finger, a Northman with a violent past who wants to mend his brutal ways; Captain Jezal dan Luthar, representing the aristocracy, a self-obsessed and self-absorbed spoiled brat, basically, who has more interest in playing cards than in training soldiers to fight a war.
Then there is the heart-wrenchingly torn Inquisitor Sand dan Glokta, who was once a charming officer before he was captured and subject to indescribable horrors during his torture by the Gurkish, and now, crippled and broken, has become a professional torturer himself for the Union.
Must-Read
Every single character has a three-dimensional depth that avoids them from becoming stereotypes or clichés, and amidst all the torturing, battling, killing, scheming, and devious acts of varied nature, Abercrombie finds a way to include some semblance of tenderness and light, humorous dialogue.
A must read for all lovers of the genre, especially to readers who enjoyed similar series such as a Song of Fire and Ice – or even to non-readers who loved the TV series Game of Thrones and are looking for a similar story, but on paper this time.
---
Styria
Best Served Cold was the first spin-off or standalone novel set in the First Law World. The heart of this story is revenge, which, as is well known, is best served cold.
In Styria, springtime doesn't bring chirping birds and blooming flowers: it brings war and revenge. The Grand Duke Orso is in the middle of a battle with the League of Eight. Keeping the peace seems impossible, and in the midst of the confusion caused by war dark powers are brewing to choose who shall sit on the throne next…
Monza Murcatto
Monza Murcatto is Styria's most notorious mercenary, working for the ruthless Grand Duke Orso himself. She is good at her job, perhaps a tad too good at being a killer; her employer's "thank you" card includes throwing her down a mountain and leaving her for dead. Bruised, broken and angry as hell, Monza drags herself out of her ditch and swears she will avenge her dead brother and make her enemies pay for what they put her through.
A crippled ex-assassin can only go so far by herself though, so she recruits a team full of outcasts to help her obtain her revenge. Monza and her misfits include Styria's resident drunk, a poisoner, a mass- murderer with an obsession for numbers and a Northman who simply wishes to do the right thing. A charming bunch.
Familiar Faces
Many of the beloved First Law world characters will make an appearance here, so readers of the trilogy watch out for old friends. However, this best Joe Abercrombie book can also be read by itself. So, if you were hoping for a female-lead grimdark novel starring a blood-thirsty murderer on a quest to punish those who have wronged her, look no further. Best Served Cold is where the fun is at.
---
Intricate World
In addition to the initial trilogy and Best Served Cold, several other books have been published by Joe Abercrombie that are set in the exact same intricate world of unstable Kingdoms. They are, however, standalone works and do not require prior knowledge of the First Law trilogy.
Short Stories
These books are The Heroes (5th), Red Country (6th), and finally, Sharp Ends (7th) – a collection of short stories which tie back to the First Law World. Perfect for readers who didn't get closure with the trilogy and want more, or for readers that prefer their books when they don't come in threes.
---
Warring Tribes
Shattered Sea is another awesome fantasy series by writer Joe Abercrombie. The setting also has an "epic fantasy world" feeling, although in this case it's not so much an ex-novo creation.
The main countries of Gettland, Vansterland and Throvenland have a little twist to them. One thing remains constant through the best books by Joe Abercrombie: civilization has been reduced to warring tribes.
Prince Yarvi
The trilogy follows mainly the trials and tribulations of Prince Yarvi. Much to his chagrin, he has been born a cripple; one of his hands is utterly useless, with it, he can't draw a sword or handle any deadly weapons in general, something the son of a mighty ruler is expected to do.
Unable to live up to the expectations his father and the role of king, he is banished to a world of books where he sharpens the wit in lieu of the blade. However, life has other plans for him, and fate sits him on the throne after all, where he will have to prove that he is more than just "half a king" by conquering the Shattered Sea.
New Characters
The series introduces other new characters which will accompany Yarvi in his voyage: Thorn and Brand, both with identical occupations as warriors but with radically different views on their profession. Thorn basically came out of her mother brandishing a sword and Brand shudders at the thought of having to kill anyone, even if he knows it is his duty to.
Masterpiece
An unlikely group of outcasts will have to journey across the Seas in order to fight for peace and to see justice be restored. Once again, these three Joe Abercrombie's best books that are set in a completely different world are populated with complex, multi-layered characters.
It is impossible to superficially classify them as "good" and "bad" people. Just flawed individuals doing their best – whatever that turns out to be. Shattered Sea is a fast-paced, action-packed trilogy full of twist and turns.
---
Familiar Kingdoms
The Age of Madness is the second trilogy British writer Joe Abercrombie has written set in the First Law world he created.
The familiar Kingdoms of The Union, The North, Styria, the Gurkish Empire, etc. are all back, picking up where they left off about 30 years after the events of the Last Argument of the Kings, the final novel to the first trilogy.
Industrial Revolution
Power politics, treason, war, and brute force all make a come-back, as was to be expected; with one exception. The world is on the brink of an industrial revolution; factory chimneys tear through the skies, and the new production method brings unforeseen issues such as social unrest. Industrial progress is looking for its place in a world where magic and the Magi still have a place at the table, and where sitting on a throne and wielding power are not exactly synonyms.
The series stars a new cast of characters with ties to those of the first trilogy; given the time lapse between The Age of Madness and First Law, you'll see bits and piece of them through their sons and daughters. Each with their own unique motivations and goals in the new reality they are facing.
Standalone Trilogy
It isn't mandatory to have read Joe Abercrombie's first trilogy – you can jump right into this second one if you wish. However, if you want the full experience of background stories and character development, it is recommended.
Joe Abercrombie is one of the best grimdark genre writers on the market. His intricate plot, superb world creation, and unique characterization make him a favorite among avid fantasy readers, and you'll definitely enjoy his books if you like your gore and blood mixed in with memorable dialogue and catchphrases.
---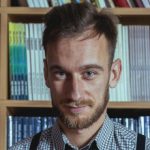 Robert is a science fiction and fantasy geek. (He is also the best looking Ereads writer!) Besides reading and writing, he enjoys sports, cosplay, and good food (don't we all?). Currently works as an accountant (would you believe that?)