Bio
Carl Hiaasen was born on the 12th of March, in the year of 1953, in Plantation, Florida, United States of America. Carl Hiaasen is a famed American author, novelist, and, to top it all off, a journalist. During his career, Hiaasen has worked for the Tribune Content Agency and Miami Herald.
Adaptations
The career of Hiaasen began in the 1970s and he got into writing novels during the ending of that particular decade. As of yet, two of Hiaasen's books have gone on to become movies.
---
Best Carl Hiaasen Books
---
Life
As we noted, Hiaasen was born and raised in Plantation, Florida, though he did relocate to Fort Lauderdale, as well. Odel and Patricia Hiaasen had Carl, the eldest, and three other children. Hiaasen is of Irish and of Norwegian descent.
It was at the young age of six that Carl first showed his proclivity towards writing when his dad got him a typewriter for Christmas. In 1970, Hiaasen graduated from Plantation High School. He attended Emory University prior to transferring to the University of Florida and graduating in 1974. Now, with that out of the way, we can take a look at the best Carl Hiaasen books.
---
In the Midst of Youth
Hoot is an easy pick for us to put on our list of Carl Hiaasen novels that we think are brilliant. The 2002 novel is one of our favorite Hiaasen books and we'll show you just why.
It is less than an auspicious beginning and even less so a pleasant experience that the first person Roy meets in Florida is none other than Dana Matherson. Why would meeting Dana be such a bad thing?
Famed Bully
Well, Dana is a famed bully, so if that is anything to go by, we might be on point with our assertion. However, had their first encounter – Roy's temples being pressed on by the thumbs of Dana – not gone the way it did, Roy might have missed the boy running.
The running boy, for what it is worth, is more than interesting: he is a genuine, bona fide enigma. He was running away from the bus taking all the other students to school, he wasn't burdened by books or textbooks and such, and he was barefoot.
Facing Dangers
Roy's interest was piqued and as soon as Dana let up, Roy immediately devoted himself to following and finding out what the story of the running boy is. Before he can make that finale discovery or realization, though, Roy must face alligators, owls, an eco-avenger, even a faux-fart enthusiast.
---
Animal Love
The 2012 novel by Carl Hiaasen is more than just a book, it is an experience. This is why we consider it to be one of the best Carl Hiaasen novels of all time. It was published in the year of 2012.
Wahoo Cray is someone that resides in a zoo. The father of Wahoo Cray is a wrangler of animals, so Wahoo has become accustomed to the usual parrots, snappers, monkeys, alligators, even slithering snakes, about his normal, everyday life.
Me Too!
The animals aren't all that demanding; who is demanding, however, is his dad. As it turns out, Cray's dad gets a chance to go on a reality TV series called Expedition Survival! and he accepts without a second thought.
If his dad is going to be on a show, then he is going too. This time, though, it's not the animal that is going to be being wrangled, but his father. That is if everyone wants to keep him from squeezing the life out of Derek Badger, a wholly obnoxious chap.
Bitten
Derek Badger's usage of real, wild animals for the purposes of the show being as realistic as possible is what drives the two of them crazy. The story takes a turn when, in the Everglades, Derek is bitten by a bat and vanishes in a storm. Then, a new figure comes and he is brandishing a weapon. This is truly one of the best Carl Hiaasen children's books.
---
Awesome Series
Carl Hiaasen's Skink series is one of the few series that he has penned and it is definitely one of our favorites. Truth be told, we believe it to be one of the best Carl Hiaasen series. The last novel is one of the new books by Carl Hiaasen published in 2020. The series is comprised of a total of eight works and they are the following:
Double Whammy
Native Tongue
Stormy Weather
Sick Puppy
Skinny Dip
Star Island
Skink – No Surrender
Squeeze Me
The Mad Joy of Life
All Carl Hiaasen's Skink books feature a different story, though they are connected by the mirth and the enthusiasm of the series' themes. They are all fantastic stories and we love them all the same, which is why we chose to do them as a series and not individually.
J. Decker currently lives in a trailer park and he works as a private eye. At the moment, he's trying to find a murderer. We learn that in Coon, Bog, Florida, there's a body floating and it is in a heightened state of decay, no doubt about that.
Weird Affinity
Having no other recourse, Decker teams up with a partially blind, a bit insane hermit whose road kill affinities are a little disconcerting. The story is only beginning here and the plethora of twists that follow only serve to make it even better. We hope you see why we chose this as the best Carl Hiaasen series.
---
Intriguing Novel
Flush is without a single doubt in our mind, one of the most intriguing novels by Carl Hiaasen and one of the easiest to suggest to our readers. Flush was published in the year of 2005 as one of Carl Hiaasen'syoung adult novels and it spans a hair over two-hundred-and-fifty pages.
Don't Mess With the Water
The father of Noah is more than just certain that the Coral Queen casino boat's owner is flushing the rawest of raw sewage into the harbor, without batting an eye. This throwing away of sewage in so bad a spot has come to make enjoying the local beach an impossibility.
One can barely enter the water without reeking of waste material and that is if one is alone. However, Noah and his dad do not have definitive evidence of such a thing.
Let's Sink the Boat
What better than to sink the very boat from which such a terrible thing was being orchestrated, then? So, the boat is sunk and all is well. That is, for a few days until it is amended and right back in the same spot, while Noah's dad is behind the bars.
This gives Noah the incentive to finish what his dad started and to do it as soon as possible. Noah is determined to prove and show to everyone what a tragedy is being carried out! Without a doubt, one of the best Carl Hiaasen books out there.
---
Masterful Work
Scat is a 2009 and one of the most popular Carl Hiaasen'snovels from his masterful hands and talented mind. It is one of his finest tales, to date, and a clear pick for one of the best books written by Carl Hiaasen.
The Vanishing Act
Bunny Starch has gone missing. Bunny, being the fear-striking biology teacher, is not known for being absent, so something is definitely up. Bunny vanished during a school field trip to the Black Vine Swamp. It comes to no surprise, especially not to ours, that the children find this to be a relaxing prospect.
However, when the news drops that Bunny went away on family business, Marta and Nick are more than just suspicious. The class delinquent, they deduce, is the one behind this disappearance.
Twists. Twists Everywhere!
And that is true, Smoke does have something to do with the vanishing, but not in the way that they first thought. The case of the Black Vine Swamp is not an easily understood one because it encompasses more than just one person's doings and the twists just keep piling up.
Then, getting the help of more than just a handful of people, Marta and Nick finally get to the bottom of what is going on and it is a doozy. Truly one of Carl Hiaasen'sbest rated books!
---
First Victim
Tourist Season is one of the earliest books to ever come from Carl Hiaasen and, as it stands, it is one of the best books by Carl Hiaasen that we've come across. It was published in the year of 1987 and we absolutely love it.
There is but a single trace, and even that isn't much, of the first victim to wash up ashore on the Miami Beach. It was a Shriner's fez that found itself by the Miami Beach.
Second Murder
The second victim, though, was discovered along with a children's toy rubber alligator deep into the throat, and this is only where the uneasy and disconcerting aspects of the story begin. Victim number two was also the city's head of the chamber of commerce, so panic as afoot, to say the least.
Brian Keyes
Brian Keyes, though, for what it is worth, is a reporter who's made a career change and has veered towards the private eye business. Now, Brian is not only trying to go from muckraking to murder, but also to juggle more than one thing at a time. Soon, Brian is faced with football players, with fanatics, with politicians, and everything in between – even a crocodile that is more than a little hungry.
---
Honey
One of the best Carl Hiaasen adult books that we find ourselves rereading often is the 2006 novel titled Nature Girl. Nature Girl is a book around the three-hundred-page mark and it is terrific.
Nature Girl is none other than Honey. Honey has got the looks to dazzle even Adonis, but her bipolar tendencies can be a turn off to many.
Security
She gets into writing letters, she even stalks, berates, and pretty much gets into fistfights with anyone that might just be trying to impede or thwart her enjoyment on a particular weekday. This, she explains, is what she does so as to keep secure her twelve-year-old Fry, even if it means divorcing Perry.
Eco-Tour
With all of this happening, Perry, a not so nice guy himself, suddenly there is an eco-tour going on and Shreave, a character in the story, will find that Ten Thousand Islands, Florida, is going to stay off of the vacation choices for the next while – perhaps a lifetime.
Honey, during all of this, is still her fine old self, always eager not to back down, and more than willing to show everyone that she means business. Truly one of the top Carl Hiaasen books.
---
Jack Tagger
In 2002, Carl Hiaasen published Basket Case and, as it stands, it is, still to this day, one of the best Carl Hiaasen books, ever. And to be frank, it is one of our favorites.
Basket Case's main character is none other than Jack Tagger. Jack Tagger used to be an investigative reporter that was respected, deferred to, and even loved.
Jimmy Stoma
However, now Jack Tagger is only on the obituary duty in a South Florida daily newspaper. Jimmy Stoma, the lead member of Jimmy and the Slut Puppies, then turns up dead in a so-called scuba accident and this might just be the opportunity to get Jack to resurrect the career he has lost.
What Is Going On?
Jack's editor, though, is less than thrilled by the idea, but Jack eventually gets her to say the affirmative and divine yes. Then, in front of Jack's successful revitalization of his career are a pop singer that has been widowed and a newspaper owner whom Jack, a while ago, berated in front of the public.
Nonetheless, clues begin turning up and it is up to Jack to figure out what is going on before everything is too late and he's sixty and still writing obituaries. Without a doubt one of Carl Hiaasen'sbest adult books!
---
What a Name
One of the best selling Carl Hiaasen books that we know of is the 1993 novel titled Strip Tease. And with a name like that, it is no wonder that it comes up so often when talking about the Carl Hiaasen best books.
Shedding Clothes or Strip Teasing?
Strip Tease, we feel it is worth noting, is one of the books that received a movie adaptation. However, the movie is nowhere near as fantastic as the book as you will soon find out. There is barely anyone that can emulate the caustic, satirical writing and inventive imagination of Carl Hiaasen and it shows.
As a less than mentally fortified Florida congressman finds himself falling for a bodacious stripper, he has no choice but to give his all and try to get this girl all for himself. As the man soon finds, the stripper isn't just a beauty to behold, but also in a bit of a pickle and he has expertise with pickles.
Not the Best Position
As the congressman tries to make heads or tails and help the stripper get everything under control, he must come into conflict with very many figures, both in the political world, but also in the criminal one. If he isn't careful, then he might just end up in a terrible position, one from which there is no going back. Of all our Carl Hiaasen book reviews, this one might be the oddest, but also the most endearing.
---
Pure Pleasure
Lucky You is a fantastic novel from the humorous, yet deadly writer. It was published in the year of 1991 and it is one of the lengthiest works of Hiaasen, spanning nearly five-hundred-pages. As such, it is also one of the best Carl Hiaasen books that we've had the pleasure to read.
A Series of Bizarre Events
Bode has just found out that he is the winner of the twenty-eight-million-dollar lottery jackpot in Florida. Or at least a half winner. The other half belongs to JoLayne Lucks, a veterinarian assistant. Bode, himself, being ever the racist, feels that a non-white should never get that kind of money.
As it turns out, Bode decides, along with Chub, to enlist the clerk who sold JoLayne the ticket into joining their militia. Soon, the group has become convinced to go after Lucks and take the ticket. While all this is happening, Tom Krome, a reporter, is head over heels for JoLayne Lucks. He was hoping to get an interview, but luck was scarcely on his side.
Not Giving Up
Nonetheless, Krome's heart beats for Lucks and he isn't giving up. Tom even gets more incentive to locate his wife, who has been hiding for about four years after Krome mentioned divorce. What's even odder is that she's a famous actress. Soon, though, Lucks needs Krome in more ways than one and Krome has got to help her if he has any hope of winning over her heart. One of the best Carl Hiaasen books for Adults, certainly.
There's More
The Andrew Yancy series is one we recommend to our readers in addition to the above books. You can also check out some of the best Carl Hiaasen non-fiction books.
---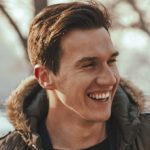 Michael is a graduate of cultural studies and history. He enjoys a good bottle of wine and (surprise, surprise) reading. As a small-town librarian, he is currently relishing the silence and peaceful atmosphere that is prevailing.