Bio
John Griffith Chaney was born on the 12th of January, 1876, in San Francisco, California. The pseudonym that John used for the majority of his life was Jack London. Jack was an American novelist, short-story writer.
Life
His stories predominantly feature struggles and efforts against the elements while surviving. Of all the American authors during the 1900's, Jack was the most actively translated. He was left alone with his spiritualist mother, after his father deserted them. Jack was raised in Oakland, California. The last name that he adopted was the one that his stepfather had.
---
Best Jack London Books
---
Adventure
He left school at the age of 14, with the desire to live an adventurous life. He explored San Francisco, stealing oysters, working at a fish patrol, then left to Japan, the United States, etc. During parts of his life, Jack was stricken by depression, was once in jail due to vagrancy, and eventually became a militant socialist.
He also took a lot of inspiration from other authors. Namely Karl Marx, Friedrich Nietzsche and Charles Darwin, and he educated himself in the writing and ideas of these notable authors in a public library.
---
Klondike Gold Rush
The Call of the Wild is the most well-known Jack London book. It was published in 1903, while the story takes place during the 1890s at the time of the Klondike Gold rush.
The protagonist of the story is Buck, a lovely, somewhat spoiled dog. Buck lives along with an affluent judge, who is his owner, on a ranch. So far as Buck is concerned, there aren't any needs or desires of his that aren't met.
The Only Way
Unfortunately, the life of Buck takes a turn for the worse when he is sold off by a servant so as to pay off a debt. For the first time in his life, Buck lives in a cage, being sent to Alaska, where he would work with other dogs as a helper on a dog-sled – the number one method of transportation in Alaska, at the time.
The benefits that Buck once experienced with his former owner are quickly taken away and he is left either to adapt or to crumble under the weight of the deadly Alaskan landscape. He is sold off, again, and then rescued by a caring, pleasant man. This kind person is also the last master that Buck would have, as he is quickly murdered.
Destiny
Having no other course, Buck is forced to discover who he truly is, as the titular Call of the Wild rings in his ears and all throughout his surroundings, Buck ventures to his destiny. Loved for the unique manner of the plot and the main character, Call of the Wild is rightfully classified as one of the best Jack London books.
---
Yukon Territory
Widely regarded as the most brutal of author's stories, White Fang is, nevertheless, a brilliant read. It is set in the Yukon Territory, during the period of the Gold Rush, 1890s.
Two people are delivering a coffin by means of a dog-sled, while being chased by a pack of loves. One of the characters is saved by other sledders, while the other along with the team of dogs is savagely eaten. The wolf pack eventually find a moose, which they devour, and they split up.
Harsh Life
White Fang is left with his father, One-Eye, and mother, Kiche. The five cubs that were White Fang's siblings all succumbed to hunger; One-Eye is killed by a lynx, while Kiche later kills the lynx and her kittens.
The story is written from the perspective of the titular character, a wolf, White Fang. White Fang journeys from the ravenous fury begotten from the need to fight for survival, to, eventually, a domesticated dog.
Brutal, Yet Brilliant
The descriptions of how mistreated White Fang was by his master are abject and brutal, while sustaining an air of brilliance about them. The way that we learn how White Fang has an innate yearning and urge to kill anything that he sees moving only contributes to fleshing out his character as he progresses throughout the story. It would be a veritable mistake not to consider White Fang as one of Jack London's top works.
---
Interesting Themes
Martin Eden isn't one of Jack's most known books, though any London aficionado would be quick to note how intriguing a read it actually is.
In fact, it holds a resemblance to the most common writing – American writing – used during the initial years of the twentieth century. It is, in essence, a book that will have an effect on its readers as it deals with interesting, to say the least, themes.
Martin's Life
The semi-autobiographical story follows the titular character Martin Eden. Martin is an ambitious person, yearning for knowledge and for fame for his literary merits. He falls in love with a girl, one of high-society, and hoping to get her respect, he begins writing.
Martin issues a challenge to himself to write every day, and once he begins thinking of himself as an intellectual, starts writing stories, essays, articles and sends them to newspapers across the country. Fame is a wanton lady and she doesn't come as swiftly as Jack might want her to. He is rejected and denied left and right, until he finally does become famous, but at what price?
Absorbing and Engaging
No other book of Jack's, and hardly any other dealing with the subject-matter, is as absorbing and engaging as this one. From the get-go, the reader is drawn in into Eden's world, into the portrait of an ambitious soul.
When someone's other literary efforts consist of main characters that are wolves and dogs, and we refer to a book like Martin Eden as supremely unique, we can surmise that it must be one of Jack London's best books.
---
Vivid Sea Stories
The 1904 novel, The Sea Wolf, is based on the experience that London himself had accumulated by way of working on a ship. It is, even today, taken as one of the most vivid sea stories. At the heart of the story, there are fights being waged between the philosophies.
Van Weyden
Van Weyden, the nihilistic character of the story, is a pleasant, outgoing person. What London has us question is whether Weyden is genuinely a kind man, or has his kindness never been subject to test, as he has always been with wealth, and has never had to work a day in his life. Still, Weyden is a developing character that changes during the story's progression.
Larsen
The main character, however, is Larsen. Larsen has lived largely on the opposite spectrum of Weyden – he was born into an impoverished family, journeying to the sea as soon as he had the chance. By himself, he learned to read, write and speak English, learned all the things the quintessential sailor needed. With no one there to give him an aiding hand, Larsen has climbed atop the mountain of sailing and is now a captain of a not-so-large ship.
Lonely Life
Knowing that Nietzsche had influence on London and his stories, it is evident that Wolf Larsen is London's own iteration of the Overman. But, even Nietzsche, himself, warned that the Overman would have to endure a lifetime of solitude, as he would not be understood by those about him. As such, Larsen lives a markedly lonely life, and his maxim of 'life eating life to live' becomes the trip on his stairs.
---
Flawed Character
To Build a Fire is a short story, published in 1902. Here, we have London making and conveying to the reader a character, deeply-flawed – thus all the more engaging –, whose name we don't learn. The self-belief and confidence that the man has quickly becomes arrogance and ignorance.
Unnamed Man
In one of London's most striking stories, we see the unnamed man as the narrator notes how the temperatures are fifty below that of zero; in the preposterously cold, the man isn't deterred the slightest bit. In fact, the man doesn't seem able to be impressed by many things.
Arrogance
His inexperience showcases a fine, portentous omen of the things headed his way. During the course of our lives, we've all been arrogant, more or less. And this arrogance tricks our mind, bringing forth mayhem. While we may identify with the man, we also need to learn from his mistakes. Jack takes us on a tour through the nature of man and his vanity.
Short Life
Jack London, as many of his coevals did, didn't live a full life. At only the age of 40, he fell ill and died. His works have been subject to appraisal, and are loved for their directness, honesty, even if brutal. His other stories, such as The Son of the Wolf, The Iron Heel, The People of the Abyss, are also loved and are worth a read.
---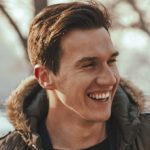 Michael is a graduate of cultural studies and history. He enjoys a good bottle of wine and (surprise, surprise) reading. As a small-town librarian, he is currently relishing the silence and peaceful atmosphere that is prevailing.