Life and Research
This book is the result of many years of research and life spent with the majestic animal that is the gorilla. The woman who spent over a decade with the gorillas, researching their behavior, living alongside them, and just being with this animal for a big part of her life.
Dian Fossey
Her name is Dian Fossey and although her life ended at the age of 53 in a very tragic way, murder, her research and her words still live on in this book that we are about to describe to you in this book review of Gorillas In The Mist.
---
Gorillas In The Mist Book
---
Amazing Time in Rainforest
You will learn so much of what she has been through in her amazing time in the rainforest and what kind of exciting life she truly had. If you are a huge animal lover who loves to read breathtaking stories like this, then you are in for some exciting pages in front of you.
Endangered Spieces
Dian Fossey writes about her thirteen years in a remote African rainforest and about her many gorilla friends there. Her mission was to find out as much as she can about the remaining endangered mountain gorillas, to protect them, and to find a way to make sure that these majestic creatures live happily and without any trouble. She spends so much of her time devoted to this cause and is truly remembered as a hero among everyone who didn't deserve the death she had.
Film Adaptation
An interesting fact to mention in this Gorillas In The Mist book review is that this autobiography of Dian Fossey was actually adapted into an amazing film that managed to win a few awards like the Golden Globe Award for best actress and a best original score from the movie. The story is definitely an inspiring one as it managed to become a movie that was favored by many.
Personal Life
As you read this 300-page autobiography by Dian Fossey, you see that she talks a lot about her personal life and feelings that aren't very related to the gorillas, but she also mentioned some groundbreaking scientific reports regarding these primates that are our very close relatives.
Most of the book is related to the gorillas though as they were her whole life. Who knows what more Dian would have done for these creatures that would be of huge help to them and to the entire world if she didn't have to suffer the brutal murder by an unknown man who murdered her in her cabin with a machete?
Much More Than a Book
Overall, this book review of Gorillas In The Mist explains to you what kind of life Dian Fossey had but you get to read about so much more in the book itself as you have a more detailed explanation of her progress and personal life by the author herself.
One thing is for sure about this book and that is that this story is a truly inspiring one as this woman risked her life to do a good thing for the gorillas as she wanted to save them because they were endangered.
---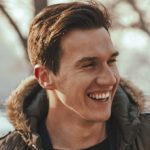 Michael is a graduate of cultural studies and history. He enjoys a good bottle of wine and (surprise, surprise) reading. As a small-town librarian, he is currently relishing the silence and peaceful atmosphere that is prevailing.