Bio
Moore is an American comic fantasy writer who does an outstanding job of producing some of the most entertaining content with the most memorable and unique characters you will ever meet. He has written many books and some have even been turned into movies.
Carrer
The stories from his books The Stupidest Angel and Santa and Pete are two great examples. Besides that, he was born in 1957, and ever since he can remember, Christopher has known that his passion is to become a writer as he did have the talent for it even from a young age. Some of Christopher Moore's best books are going to be listed here so if you're looking for an amazing fantasy fiction read with tons of humor then you must check out these 10 books.
---
Best Christopher Moore Books
---
Childhood Friend
In this first book we present, Moore takes inspiration from religion and creates one of the most unique and exciting fantasy tales of all time. This is the story of Christ's childhood as we all know about his life's work, but this version of his childhood story is going to bring you a lot of laughs, excitement, and time well spent.
The story is told by Biff, his childhood friend, as Moore resurrects him to tell how it really went. Biff seems to have a ton of adventurous stories prepared for you. He talks about fun adventures they went on, journeys they were a part of, stories about magic, healing, kung fu fighting, demons, and even pretty ladies.
The Real Story
Christopher has taken the time and precautions to make this story as close to the real version as he can but still changing a few things here and there to make it a lot more fun. Many of the most important characters from the real story are here like Joshua.
The story is nothing if not thrilling which is why it's one of Moore's best books ever. Everything is bumped up a notch to sound more exciting and the fictional parts are simply too good to miss out on. The book is a wonderful choice for someone who loves to read wacky versions of true stories made for pure entertainment and for having fun.
---
Charlie Asher
If you are a fan of gruesome stories filled with weird and terrifying adventures then the Grim Reaper series by Moore contains two books that introduce you to a character called Charlie Asher, the perfect person to give you just that.
Charlie is the main character and you are about to see some weird things as you follow him on his adventures. The two books inside are A Dirty Job and Secondhand Souls and here is what you can expect to read about in each.
A Dirty Job
This is the first book from the series and it's where you first get to know the main character himself. At first, there's nothing special about Charlie, he couldn't be more normal. He has an average life and is married to a decent woman who also offers nothing out of the ordinary.
Charlie and his wife are even expecting to have their first child any time now. Then, the story gets very exciting and the book immediately gets the potential to become one of the best Christopher Moore books to read as everywhere Charlie goes, people around him simply drop dead without warning or without reason. He is now the ambassador of Death and it's a job that must be done.
Secondhand Souls
Secondhand Souls continues with the life and adventures of Charlie and is the book that makes this one of the best Christopher Moore book series you can start off with. A huge problem has appeared in Charlie's life that presents a threat to all humanity.
It seems that people are still dying but their souls are being stolen. A team of the strangest heroes you can possibly find will band together to get to the bottom of this as it becomes a bigger threat than it appears.
---
Inspired By Shakespeare
If you're a fan of Shakespeare's then you are going to love this series by Moore. The series includes three books, Fool, The Serpent of Venice, and Shakespeare for Squirrels and all three take a lot of inspiration and material from Shakespeare's own books. The Fool series by Moore has a few stories inside that will make you laugh and enjoy reading for hours.
Fool
This is the first book you can expect to read from the series and it takes premise from what goes on in Shakespeare's book King Lear. You can expect to find a lot of familiar content from Shakespeare like his syntax, popular phrases and words that he used, and so on. The story is narrated by the Fool, known as Pocket. The story is similar to King Lear but with all kinds of unexpected twists and turns.
The Serpent of Venice
Expect an extraordinary mashup of characters in this amazing follow-up of Fool and from the rest of the books, our list of books by Christopher Moore has to offer. In this book, you are going to find a group of unexpected characters as Moore writes another humorous masterpiece.
This group is actually a trio and the characters include Pocket, the Fool, himself from Shakespeare, his companion Drool, and pet monkey Jeff. This trio is going to bring you an unforgettable story that involves a lot of humor and excitement.
Shakespeare for Squirrels
Pocket, Drool, and pet monkey Jeff are off on another amazing adventure in this last and probably one of the top Christopher Moore books in the series. This time, the trio is involved in a murder mystery that quickly gets out of control. Expect to see many weird things in their travels, many crazy characters, and to have a lot of fun.
---
Vampires and Mystery
Here are three novels by Moore that are going to offer you a few exciting reads that involve vampires, a lot of mystery, and a lot of love. If you're a vampire lover and a fan of Moore's amazing and humoristic writing, then you're going to enjoy these books a lot.
Bloodsucking Fiends
In the first book of this amazing Moore vampire series, you meet the main characters and the first one you come across is Jody, a normal person who grinds the nine-to-five and someone who could have never predicted what is about to happen to her.
She wakes up one day, behind a dumpster in an alley, and realizes that she has somehow become a vampire. C. Thomas Flood is the next person you get to meet who is going to bring many new and exciting scenes to the story.
You Suck
In the second book, you find out that although Thomas and Jody spent one of the most amazing nights of Thomas's life, he is yet to find out that Jody, his new girlfriend, is an actual vampire. The next surprise would be that he is also a vampire now and things only get better and better from there as new characters enter the story and make everything a lot more complicated for them.
Bite Me
The last book in this series concludes the adventures of Thomas and Jody as you get to read one more exciting adventure of these two vampires' lives. Moore's book offers many new characters who add a lot of fun to the story. What's even more exciting is that there are going to be some animals who turn into vampires as well which bring all new and exciting twists to the story.
---
"Amazing" Mix
If you are excited to meet a group of characters who don't mix well together but present one of the more exciting stories you've ever read then Moore's Pine Cove series is the place to start. This series includes three books, Practical Demonkeeping, The Lust Lizard of Melancholy Cove, and The Stupidest Angel.
Practical Demonkeeping
There are two characters in this book who are going to make the story exciting to read. One of them is a good-looking fella called Travis O'Hearn, a one-hundred-year-old ex-seminarian and roads scholar and the other one is Catch, a gruesome demon who can't control himself when it comes to eating almost everyone he meets.
This duo is going to take you to many places, introduce you to many interesting characters, and spice things up when things start going south. If you want to read Christopher Moore's books in order then this is the book you want to start with as it's his very first novel.
The Lust Lizard of Melancholy Cove
This is the second book in one of the best Christopher Moore series out there and the story inside is perfect for a cartoon episode as things get quite wild and crazy as some of the characters tend to get out of control.
This includes the town psychiatrist who has decided to switch everyone in Pine Cove from their antidepressants to placebos. What happens next involves exploding oil tankers, the appearance of a sea beast named Steve, and so much more.
The Stupidest Angel
Here is the last book from the series and one of the most hilarious and scary Christmas experiences you can read about from our list of novels by Christopher Moore. The story here introduces you to a seven-year-old boy who believes he saw Santa take a shovel to the head and saw him die.
Now, his wishes to bring back Santa from the dead but instead, summons a dumb angel to Earth who is about to make matters worse for the people of Pine Cove.
---
Nate
Fluke is an amazing standalone book that talks about a few characters who are into studying and researching why humpback whales sing. One of the main characters, the leader of the crew, and an amazing marine biologist is Nate Quinn and he is the character who will make this book one of the best Christopher Moore novels out there. Nate sees something that on one else from the crew appears to have seen or believed.
Nate apparently catches a glimpse of one whale who rises from the water, flings its tail, and spells out a huge message that says "Bite me". Nate tries to tell the crew what he saw but, as you can imagine, no one believes him.
Something Fishy Goes On
The work that these people are doing involves a lot of observation, recording, photographing, charting, and careful examination of the footage they capture. This makes it hard to miss almost anything so it's really weird how only Nate saw what he saw. If we'd look at Christopher Moore's books ranked, this one would be quite high on the list thanks to what happens next.
As he asks his loyal partner Clay, his young research assistant, and all the others, no one seems to know what he is talking about. But then, a few things, including a roll of film from their observations, becomes missing and Nate realizes that something fishy is going on here. What happens next is up to you to discover.
---
Baker-Painter
Sacre Bleu is another unique story by the famous Moore and presents a humoristic and totally unpredictable adventure story of a baker-painter who finds himself in quite an interesting situation. This is another one of the best-selling Christopher Moore books you'll be glad to read.
Henri de Toulouse
The story follows, as we said, a baker-painter, known as Lucien Lessard, who is a very talented painter but someone who also makes the best loaf in town. Henri de Toulouse is another important character in the story and Lucien's best friend. Their lives are about to be changed by the horrible news of their friend Vincent van Gogh's death. Lucien and Henri set out to unravel this mystery as they don't believe it's true.
---
Timeless
When you read one of the many Christopher Moore book reviews such as this one, you might ask yourself "Where does this guy come up with these stories with such attention to detail and unique content?" Well, no one knows for sure but this book is another example of his timeless writing.
Tucker Case
Case is the name of the main character and he is just that, a geek who apparently has a cool and rockin' body. He works as a pilot for the Mary Jean Cosmetics Corporation. His life is a good one and he gets to have a lot of fun. However, and here is where this book turns into one of the best Christopher Moore books ever, all of that will end after he gets really drunk and manages to completely wreck his boss' pink plane.
On the Run
Now, after realizing what he has done and after his boss, Mary Jean, finds out he is on the run from Mary's goons who have a lot of surprises prepared for Case when they find him. We don't know if it's luck or not, but Case manages to find the only job offer left for him, flying shady planes for even shadier secret missions for quite the mysterious person, a medical missionary and a hot blond priestess.
---
Everything You Need
Christopher is known for combining some of the wildest and most unpredictable topics and characters in his books. Coyote Blue is one of those books by Christopher Moore where you get a mixture of quirky comedy, love, myth, outlaw bikers, metaphysics, a lot of redemption, and much more.
Coyote the Trickster
The book starts out by introducing Samson Hunts, a young teenager living in Montana who was forced to leave the Crow reservation after a bad mix-up with the law. Turning out for the better, Samson is now known as Samuel Hunter, a successful car insurance salesman who lives in Santa Barbara, owns a Mercedes and a gorgeous condo, and is living a pretty amazing life.
Kaliope Kincaid
After turning 35, Samuel meets Kaliope Kincaid with whom he quickly falls in love. But that's not all that destiny offers him, he soon meets Coyote as well, the last person he would want to cross his path. Coyote is here to make his life a living hell, he is an ancient trickster and is about to show his tricks to Samuel. What Sam is about to experience is what makes this the best Christopher Moore novel you want to get your hands on.
---
Sammy Tiffin
Stilton is one of the first characters in this amazing, mysterious, and totally humoristic novel by Moore. In our last pick, you get to meet this sexy blonde as she walks into a bar where Sammy Tiffin is working. Sammy is another character who has an important role in the story.
These two manage to fall in love at first sight and just as Sammy is about to go in, an Air Force general interrupts because he has urgent business with Sammy. Apparently, Sammy is the one you go to if you need connections to almost anyone.
Mysteries
The story is followed up by suspicious flying objects in the sky, mysterious plane crashes, and some very weird activity going on in the City by the Bay. Sammy is in the middle of it all and will take you on one more exciting adventure that Christopher has cooked up.
---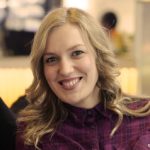 Alissa is an avid reader, blogger, and wannabe writer. (She's a much better cook than a writer actually). Alissa is married, has one human, one feline, and two canine kids. She always looks a mess and never meets a deadline.