Bio
David Mark Weber was born on the 24th of October, in the year of 1952, in Cleveland, Ohio, United States of America. David Mark Weber is a very well-known and loved writer of fantasy and science fiction works. To his name, Weber has a great number of series written in both the genres he frequents. The first novel that Weber ever wrote was sold in 1989.
Life
As we noted above, Weber was born and raised in Cleveland, Ohio. The first brushes with writing for David Weber came during his fifth-grade school year and it quickly became evident that it would not be just a passing fad or a short-term phase of Weber's life.
---
Best David Weber Books
---
Career
Upon finishing high school, Weber worked as a paste-up artist, a typesetter, proofreader, and even a copywriter. It was in Asheville, North Carolina from the Warren Wilson College that he acquired his undergraduate degree.
The Master of Arts degree in history of Weber's was attained from the Appalachian State University in Boone, North Carolina. Weber along with his spouse Sharon reside in Greenville, South Carolina along with their three children. With that all duly noted, let's take a look at our picks for the best David Weber books.
---
Top Series
The David Weber Honor Harrington series is among the top series of the author and it is definitely one of his best. The Honor Harrington series consists of some fourteen novels. They are the following bunch:
On Basilisk Station
The Honor of the Queen
The Short Victorious War
Field of Dishonor
Flag in Exile
Honor Among Friends
Just to name a few
Making the Best of What You Have
Honor Harrington is in a bit of a doozy. Her hand in making a certain superior look foolish and even downright foolhardy, she has now been subject to a plan of sabotage. She along with her crew have been ordered to the Basilisk Station and her crew is less than happy about this prospect. The local planets are not ones that she nor her crew would like to frequent, but then they make a little discovery.
She is Angry
There is a system of trades going on around here and she soon realizes that the cartels are gunning for her, too. However, many men have made the mistake of standing against Honor Harrington, these guys have now made her angry. Make sure to check out these amazing David Weber Honor Harrington novels!
---
Terrific
The Empire of Man series is where some of the best David Weber books can be found. Sure, the series is not Weber's longest and it isn't all that complicated, but it truly is a terrific series. The four-book series is comprised of these novels:
March Upcountry
March to the Sea
March to the Stars
We Few
A Lesson in Humility
The Empire of Man series begins with the March Upcountry book and it is an excellent read even if you don't intend to finish the series, though we do urge you to give the other three books a chance – they are more than worth it. Following a sabotage by terrorists, the Bronze Battalion space marines and the Prince Roger MacClintock are left by their lonesome on the planet named Marduk, specifically in the wild.
Marduk
Marduk is a planet of vast, tall mountains, of underdeveloped technology, of hot and humid weather, but mostly for its nigh-ten-feet-tall, four-armed inhabitants. MacClintock and the Bronze Battalion have no choice but to tread the land until they can get to the spaceport on the other side of the planet. As they start their journey, it becomes evident that it is not going to be a lightweight feat by any means, at all. Empire of Man is definitely one of the best David Weber series!
---
Fine Example
The David Weber Safehold series is yet another fine example of the novelist's writing and storytelling prowess. It is a ten-novel series, one that we recommend that our readers pick up as soon as they find it to be possible. The books comprising the series are:
Off Armageddon Reef
By Schism Rent Asunder
By Heresies Distressed
A Mighty Fortress
How Firm a Foundation
Midst Toil and Tribulation
Like a Mighty Army
Hell's Foundations Quiver
At the Sign of Triumph
Through Fiery Trials
A Long Ways from Home
The colonies of Earth along with the planet itself are nothing but vast ruins. There are but only a couple of survivors, all of which have escaped to the Safehold with the intention of rebuilding it.
The Gbaba, however, are capable of noticing industrialization on the many planets in the galaxy, so the humans have no choice but to be as secretive as possible, so they choose to stay in a state of perpetual medieval life. With time, Safehold becomes the bearer of the human civilization with all of the pros and the cons.
Disturbed Slumber
Nearly a millennium in the future, an android's slumber is disturbed. The android, bearing the memories of Lieutenant Commander Nimue Alban, is informed of her fate. She is to end the process of perpetual dark-age life on Safehold, but she must do this in a guise of sorts. The name of Merlin seems most suitable. What a perfect example of the best David Weber book!
---
David Does It Again
The David Weber War God series is another terrific source for anyone searching for the top David Weber books. The War God series is comprised of a total of five books and they are:
Oath of Swords
The War God's Own
Wind Rider's Oath
War Maid's Choice
The Sword of the South
Rage Against the Gods
Bahzell Bahnakson is a Hradani. Bahzell's armor does not shine in the night and even less so during the day, but he is, for all intents and purposes, the Paladin that the world needs. The Hradani are infamous for their untethered rages, for their bloodlust, and even for their lack of ability to be in conduct with other civilizations. The other races of man, namely five others, are no fans of the Hradani and their ways.
Broken Bond
However, Bahzell, in spite or perhaps because of the ethnic stereotypes held against him, has no choice but to try his best. A hostage bond has been broken, there is a prince bearing a terrible wish of vengeance, and a bounty has been placed on his head. Bahzell is not a man to mess with many men, but to mess with a god? Not to mention the War God? He might be in over his head, but what does he know of things impossible? This is without a doubt the best David Weber series!
---
Trilogy
By now, it has surely become manifest that David Weber has a fondness and a proclivity for writing series. Well, some of the best David Weber novels can be found right here in the Dahak series, which spans three books in total. The books comprising the series are:
Mutineers' Moon
The Armageddon Inheritance
Heirs of Empire
Not Making the Same Mistake Twice
Lieutenant Commander Colin MacIntyre has been a man devoted to his service. However, a change in his life began once he started the flight training over the moon. Dahak, an Imperial battleship that is aware of itself, on the other hand, sensed a change in its own lifespan thousands of years ago when mutiny became the norm for Artificial Intelligence. It was never resolved in any manner, and Dahak was ordered to maroon its whole crew on Earth of the prehistoric period.
Colin MacIntyre
Now, Dahak has reawakened, though it was never truly asleep, and it senses that the threat that loomed so long ago is coming back to the planet, so Dahak is readying its defense mechanisms so as to defend the planet. It even chooses a man to be its captain, one Colin MacIntyre. These are definitely a couple of the best David Weber books.
---
Torch Series
The Honorverse: Wages of Sin series is a part of the famous David Weber Honorverse series. Honoverse: Wages of Sin is also known to some readers and followers as the so-called Torch series. The three books comprising the series at hand are the following:
Crown of Slaves
Torch of Freedom
Cauldron of Ghosts
Unrest Begins with Complacency
The ally of the Star Kingdom, Erewhon, has slowly begun to enter a state of unrest and fidgetiness because of the High Ridge's regime and the complacency it promotes. The High Ridge also ignores a slave trade going on in the Erewhon's backyard. However, what tips the scale is the assassination of a famous Solarian League public speaker. Political instability seems to have become the norm for all of them, now.
It Will Be Messy
Having no other recourse, Queen Elizabeth attempts to calm the ongoing situation and sends Captain Cilwicki to Erewhon along with a niece of hers. Once on Erewhon, it becomes clear that it's going to get more than just a bit messy. Zilwicki and the team gets into conflict with many faction leaders, but its most dangerous opponent might just be the infamous murderer known as Jeremy X. Truly one of David Weber's best books.
---
Adored
The Honorverse: Stephanie Harrington series is yet another spinoff from the broader and lengthier David Weber Honorverse novels. This trilogy of novels is one that we adore and we urge our readers to take a look at it. The books of the Honorverse: Stephanie Harrington series are:
A Beautiful Friendship
Fire Season
Treecat Wars
An Unbelievable Discovery
Stephanie Harrington's expectations of how her life would turn out usually involved her being a forest range on Meyerdahl, her home planet. However, her parents pulled a fast one on her and moved to Sphinx, a frontier planet.
The untouched wilderness full of species that have yet to be discovered ought to bring a blissful feeling among them, but it is evident that Sphinx is a planet where every day is going to be perilous, especially in regard to Meyerdahl. What's worse is that Stephanie is forbidden from going out without supervision.
Intelligent Alien Race
Color us, the readers, surprised when Stephanie discovers something truly great and quite frankly unbelievable: an intelligent alien race. The treecats quickly grow fond of Stephanie and are quick to protect her against even the most frightful of predators.
Stephanie learns of the telepathic abilities of the treecats, but it soon becomes evident that she isn't the only one in on the secret. Before long, they are all in danger. These are a couple of the best-selling David Weber books.
---
Certain Period
The Starfire series genuinely marks a certain period in David Weber's life and one can conclude that, had it not been for it, most of his highly-praised and beloved works would not have come to fruition. Of all the books by David Weber, these are perhaps his most important. The novels of the Starfire series are:
Insurrection
Crusade
In Death Ground
The Shiva Option
Exodus
Extremis
Imperative
Oblivion
Duplicity and Manipulation
Over the course of time, in the sci-fi world of Weber's, there are only a couple of political systems that are seemingly thriving. They are all based on the concept of freedom. The Terran Federation's Inner World leaders are somehow not privy to this fact. The Khanate and both of the Worlds were in war with one another for a time, as the Inner Worlds sought to supply the raw material and the men doing war along with the Fringe Worlds.
Executive Decision
Now, the Inner Worlds are not willing to just let go of the power that they were granted during the course of the war. So, they made an executive decision not to give up the freedom that they've seized, so they let the Khanate in and their plan slowly gets going. Without a doubt, these are some of the best David Weber books.
---
On the Way
The Shongairi Series, as of yet, has only one entry that has been published, but a second book is slated to be published in the year of 2021 and we are very excited about what David Weber book reviews will say. The Shongairi series' one single book, as of now, is Out of the Dark that was published in the year of 2010. The to-be book has a provisional title of Into the Light.
The Enemy of my Enemy
The Galactic Hegemony has been a ubiquitous force present for quite some time now. The key to its success is stability. The sort of stability which the Shongairi, the aggressive, and bloodthirsty race, are liable to perturb.
When the Hegemony became aware of a sentient race of humans whose disposition was equal to that of the Shongairi, their plan became evident: they would use the Shongairi before the other race gains more power; after all, they aren't exactly caring of the Shongairi.
That Didn't Take Long
It took only a couple of minutes before the human race was pretty much dead. There are scarcely any survivors, but some of them are scurrying to try and prolong their lifespan. Stephen Buchesky, for one, is evading alien patrols in the Balkan peninsula as he witnesses daily the deaths of his race's members.
Dave Dvorak, in the United States, is seemingly subject to the same events. However, just then, the humans find a hope that they must cling to. If we were to put the David Weber books in order, this one would come out among the top ones.
---
Same, but Different
The Gordian Protocol is the only standalone novel that we have here today and it is a fine one at that. The Gordian Protocol is an easy pick for being one of the best David Weber books, even though it is a collaboration with fellow author, Jacob Holo. It was published just recently, in 2019.
Benjamin Schroder was never a man for much action. To be frank, most history teachers aren't. However, his life was, by and large, a seemingly perfect one. One day, though, a student's dissertation is interrupted and Benjamin's life changes completely.
Visions
Out of the blue, Benjamin has become subject to certain impressions, undeniably memories, of events that had not occurred in his world. There was no Holocaust, there wasn't a Soviet Union still up and running. The Chinese Communists were unsuccessful, there weren't two Koreas, there weren't warheads dropping like rain.
But, these memories would have him believe the opposite. The nightmarish quality of these memories perturbed and irked the daily life of Benjamin, but he somehow learned to live, albeit as a shadow of his former self.
Not Able to Ignore
However, a raging lunatic's ranting about time travel, knots in time, alternate realities awakens an uneasy feeling in Benjamin, one that he knows he cannot just ignore. It might be a stretch, but we wouldn't be surprised if one recognized The Gordian Protocol as the best David Weber novel.
And There's More
The broader David Weber Honorverse books are the ones that we recommend as it is what launched David Weber's career.
---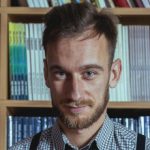 Robert is a science fiction and fantasy geek. (He is also the best looking Ereads writer!) Besides reading and writing, he enjoys sports, cosplay, and good food (don't we all?). Currently works as an accountant (would you believe that?)