Bio
Crichton was born on the 23rd of October, in the year of 1942, in Chicago, Illinois, United States of America. He was a prominent American author and a moviemaker, as well. His books have been sold more than two-hundred-million times around the globe, with many films based on Crichton's books becoming classics in their own right.
Childhood
Born in Chicago Illinois, to mother Zula Miller, who was employed as a homemaker, and father John Henderson, who worked as a journalist. Crichton was brought up on Long Island, where his interest in writing began from quite a young age. When he was merely fourteen, one of his articles was published in The New York Times.
---
Best Michael Crichton Books
---
Education
His higher education was first started when he enrolled at Harvard College, pursuing his undergraduate degree in literature. Following a disagreement with a professor, Crichton changed his major to biological anthropology, for which his Bachelor of Arts was received in 1964. Additionally, he also went to Harvard Medical School. With that said, let's now take a look at the best Michael Crichton books.
---
Absolute Classic
Crichton's Jurassic Park series is where one can also find the most popular Michael Crichton books, too. The series is comprised of just two books, but both are true classics of the genre. Crichton's Jurassic Park book series novels are:
Jurassic Park
The Lost World
Dinosaurs Let Loose
For anyone that has seen the Jurassic Park movies, the premise of the first novel will not be anything wildly different. The story begins with an astounding, brilliant, yet all the more fearful discovery of a brand-new technique for retrieving and subsequently cloning the DNA of dinosaurs.
The beings that have been cloned thus get to live in Jurassic Park, where humans will be able to come and view them for their pastimes. However, not all is that simple and before long, everything is topsy-turvy.
Few Stray Ones
In the second of Crichton's Jurassic Park novels, The Lost World, we have a short time skip of some six years following the events of the last novel. That is, the event that brought about the destruction of so much technological work, development, potential, and many a dream too.
So much was destroyed, but what if something managed to survive? There is no doubt in our mind that Crichton's Jurassic Park books are some of the greatest sci-fi novels ever. These aren't just Michael Crichton's dinosaur books, but beautiful tales.
---
Masterpiece
The Andromeda Strain is a novel belonging to the Andromeda series – one of the best Michael Crichton series ever –, another two-book series of Crichton's. The Andromeda Strain was published in the year of 1969, spanning about three hundred or so pages. It is also one of Michael Crichton's books made into movies.
Warning
The Andromeda Strain is a novel with a world not quite unlike ours, though vastly more intriguing. The government of the United States of America has been issued a warning that something quite daunting might just happen.
The warning consists of the mention that the sterilization procedures that are currently being utilized for space probes coming back to Earth are possibly not the most adequate if they want to make sure that nothing contaminated makes its way to Earth.
Harbinger of Death
Now, two years into the future, we see as one and a half dozen satellites are being sent out to the cosmos' limits with the intention of finding and retrieving organisms from other worlds so that they can be studied.
One of these just so happens to fall upon a barren portion of Arizona. The odd part is that some twelve or thirteen miles away from where it landed, in the town of Piedmont, the streets are filled with the inhabitant's dead bodies inexplicably.
---
Mumblings to Warn
One of Crichton's best books is undoubtedly Timeline. Timeline is a standalone novel from Crichton which was published in the year of 1999, spanning very nearly five hundred pages.
Timeline begins in a desolate, harsh desert in Arizona, wherein a man is trudging along in a confused manner, saying things that, for more reason than just the obvious one, don't seem to make any sense or aren't reasonable enough to be understood by others. Only twenty-four hours later and the man is dead.
Going Back in Time
On the other side of the world, a group of archaeologists have just been an astounding discovery. The discovery was made at a medieval site, where, before they have enough time to reason out what is happening, they are picked up and carried to the HQ of an under wraps, multinational corporation, one that has been creating technology quite advanced.
Now, these archaeologists are given a chance not just to look and study what the past holds, but a chance to go into the pasts, namely six-hundred-years into the past. One of the best-selling Michael Crichton books, as well.
---
Middle of the Ocean
Sphere, another standalone novel, ranks among the top Michael Crichton books for a variety of reasons. Sphere was published in the year of 1987 and its page count is around three hundred and seventy.
Sphere, not unlike The Andromeda Strain, deals with the threat of extraterrestrial life, though in obviously different manners. In Sphere, a not so small group of American scientists, are sent away to a sizable vessel which has been uncovered at the floor of the ocean in the middle of the Pacific Ocean, namely in the South. Little could anyone have known what would be found and what it would mean for them and humanity.
Historic Discovery
As the scientists make their way towards this quite large vessel, all of the buttresses that their scientific minds and even wildest imaginations had put up are knocked down by this ship. This spaceship, one of dimensions fantastic, with an exterior showing no damage at all and with an age of at the barest three hundred years, might possibly be the greatest discovery of mankind.
While in The Andromeda Strain, the threat was one coming from out of the world, the one in Sphere, while still alien, arises from the sea's depths. Quite possibly Michael Crichton's best book.
---
Cloud of Our Creation
One of the best Michael Crichton books, in our opinion, is Prey. Prey is a standalone book that was published in the year of 2002, spanning about five hundred pages or so. As the reader will soon see, it ranks among the best Michael Crichton books list not just by name value.
In a time when we are quite aware of the many experiments that have been carried out without our knowledge and without even our consent, there are bound to be some that defy our expectations, but also those that, for one reason or the other, we can't control. One such experiment was taking place in the Nevada desert. The experiment had to do with a kind of microrobots, namely nanoparticles.
Tables Have Turned
Well, these nanoparticles, a whole cloud of the little things, have just somehow managed to escape the constraints of the laboratory. The nanoparticle cloud has the ability to sustain itself, while also reproducing on its own, too.
It is capable of learning from past experiences, is quite intelligent, and all in all, it's pretty much a living thing. It has been taught the most predatory attitude and now with every try at destroying it, humanity has become its prey. Quite possibly the best Michael Crichton book.
---
Matter of Minutes
Congo, another of the best-rated Michael Crichton books, is a standalone novel that was published in the year of 1980. The four-hundred plus page book is one of our absolute favorites from the author, too. In the depths of the rain forest of Africa, in the proximity of the Lost City of Zinj's mythical ruins, there is being carried out an expedition.
Of all eight of the American geologists, not one survives a gruesome and unexplainable culling that takes place in just a few minutes. Nearly on the other side of the world, Karen Ross, the supervisor for the project, sees the transmission, showcasing the ruined grounds, the murdered corpses of her colleagues, and the dark, grainy, blurred man-shape.
Shockwave Through the World
In San Francisco, the primatologist named Peter Elliot is currently working alongside his friend Amy, a gorilla with an extensive vocabulary of some six hundred and twenty signs. No primate has ever displayed such a level of intelligence and Amy also likes fingerpainting.
However, in the last while, the countenance of Amy has changed suddenly. One of her drawings also, with an extraordinary level of precision, matches a Portuguese painting from nearly four hundred years in the past, one depicting a certain Lost City of Zinj. While all of Crichton's books are ominous in their own ways, Congo's atmosphere is very unique.
---
Special Novel
State of Fear, a special novel among our Michael Crichton book reviews, was published in the year of 2004. It ranks among the lengthiest works of Crichton, but among the greatest works, just as well.
All at Once
In Paris, France, a notable physicist has just died following a laboratory experiment that was performed for the entertainment of a certain visitor. In the Malaysian jungles, a cavitation technology has just been bought by an ominous, strange man.
In Vancouver, the lease for a somewhat small, yet capable research submarine has just been handed to the user for usage in the New Guinea waters. In Tokyo, an intelligence agent is trying to comprehend everything that is currently happening.
Around the World
Before we know it, the science fiction work of Crichton has pulled us off on a mesmerizing rollercoaster, not just of brilliant plotting and storytelling, but of emotions, too. We go from the glaciers of Iceland to Antarctica, then to Arizona and the barren deserts therein. We move from the Solomon Islands deadly jungles, to the Parisian streets, and even to Los Angeles. With a story that drives the reader to read more and more, Crichton has delivered a fantastic work.
---
Something Is Very Wrong
Perhaps a contender for being the best Michael Crichton novel, Airframe is a standalone book that surprises with its qualities. Airframe was published in the year of 1974 and it is one of the shortest works of the author.
Going from Denver all the way to Hong Kong is quite a lengthy flight, but when something happens to the twin-jet plane, all notions of time and length seem to become paltry in the light of current events. The blip on the radar, when only a mere hour away from the coast of California, announces by means of air traffic control that there is an urgent emergency that needs attention.
What Could Have Happened?
The pilot of the twin jet plane through the air traffic control channel asks for a priority clearance so that they can land on the nearest runway, but the following request is what boggles the others – the pilot asks for some forty ambulances to be present on the runway. Now, to order forty ambulances is no small feat and one certainly becomes inured to the prospect of something gruesome to come.
However, nothing could ever have prepared the rescue workers for what was to come. With ninety-four of the passengers injured, three of them dead, and the interior cabin in ruins, what could have happened?
---
Brilliant Work
Disclosure is yet another fantastic and brilliant standalone novel from Crichton. If we made this list of Michael Crichton's books ranked, Disclosure would surely come out as one of the best-ranked ones. Disclosure was published in 1994 and is a forty-hundred-odd page novel.
Upside Down
The world of a certain man, one named Thomas Sanders, was going very smoothly, very pleasantly, and very comfortably, that is until the last twenty-four or so hours transpired. For a man that has been working tirelessly, toiling day in and day out, being passed over for the most-talked-about promotion at work is a definite loss. In the evening, following the workday, his new boss, a very attractive lady, offers him a drink.
Taking Everything
The two of them, aided and abetted by the power and might of alcohol, have something going on between them. However, when morning comes, Thomas Sanders learns that he has been accused of sexually harassing the very same lady, for which his transfer is accelerated. There were millions to be earned here, but now he has lost them by dint of someone's machinations and subterfuge. Well, not so fast.
---
Answers for Everything
One of the best books by Michael Crichton is the standalone novel Next. Next was published in the year of 2006 and it remains as one of the most fascinating works of Crichton.
There have surely been many people in one's life that have predicted or just straight out imagined how in the future, many of the troubles, deficiencies, and obstacles we and our ancestors have faced will have become a thing of the past.
Well, in the novel Next, this future world is the world of the now. In a world ruled by genetics, there is always an answer for everything. Anyone missing an extremity? Anyone with an addiction to drugs? There is an answer for all of that.
World That Takes More
In a time where scientific leaps are the trend, it is quite easy to, say, go on the internet and sell your eggs, to purchase sperm, and many other such things. One can easily see if the prospective partner has any genetic problems that could imperil progeny, and one could just as easily frame others for having a genetic oddity in them.
Twenty percent of all the genes, that one has, are owned by a different someone and if one happens to possess certain coveted genes, they can be pursued endlessly.
---
The Right Guys
Rising Sun is among the best books of Michael Crichton for a number of different, interconnected reasons. It is a terrific volume, showcasing the writing of Crichton, along with his prowess to accurately and appropriately research different cultures that are present in his great works.
In Rising Sun, the main character is none other than Peter J. Smith. Peter J. Smith is a liaison officer for the Los Angeles Police Department. At present, Peter is faced with the task of investigating the killing of a fairly young woman that has been slain at the Nakamoto Towers. While his work is seldom this exciting or this deadly, Peter is tasked by his commander to go to Nakamoto Towers because the Japanese requested a liaison officer.
Obstructing the Law
John Connor – not the leader of mankind against machines –, a retired police officer, accompanies Peter, as the investigation begins. Connor, himself, is an insightful and knowledgeable man, well-versed in the Japanese culture. As the story twists and turns, it becomes obvious that something shady is going on.
The Japanese don't want to comply with what is asked of them, evidence is kept from the duo, and their attempts at investigating are constantly thwarted. However, secrets have a way of coming out, and this one is just begging to be let into the world. Among the Michael Crichton's best-rated books.
---
Seeking Gold
Pirate Latitudes, one of Michael Crichton's posthumous books, was published in the year of 2009, one removed from the sad, early death of the great author. Nonetheless, the novel is in good hands and we recommend it wholeheartedly. In 1665, Jamaica was nothing more than a small colony that was at odds with the Spanish empire's vast hold.
The capital of Jamaica, Port Royal, was a place where cutthroats were the norm, where taverns were places not reserved for the cowardly, and where Londoners would seldom find the luxuries and the delights of their first-world country. Dysentery or a sizable blade could take one's life in the matter of a moment, but for a certain Charles Hunter, a captain, it is going to lead to a lot of money.
Whatever It Takes
In the name of Charles II, the present king of England, the gold that he can find, even if it is in the hands of the Spanish, is gold that he is going to take. The current goal of Hunter is to, along with a merry band of his coevals, infiltrate the island of the enemy and to take the galleon, thus acquiring the Spanish gold that he has been desiring for quite some time.
The mission, however, is by no means a lightweight one, but one filled with perils and dangers, so much so that a life might just be lost.
---
Sheer Brilliance
On the present Michael Crichton novels list, we have mentioned a number of different, brilliant works of the terrific novelist, but we have yet to mention Eaters of the Dead. Eaters of the Dead was published in the year of 1976 and remains one of the best books to reread from the writer.
Two Cultures at Odds
In the year of 1922 A. D. is when we begin our entrance into the world of the novel. Ibn Fadlan, an Arabian courtier is currently in attendance of a group of Viking warriors as they are traveling back to their homes in the North.
The manners of the Vikings and their ways are sources of shock to Ibn Fadlan, what with their explicit eroticism with the women they have, with the lack of cleanliness and hygiene, and the terrible sacrifices they make.
Pulled Into a War
Nonetheless, Ibn Fadlan is accompanying this party. Now, as they get into the frozen, the perilous landscape in the North, where night and day are not friendly at all, where following sundown, streaks of color still wash the firmament, Ibn understands something quite horrible.
He, seemingly without his knowledge or active comprehending, has been enlisted among the men that will fight against the threat that comes for the Vikings – the Eaters of the Dead. If one was to put Michael Crichton's novels in order, say of best to worst, this would come out as among the best, for us.
---
An Opportunity
Micro is yet another of Crichton's best novels that have been released posthumously, but also, oddly enough, a novel that shows the brilliance of the author to the utmost level.
Micro was published in the year of 2011, spanning about four hundred pages. We are all privy to the fact that Crichton was quite fond of pitting man against nature, technology against nature, and even all three against each other.
One of the best Michael Crichton book series, the Jurassic Park series, features the most archetypical usage of this trend in the writing of Crichton. In Micro, we see a small party of graduate students as they have been offered a chance by a strange biotechnology company to work for them all the way out in Hawaii.
Fending for Themselves
The thriller of high concept at hand sees the group of graduates only taken out to the rain forests in Hawaii, where they are let loose and left by their lonesome to fend for their lives. There's nothing to keep them safe except for themselves, their knowledge, and their common sense. Before they know it, though, all of them are at the mercy of something mind-boggling.
---
Nemesis
Dragon Teeth is a work by Crichton that was published posthumously in the honor of the legendary sci-fi author. Dragon Teeth saw the light of day in the year of 2017. A list of Michael Crichton's novels ranked would surely see Dragon Teeth as one of the most fascinating works. The novel takes place in the year of 1876.
This is when ready-to-fight Native American tribes were still present in the west of America. This is when the gold rushes necessitated towns to be built in the proximity. This is when two paleontologists were going through the Wild, Wild West, trying to find fossils of dinosaurs, all while trying to get the better of the other, all while sabotaging the other, and all while trying to get one up on each other.
Better Off Without
William Johnson, a young student is the one accompanying the prominent and famous paleontologist Othniel Charles Marsh on the expedition in hand. However, over the course of this expedition, Othniel becomes suspicious that Johnson is a spy for his enemy Edwin Drinker Cope.
As a result of this, Johnson is abandoned in Cheyenne, Wyoming. Having no other recourse, Johnson joins Edwin and the two embark together. This is when a historic discovery is made. It's nearly impossible to put Michael Crichton's books in order of ascending, descending, or best to worst, but we're sure that Dragon Teeth would be among the greater ones.
---
Trickster Like No Other
The Great Train Robbery is a novel from the middle portion of Crichton's career, one published in the year of 1975. Nevertheless, the three-hundred-page novel is one of the top ten Michael Crichton books. Victorian London was a time and a place where the wealthiest and the poorest were in quite the starkest opposition.
The two sides of the same coin of humanity lived by each other's side, with some, a very few to be more exact, that were in a position to traverse both of these contrasting worlds. One such gentleman is Edward Pierce. With a charm and an ingenuity that are only matched by his handsomeness, Pierce is the man cunning.
Miraculous Heist
Edward Pierce is a man that can coax and persuade even the most notable, most well-respected gentleman of London, all the while he is thinking out in his mind how to pull off the greatest heist ever. As this heist, a robbery of a train, begins, it becomes clear quite rapidly that Pierce didn't plan for all contingencies and that this one will have dire consequences.
All the same, the mighty steam locomotive that is the aim of Pierce's robbery-focused mind will be conquered if it's the last thing the man does. A clear choice for being one of the best Michael Crichton books.
---
Anger at Bay
One novel that we have yet to mention on our list is also one of the author's most special works – The Terminal Man. The Terminal Man was published in the year of 1972 and it spans about two hundred and sixty or so pages in total. We've all certainly had moments in our life when the urge to lash out, to attack, and to just be violent has felt so great that we barely kept ourselves at bay.
There are others, surely, that have given in to this urge and one such person is Harry Benson. Harry Benson is a man liable to violently and without control have seizures. Following an attack of two people, Harry is now under guard by the police force. Doctor Roger McPherson, on the other hand, is the Neuropsychiatric Research Unit at University Hospital in Los Angeles' head.
Unleashed Fury
The main man at this notable institution thinks that Benson can actually be cured of this proclivity inside of him by means of a procedure named Stage Three.
What is to happen is the following – electrodes shall be put inside of the brain of the patient, avoiding a lobotomy, which will pulse towards the zones that bring and control pleasure of the brain. It is a success, but Benson, much to the dismay of the unwitting doctor, uses this to his advantage and escapes.
---
Wanderlust
A list of the highest-rated Michael Crichton books would be sorely and sadly incomplete if one were not to include the book Travels. It is not a sci-fi or suspense novel like most of Crichton's works are, but a nonfiction book that brings us closer to the masterful author.
Travels is a book which, as we said, is meant to bring the writer closer to us and us closer to the writer. It is here that we see some of the most intimate writing of Crichton. It is all too common that we have the urge or the desire to leave wherever we are and to venture out into some unseen location in the world just so that we can be by our lonesome.
Around the Globe
For Crichton, a man that was a best-selling author, a physician, and a renowned director, feeling the constraints of life, he made a decision to not be idle. Crichton decided to start tracking down wild animals in Rwanda's jungles, to scale and climb the Kilimanjaro mount, to get atop the Mayan pyramids.
A landslide in Pakistan or swimming in shark-infested waters in Tahiti, nothing could stop the man from doing himself. With the mighty urge and need to know new things, Crichton writes of his many journeys and travels in a book very close to his and our heart.
---
Doctor, Filmmaker, Writer
There couldn't actually be a proper list of Michael Crichton's books if it excluded the book Five Patients. Quite like the last entry, Five Patients is a standalone nonfiction volume by Crichton and a brilliant read. Five Patients is a two-hundred-page book that was published in 1970.
One of the most famous works of Crichton, not just as pertains to his novels and books, was the television series ER. This Crichton television series was crafted by Crichton using the experience he had as a medical doctor in the emergency and operating rooms, along with the many wards in Massachusetts General Hospital. Crichton has done it all, but becoming a medical doctor while also achieving literary and filmmaking success is nothing short of tremendous.
True Accounts
Five Patients is a book that showcases and brings to the reader the many real experiences and honest accounts of the genuine dramas that were present in the show ER. Many an accident befell many a character on the show, but this is where they are at their most genuine.
A delirium brought on by a fever for a dispatcher, a hand severed during an accident, a traveler on a plane that has been gripped by pain in the chest, and even a mother diagnosed with a disease that threatens her life, these are all candid tales, and Five Patients brings them to us.
---
Gunslingers and Androids
One of Michael Crichton's best books ranked on this list that we find to be our fondest is none other than Westworld. Westworld is a 1974 book that is written in the format of a script, featuring pictures from the brilliant movie. Of all the Michael Crichton's books, Westworld is perhaps his strangest, seeing as it's quite untraditionally written in the format of a movie script.
The story therein is quite out of the ordinary even for an author that wrote of dinosaurs, aliens, and other such eldritch beings. Westworld, in the book, is a futuristic sort of theme park, where those that come to enjoy it, namely those that pay to enjoy it, get to pretend to be gunslingers in a faux Wild West, where androids roam.
On His Own
The fee for getting into Westworld, for one, is quite large, but Blane and Martin aren't just going to let this kind of opportunity go to waste. The two of them are resolved to go to the saloons, to drink the beer, and to shoot their guns just like the cowboys in the Wild West did.
However, during a duel with an android gunslinger, something goes terribly wrong, and Blane is killed. Now, left on his own, Martin has to find a way out of there, but without Blane, does he have any hope?
Recommendations
Twister from Crichton is a great book worth picking up as well.
---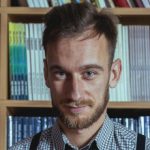 Robert is a science fiction and fantasy geek. (He is also the best looking Ereads writer!) Besides reading and writing, he enjoys sports, cosplay, and good food (don't we all?). Currently works as an accountant (would you believe that?)