Like Father, Like Son
There aren't many writers who can say that they are the child of a Pulitzer Prize winner – but Jeff Shaara can. He is the son of Michael Shaara, who was known for his works in the realm of sports fiction, science fiction, and historical fiction. His father is the reason that Jeff Shaara became a writer in the first place.
When Shaara's father passed away, he decided to sell his business as a precious metals dealer and take over the management of his father's estate. A movie called Gettysburg was released in 1993, and was based on Michael Shaara's book, The Killer Angels.
Overnight Sensation
Due to the success of the film, Shaara was approached to see if he would like to try his hand at writing a prequel and sequel to the novel. This wasn't a task that Shaara took lightly – he says he did a lot of soul searching before finally deciding to give it a go. This was a challenge as he had no previous writing experience.
Jeff Shaara's first (of many) best novels was published in 1996, and it instantly became a New York Times bestseller. The same thing happened with his second novel in 1998. Shaara received immense amounts of praise for his works, and since then, he has continued to write. So, let's get into all of the best books by Jeff Shaara!
---
Best Jeff Shaara Books
---
Prequel
Let's start things off with the two books that catapulted Shaara's writing career. As I mentioned earlier, Shaara wrote the prequel and sequel to his father's book, The Killer Angels. The prequel is called Gods and Generals. In this best-selling book, Jeff Shaara details the lives of Generals Hancock, Jackson, Lee, and Chamberlain in the lead up to the Battle of Gettysburg.
Shaara captures everything, from the disillusionment of Hancock and Lee in their earlier days, to Jackson's Christian ethics, and Chamberlain's inexperience. Getting the perspectives of these four men really shines a light on the ugly reality that is war. We see how these men compensate for any shortcomings when it truly matters.
Sequel
The sequel is called The Last Full Measure, and this one is all about the last two years of the Civil War. Set after Gettysburg, the brutal war is moving into its third year – exactly the time when a decisive and strong leader is needed. Enter Abraham Lincoln. We see how the tide changes once he is in command, bringing the Civil War to a riveting conclusion.
The thing I loved best about these Jeff Shaara books is that the trilogy in its entirety is the product of a talented father-son duo. All three books have amazing ratings, and what Shaara pulled off is incredible. These were not the easiest books to read – there are parts that are so real and painful. In saying that, this series is the best way to get inside the minds of the men who commanded the battle fields.
---
WWII
This book series by Jeff Shaara contains some of his best works. It is a four-part historical fiction series which dives into multiple events during World War II. The first book is called The Rising Tide, which is all about how America got pulled into the conflict. The story is told through the voices of the most prominent figures during this period of time.
The second book is called The Steel Wave and follows how General Dwight Eisenhower had to command an army that had to be strong enough to destroy Hitler. We also see inside the inevitable invasion of France and how they had to prepare to fight it off, as well as reading the stories of soldiers that had to go behind enemy lines.
History Lessons
The third and fourth books are called No Less Than Victory and The Final Storm respectively. The third one starts after the success of the Normandy invasion, where the Allies were sure that the war would soon be over. But we see how persistent Hitler was as he a desperate counter-invasion. The last book is all about the war coming to an end.
Any lover of history would be a huge fan of these books – not only are they very well written, I felt like I also learnt a lot about World War II that I didn't know before reading them. Shaara has a beautiful way of writing and jumps viewpoints effortlessly. I would recommend that these Jeff Shaara books are read in order as the events follow the timeline of the war.
---
Leading Men
Here we have another one of Jeff Shaara's best series and this one is based on the American Revolutionary War. There are only two books in this series, the first one being called Rise to Rebellion. It all starts in 1770 with the Boston Massacre, where civilians were senselessly killed.
This leads to a tense courtroom drama which soon turns into a war of epic proportions. Outraged by the abuse of their people and loss of their liberties, Americans gather together to fight against these injustices. Shaara dives into the men who helped forged the destiny of America, such as Ben Franklin, John Adams, and George Washington.
To The Battlefield
The second book is called The Glorious Cause and this one follows the incredible saga of how thirteen colonies came together to forge a nation. We see how the fight goes from the courtroom to the battlefield. Shaara highlights how, despite not knowing what the outcome would be (and almost certainly standing on the backfoot), the colonies persisted, with George Washington at the helm.
Any and all history lovers would enjoy this nuanced and well-written series. Jeff Shaara has many highly ranked books, but these two have cemented themselves as some of his best to date! I especially loved the fact that this retelling of history was in novel form, I found it so much more engaging – better than school textbooks for sure!
---
High Stakes
A Blaze of Glory kickstarts this epic four-part series where Shaara goes more in depth on the Battle of Shiloh – one of the most gruesome battles during the American Civil War. It's 1862 and the Confederate Army are on the brink of collapse after the loss of Fort Donelson.
The stakes are higher than ever, and General Johnston has to rally his troops to defend the Charleston Railroad and the city of Memphis. Close behind them are two of the Union's best generals. Their forces combined should mean an easy win, except Johnston knows of their plans and is gearing up for a surprise attack.
Game Of Chess
The last book is called The Fateful Lightning, detailing the fourth year of the war. The Union has the upper hand, and there is a huge southward surge. This novel is the epic conclusion of the final eight months of this bloody battle. Books two and three are A Chain of Thunder and The Smoke at Dawn, which sees the rebels seal their fate, and the final confrontation at Chattanooga.
Jeff Shaara did what he does best with these top books, with intriguing main characters and a deeper look into the numerous campaigns during the Civil War. I found these ones super interesting because the Western Theater is not as well-known. Reading these books was like watching a chess match – it's all about the next move and you have to think ahead.
---
The Beginning
We are now moving on to the best Jeff Shaara standalone novels! This one starts off with the stalemate on Europe's western front during the Spring of 1916. It's Great Britain and France on one side and Germany on the other. This book takes a look at the horrors of trench warfare through the eyes of a young British soldier named Tommy.
Meanwhile, up in the air, and thanks to technology, a new type of hero is emerging: the fighter pilots. High above the battles on the ground, these solitary pilots are put to the test, having to brave the terrors in the sky. This new tool has devastating consequences and takes the fight to a whole new level (literally).
Changing Tides
We see how the conflict is entering its third year, and a previously neutral America is being drawn into chaos. The President, Woodrow Wilson, is reluctant, but finally changes his position of nonalignment. The problem is that America was woefully unprepared for this war that ended up becoming worldwide. With America now involved, the world is waiting to see if the tide will change.
This is one of the best novels by Jeff Shaara, and it is packed to brim with historical detail – but not in a way that is overwhelming. I loved getting an inside look into trench warfare and also seeing how the fighter pilots had to learn the most efficient ways to attack. Definitely would call this one a must-read!
---
Never Back Down
It's the spring of 1942 and the United States is in shock after the Japanese attack on Pearl Harbor. But one thing we all know from history is that Americans don't back down – and they are determined to shift this fight in their favor. The driving force behind this mission was Commander Joe Rochefort, a code breaker.
Rochefort manages to crack the Japanese military encryption, meaning the Americans knew exactly what the Japanese had planned. This is only one small step forward – they still need to fight to counter these plans. We get to see the American side of the story through the eyes of Rochefort, an Admiral, and a fighter pilot.
Two Sides
The mastermind on the Japanese side is Admiral Yamamoto. He has his subordinates playing a game of chess with no clue that the Americans have the inside scoop on their plans. Every move they make, in the air and in the sea, is being anticipated. It all comes to a head when the two sides finally meet.
The reviews for this Jeff Shaara book are sky high, people simply cannot get enough. There's just something about his writing that is so invigorating. History comes to life on these pages, so trust me when I say that this is a Jeff Shaara book you will want to add to your list!
---
Fighting Back
Here we have another one of Jeff Shaara's best books, but this time it is about the story of Frozen Chosin and is told from multiple points of view. The main players are the commanding general of America's 1st Marine Division, a Chinese Commander, and a World War II veteran.
The story takes place in 1950, starting in June as the North Korean army is invading South Korea. They are determined to unite the two under a Communist regime. Of course, the United States cannot sit by and do nothing, so they mobilize their forces to assist the South Korean troops. Together, they manage to push back on North Korea.
What Lies Ahead
The problem lies in the fact that South Korea and the US have pushed the North Korean troops back to their shared border with China, who has now also gotten involved. Hundreds of thousands of Chinese troops have set massive traps for the unwitting Allies. Already battling the brutally cold weather, the Allies have no idea what lies ahead.
Shaara can tick this book off as another blockbuster hit. I found this one super interesting because I didn't know much about the Korean War prior to reading this, and I now understand why it is called the Forgotten War. Shaara really does have a gift when it comes to recreating history.
---
Never Forget
This is a story that I am sure everyone is familiar with, but Jeff Shaara does a fantastic retelling of it in this latest book of his. He goes in depth into the events that led up to the terrible attack on that fateful Sunday in December. A moment in time I am sure will never be forgotten.
This event was a turning point in history, the very thing that brought America out of its isolation and to the forefront of the Second World War. The narrative is split between multiple viewpoints, namely: A Navy Seal recruit, the US Secretary of State, and the very man who planned the attack itself.
Based In History
America never initially got involved because they didn't want to take part in the problems of others, and they were focused on Hitler and Europe. No one truly took the Japanese seriously, especially as it felt like they were so far away. It's very easy to look back and ask how this happened, but one thing we can all agree on is that moments in history such as this should never be forgotten.
What's great about this book is the amount of research that Shaara put into it. He didn't just spin a story. Shaara had unlimited access to the archives at the Pearl Harbor memorial and museum, among others. What I also found very interesting is that each of the three main characters in this story are based on historical figures.
---
Mexican-American War
I will be honest, I didn't know much about this war before I read this book, so I was actually really looking forward to reading it and expanding my knowledge. And who better to learn new things from than Jeff Shaara? It starts in 1847, when the US Navy delivered eight thousand soldiers on the Vera Cruz beaches.
They are led by Winfield Scott, a commanding general and heroic veteran, chasing the glory days of his youth. Scott, together with a rather serious engineer by the name of Robert E. Lee, leads his troops to fight against the Mexican dictator, General Santa Ana.
Where It Ends
Santa Ana was an arrogant man, obsessed with the idea of cementing his place in history. He completely underestimated Scott and his army and the force that drove them. While the Americans are fighting their way inland, both sides come to the realization that this battle will end at the gates of Mexico City.
This Jeff Shaara book is an older one, but one of his most popular ones. He always goes into the psyche of his characters in these stories, but I found that this one felt a lot darker. He really digs deep into the psychology of soldiers trapped behind enemy lines. One thing I especially loved was the backdrop of Mexico; Shaara described it beautifully, and it really ties everything together.
---
Top Ten
To finish up this article on all of Jeff Shaara's best books, we have his premier guided tour of ten Civil War battlefields that he feels everyone should visit. Obviously, this book is different from the rest, but after reading his other works, I found this one to be super helpful.
Reading about all these wars made the history nerd in me eager to go visit some historical landmarks, and who better to tell you the best ones to go to than the man who did the research on these pivotal moments in history? Some of the places he lists are Shiloh, Gettysburg, New Market, and Cold Harbor.
Has It All
As Shaara goes through the list, he explores the history of each place, the people, and the magnitude of the conflict that took place there. He goes into the most crucial battles of each war, with photographs of the locations – then and now. He also provides detailed maps and interesting footnotes, plus any other information that he deems intriguing.
I found this book to be such a good idea because I was able to actually see the places that I had read about. I also enjoyed the little nuggets of extra information that might not have made it into one of his other books. You can tell that he really put a lot of time and effort into making this as interesting as possible, and that's the best way to learn history.
---
Final Thoughts
Considering he was so late to the game, Jeff Shaara certainly knows how to pump out those best rated books! I lost count of how many books he has written by the end of this article. One thing is for certain, he is the man to go to if you are a lover of historical fiction.
Jeff Shaara actually has a new book coming out in May this year, which I am very excited for! It is called The Old Lion and is about the life of Theodore Roosevelt. Make sure to keep an eye out – but if you're as excited as I am, then go ahead and preorder already!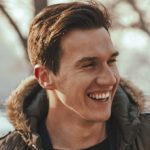 Michael is a graduate of cultural studies and history. He enjoys a good bottle of wine and (surprise, surprise) reading. As a small-town librarian, he is currently relishing the silence and peaceful atmosphere that is prevailing.