Bio
Ludlum (May 25, 1927 – March 12, 2001) was an American writer; his action-driven novels sold millions of copies globally. Every book he published made its way to the New York Times Bestseller List, and he wrote a total of 27, which is no small feat.
Education
He became a writer late in life, almost nearing fifty. Before that, he was a US Marine and worked in theatre after getting his degree in Drama from the University of Wesleyan, in Connecticut. His stage experience probably influenced his writing style, as his novels are highly suspenseful and full of plot twists, all designed to keep the reader hanging on to every word to know what happens next.
---
Best Robert Ludlum Books
---
Writing
As mentioned, he was a prolific writer who wrote for decades. That leaves readers a wide array of titles to pick from, even from different time periods. There are, of course, many Robert Ludlum book reviews, so to make your life easier, we have narrowed this one down to only the 10 best books by Robert Ludlum, to get you started off.
---
Who Are You?
One of the most well-known Robert Ludlum books series of all time, and definitely the best Robert Ludlum series in his impressive repertoire.
A man is fished out of the Mediterranean Sea, without any knowledge of who he is or where he's from. The man is suffering from amnesia – his life up until that moment a blank to him. He's been shot twice in the back, so clearly he's made some enemies, even if he can't quite recall who they are.
Jason Bourne
What few possessions he has on him lead him to a bank in Switzerland, where he discovers he owns a small fortune and goes by the name of Jason Bourne. Confused and lost, Jason Bourne's difficult task of discovering who he is and why he ended up covered in bullet holes and almost drowned off the coast of France is made even harder: someone wants to kill him, presumably to finish off what they started.
Recovering your memory is hard, but doing it while trying to save your life takes the protagonist to new peaks of stress. Once, cornered in a hotel, in order to escape he takes a woman hostage. And, as luck would have it, she turns out to be of great help to him…
Finding Yourself
Both hostage and captor come across an unbelievable nugget of information: Jason Bourne is a notorious assassin, with many kills under his belt. But something isn't adding up, and perhaps that's because they still need to solve the 'y' in this intriguing equation…
The path of self-discovery will lead our morally-compromised hero into several life-threatening scrapes, and on quite an emotional roller-coaster as he sets out to discover who he was and what he did.
There's No Escaping the Past
However, the past has a nasty habit of sneaking up on us time and again. Even after the hero finally comes to terms with his identity, events from his past life will come back. Reminding him that it isn't all buried.
The Jason Bourne series is a three-book series, published between 1980 and 1986, and includes some of the best-selling Ludlum books, which are also voted as some of the best Robert Ludlum books. In fact, they were so popular, they turned the books into the Bourne Series movies, starring Mr. Matt Damon himself. The Ludlum's Jason Bourne books in order are: The Bourne Identity, The Bourne Supremacy and The Bourne Ultimatum.
---
Two Rivals, One Enemy
Brandon Scofield is the best spy in America, which in the Cold War era carries a significant deal of weight. Vasili Talaniekov is the most notorious KGB agent in the Soviet Union. So, when men in high positions in both countries appear mysteriously dead, fingers point in their direction as the most likely culprits.
Both men are long-time rivals and enemies, for professional and personal reasons; both have good reason to hate the other.
Something Sinister
However, something sinister is afoot on a worldwide level, and it is being kept so well hidden that only a few people know it's going on. A group of power-brokers with trained assassins known as the Matarese are in pursuit of global domination and will stop at nothing to achieve their goal.
In light of this threat, Scofield and Talaniekov will have to join forces if they wish to stop the international cabal of assassins so elusive, that simply speaking their name is a death-sentence…
Like a Lizard's Tail
The feat will prove herculean, as the Matarese circle, much like a lizard's tail, grows again even after it has been cut off. Their secretive nature allows them to penetrate everywhere without being seen, making it even more difficult to sniff them out. And those that enter the Matarese circle never leave it alive…
Bust out your literary passport, because the Matarese books will have you trotting all over the globe in a quest to vanquish the deadly circle before they attain world domination. It is one of Robert Ludlum's best books for fans of border-hopping thrillers.
Action-Packed
Packed with action, these lightning-paced best Robert Ludlum novels span over 1000 pages, and almost as many countries and locations. Every page is packed with the kind of suspense that spy novels know how to deliver. Robert Ludlum's books in order are the following: The Matarese Circle and The Matarese Countdown.
---
Ludlum's Legacy
When we put Ludlum's books in chronological order, we can see that Covert-One consists of the latest Robert Ludlum books written by several authors after his death. The series is based on an idea and on premises that Ludlum himself had and worked out before he died. It is a tribute by his writer fans to the characteristic Ludlum style: action, conspiracies, government secrets, war, spies, and lots more.
Top-Secret Agency
Covert-One is at the heart of all the books in this series. It is a top-secret US Government agency made up of political and technical experts from all walks of life. They fight corruption, biohazards, weaponry, and any heavy threats to the country at high levels. Each novel presents a new challenge to the agency members, packed with the same dizzying plot-twists and fast-paced turn of events Ludlum was revered for.
Multiple Authors
The series is made up of 12 books in total, written by authors Gayle Lynds, Patrick Larkin, Kyle Mills, Jamie Freveletti, James H. Cobb, and Phillip Shelby. Ironically enough, these are the best Ludlum books that Ludlum did not write himself. But the thriller-flair he made so popular is present in all of them.
---
Low Profile
Fans of thrillers set in the Middle East are likely to consider this one of the best Robert Ludlum books around. This one, in particular, has all the elements of a great political thriller: Government, terrorists, threats, and secrets that need to be kept. Ludlum introduces his readers to Evan Kendrick, elected Congressman for a Colorado district.
Kendrick is trying hard to mind his business and simply do his congressional work keeping a low-profile because he has some skeletons in his closet. In the Masqat embassy of Oman, Americans being held hostage by terrorists are set free by a heroic John Doe… and that's a secret Evan Kendrick hoped to take to the grave with him, but alas, fate has other plans.
Cat Is Out of the Bag
Being outed as the mystery savior unfortunately puts the Colorado congressman on the map: they now know who infiltrated the embassy and freed the hostages, and they want to get even with Mr. Kendrick.
Written in Ludlum's characteristic fast-paced, action-packed style, you'll be turning the 650+ pages of this one of the most popular Ludlum books and the best Robert Ludlum novel for many at lightning speed. It will pull readers into a plot web so thick and convoluted, you may even have to take notes. A recommended read for lovers of thrillers set against an Embassy and diplomatic back-drop.
---
Old Friends
Although slightly out-of-character for Robert Ludlum's best book – or any Roberto Ludlum book, for the matter – The Aquitaine Progression follows the adventures of a lawyer. Not a spy, assassin, or CIA trained agent… an almost regular New York city international business lawyer. There's nothing regular about the world he is swept into.
Running into an old acquaintance tends to be a nostalgically cheerful experience, especially if it's in Geneva, but for Joel Converse, it's quite the opposite. As a man he hasn't seen in more than twenty years collapses into his hands, the dying fellow only just manages to say his final words: he warns Joel that the generals are back, and about Aquitaine.
Too Much Information
This information turns his life upside down, as the world's biggest secret has been passed down to him. And with it, naturally, the interest of all those involved in keeping that secret hidden, an interest that revolves around silencing him.
Joel Converse will soon be running for his life, and knocking on the door of the woman he loved for help… One of the best-rated Ludlum books, his fans will delight in the thick conspiracies that are ever-present in all the best Ludlum novels.
---
Professor Turned Police
Professors and academics have a reputation for being the bore of the ball. Lots of talk about theory, philosophies, theories, etc. However, not all college professors live an uninteresting life; some, like James Barbour Matlock, find themselves sucked into nefarious affairs that put their very lives at risk.
Matlock has an Army background. He's a Vietnam veteran, and after the war, he is making a living teaching at the university. The US Government has other, more practical plans for him. The Government is convinced the campus is mired in shady business.
Drugs, Sex and Rock and Roll
Matlock accepts the FBI's task and helps them in their quest to bust the drugs and prostitution ring that is covertly camping out on university grounds. In order to do that, Matlock will have to find the elusive 'Nimrod', whoever they may be.
It's not your typical cookie-cutter operation though. The more Matlock delves into the illicit business, the more layers he peels away from the increasingly disturbing onion. Soon, he will find that his safety and that of his girlfriend are at stake.
That 70s Book
The Matlock Papers was first published in 1973, and in that sense, it is living history. Much of the story is steeped in the worldview that dominated the 60s and early 70s. That makes it the best Robert Ludlum book from the list of all Robert Ludlum books for those interested in the political, social, and cultural views of this period.
---
Must-Read
If we listed Ludlum's books ranked, The Gemini Contenders would be among the top for sure. However, let's be honest – it would be too difficult to rank Robert Ludlum's books from best to worst. The Gemini Contenders is another amazing novel set in 1939, when Europe is about to begin being torn apart by World War II.
Protect the Faith
A train rides to Salonika, Greece, onboard are religious documents that, if in the wrong hands, could disrupt entire nations and wreak havoc much greater than the one the continent and the rest of the world is about to witness. These documents are entrusted to a chosen few. Savarone Fontini-Cristi is among those who provide all the help they can; rich and powerful, he pays a high price for his good deed.
His son, Vittorio, will suddenly find himself having to scramble fiercely to be able to guard the secret of the documents on the train. Just one problem. He doesn't know where those documents are, and he doesn't know what they are. Vittorio is completely in the dark, and only knows he needs to succeed.
Multigenerational Saga
The Gemini Contenders spans over almost fifty years of history. In the second half of the book, Vittorio's sons – twins Andrew and Adrian – have to continue the family business of ensuring the documents are safe and the secret is kept hidden. And once again, the dangerous merry-go-round begins three decades after Vittorio's own adventure.
State and Church mix in this intrepid thriller, and readers who love getting their hands on religious fiction are sure to find this one of the top Robert Ludlum books. Here, the action is laced with Church intrigue and suspense, against the backdrop of a Cold War world.
---
War and Money
An entire world is at war. World War II has sucked countries all over the globe into the conflict, and it has been dragging on for years, ending lives and economies left and right.
In the midst of it all, Washington receives surprising news: a high-ranking Nazi official wants to give the US Government information which could possibly end the fighting. Is an enemy official willing to defect to end the war? The answer is yes, but with conditions. And those conditions are perhaps too onerous for the US to accept.
Hand Over the File
He wants them to release the Scarlatti Inheritance – a file with well-guarded secrets that, if made public, could potentially ruin the reputation of some of the most powerful people in the Western world.
A tale filled with secrets and plots to obtain power that all come circling back to a wealthy and influential family: the Scarlatti. And sitting on the Scarlatti throne is the matriarch, a strong-willed woman who will do anything to protect her family.
Recommended
The Scarlatti Inheritance draws money and economic motives into the plot like few thrillers do. It is recommended as one of the best Robert Ludlum books for readers who are enthralled by white-collar crime and spurious motives.
---
Wealthy Banker
Ben Hartman is a powerful and wealthy banker. A chance encounter in the streets of Zurich, Switzerland, has him run into an old friend – Jimmy Cavanaugh. It turns out his dear friend carries weapons because he is a crazy man with a plan, and he is out to kill.
Soon, Ben finds himself surrounded by several dead bodies, and among them, those of his friend. Then, the plot thickens, because Cavanaugh's body disappears and the gun he was armed with mysteriously pops up in Ben's luggage. Where did the weapon come from, and who put it there? Ben knows he is in trouble.
Killer on the Loose
Meanwhile, halfway across the world, a case file has been dumped on the desk of Anna Navarro, a field agent at the Department of Justice. Several murders have taken place, and she is asked to investigate the link in the string of deaths. How do all these crimes tie in together? That's what Anna has to figure out, and the key to the mystery is a 50-year-old CIA file entitled: Sigma.
Sure enough, as the DoJ agent starts to put two and two together, she finds herself in the line of sight of a killer who is always one step ahead of her. Pairing up with Hartman, the pair must go back to the Sigma file to uncover the evil that has been kept hidden for so long. One of the best books written by Robert Ludlum.
---
Keep Your Enemies Closer
Another World War II setting. This time, the hero of this Ludlum's best-seller is a radio voice actor, David Spaulding. Spaulding has proven his worth to the Allied cause, and by 1943 he has become one of their most valued spies. He has been carrying out covert operations for years now, so it's no surprise when the US Government approaches him about a top-secret exchange.
More puzzling is that this exchange is going to take place in Buenos Aires, Argentina, on neutral ground. The venue choice becomes clear when it is revealed that David is going to be in charge of overseeing a transaction with the Nazi regime, and has to travel to Argentina to meet the dealer, an exiled German Jew – Erich Rhinemann.
Small Complication
What appears to be a routine business exchange turns into something much more troubling, as the reason behind the "top-secret" status of the transaction is uncovered.
Spaulding was not in the loop about many of the real reasons and motivations behind the deal, but he will come face to face with some of its more horrendous consequences. And slowly, as he tries to carry out a business deal where nothing is what it seems, a hideous and terrifying truth will be uncovered.
---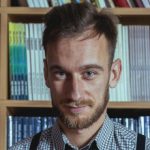 Robert is a science fiction and fantasy geek. (He is also the best looking Ereads writer!) Besides reading and writing, he enjoys sports, cosplay, and good food (don't we all?). Currently works as an accountant (would you believe that?)