---
Best Dieselpunk Books
---
Beloved Punk Genre
Dieselpunk is a genre that bears a lot of resemblances to steampunk as it utilizes the aesthetic look that technology founded on diesel had in the 1950s while blending it with a sort of retro-futuristic technology.
The first time that the term dieselpunk was used was in 2001 by Lewis Pollak, a designer of games. Today, dieselpunk is one of the most beloved and well-read –punk genres and with reason, too. Seeing as how much we, ourselves, love dieselpunk, we are now going to countdown our picks for the best dieselpunk books.
---
World's Motor
Ayn Rand is in the ranks of the most well-regarded authoresses of the 20th century. The best dieselpunk book of Rand's that stands out is surely the 1957 novel Atlas Shrugged.
In Atlas Shrugged we meet a man that vowed that he would be the one to put an end to the world's motor. This same man achieved this same feat. In his quest, the man didn't just meet and do battle with his foes, but with those he loved most.
Inventive Story
Atlas Shrugged is a book like very rarely any other. It provides a terrific story, a plot that is nothing short of inventive, and a conclusion that will squeeze the heart of the reader. We recommend it very much.
---
Amazing Work
Catherynne M. Valente is a Seattle, Washington based writer. You can find her name on our list of the best Mass Effect books, too. Her works are ones that always amaze us, but the 2015 published Radiance achieved so doubly.
Severin Unck
Severin Unck's father is one of the most notable directors of gothic romance films of his time and Severin has a similar proclivity for filmmaking. However, though in their world films where the actors could speak were still a new thing, Severin isn't interested in goth-romance films, but in documentaries.
Crossing the Stars
As such, Severin finds herself crossing the space between the stars, one day carrying out an inquiry about cults on Neptune and on another checking out the saloons on Mars. Sadly, it seems that Severin won't be continuing her filmmaking career as her crew are coming back home so as to relay the events that occurred.
---
Gedda City
Lara Elena Donnelly is a writer whose talents stretch far further than just the pen and the paper. One of the best efforts that we've read from Donnelly is her book Amberlough, which was released in the year of 2017. You can also find this book on our list of the awesome decopunk books!
Amberlough is actually a Gedda city. Gedda, itself, is comprised of four clear-cut municipal governing bodies. The Ospies, a new party, are dead-set on uniting the four governments under one single. While most people are all for the Ospies, our main characters Cyril DePaul and Aristide Makricosta are less inclined.
Unlikely Help
Cyril, who works as a spy, found himself without a guise so that he needed to concur with the Ospies' wishes or else. However, an unlikely help is found in the form of a dancer bearing the name Cordelia Lehane. Maybe not all is lost for Cyril and Aristide? One of the best dieselpunk books we've read.
---
Hitler's Birthday
Kingsbury, England is the home of fine novelist Robert Harris. Harris has found nine of his works on top bestselling lists, with the 1992 novel Fatherland being one of the top dieselpunk books in our eyes.
Two decades following the tumultuous win of the Nazi's in WWII, Germany is busy making the accommodations for the 75th birthday of Hitler. John F. Kennedy is also slated to make an appearance for peaceful purposes.
Xavier March
A man named Xavier March, a detective, is disenchanted though exceedingly sharp at his work. A corpse washes up ashore and it turns out to be a prominent Nazi member. The Gestapo are quick to pull Xavier from the investigation as bodies begin piling up. However, this piques the interest of March as he starts an investigation of his own, one that leads to horrible secrets seeing the day's light.
---
Great Hunting Ground
Philip Reeve is one of the most talented novelists that we've had the pleasure of coming across. Reeve debuted with the book we're going to be taking a look at – Mortal Engines. Mortal Engines was published in 2001 and it is rightfully on our list of the best dieselpunk novels.
In the Mortal Engines world, London is a sizable traction-based city. However, the so-called Great Hunting Ground is where even greater, more rapid, and ravenous cities dwell.
Mangus Crome
A man named Mangus Crome has a vision, however, one of the dastardly and fiendish ambitions. The few people that are standing between Crome and his vision's achieving are Tom, an assassin, Katherine Valentine, and her father Thaddeus Valentine.
---
Final Stages of War
Houston, Texas author John Shirley is one of our favorites in the dieselpunk genre. Without wasting any time, our favorite of Shirley's in our best dieselpunk books review is the 2011 book titled BioShock: Rapture.
The novel is set during the final stages of WWII as Roosevelt's politics have changed the way the USA is perceived. Taxes abound, Hiroshima and Nagasaki spell a grim story, intelligence agencies are more prominent, freedom is becoming a thing of the past, and fear is everywhere.
Andrew Ryan
An immigrant named Andrew Ryan went through everything in his path to get to where he is at: from destitution to affluence. One of Ryan's vision was to make the Rapture, a utopia for the great, one where the government has no say. However, things soon take a turn and this is the tale that describes the Rapture's history.
---
Sham Yes ap Soorap
British writer China Mieville has never not delivered with his works. One of the best books we've picked up from Mieville is the 2012 release of Railsea. Railsea's world is an interesting one, to say the least.
Sham Yes ap Soorap, being on the Medes mole-train, is for the first time ever looking at a hunt of moldywarpe. A sizable mole comes out of the ground, a harpoonist aims his weapon, and only one of them survives.
Something Impossible
However, while mesmerized by the ongoing event, Sham does feel that there ought to be more to it than just moldywarpe hunting day in and day out. When a crashed train becomes visible to the group, they are first interested in what it entails. When Sham learns of a seemingly impossible thing, he finds himself the target of many fiendish individuals. The Railsea's fate rests on Sham's doings.
---
Prince Aleksander
Scott Westerfeld is one of those writers that you read once and you immediately want to devour their whole oeuvre. That book for us was biopunk crossover Leviathan, published in the year of 2019.
Prince Aleksander has his sight on the throne, though his people don't seem to be as enthusiastic about his impending seizing of the crown. While Aleksander doesn't know why the people have such an attitude towards him, he still plans on doing his duty.
Deryn Sharp
Deryn Sharp, on the other hand, is a woman posing as a boy so that she can become a British Air Service commander. As the first World War's date begins coming closer, it is only a matter of time before Alexander's and Deryn's lives become entwined. Scott's work here is one of the best dieselpunk books that we've read.
---
Rift
Adam Christopher's first novel was the amazing book Empire State. Empire State was published in 2011 and received a sequel not long after. It is one of the best dieselpunk books.
The world of Empire State is an imaginative, charming world. The city of New York was having a great time until a hero battle ended with a blast bringing forth one more New York. This one, however, is of the prohibition-era and this is quite the odd event.
Something Unexpected
As the two New York begin interacting with each other, it is soon noted that the rift is coming to a close, but it now imperils both cities. As the characters from both worlds come to an agreement to stop it from happening, something very much unexpected occurs.
---
Grim and Hilarious
Doubtlessly, Jonathan L. Howard is among our favorite readers of recent times. His 2009 novel Johannes Cabal the Necromancer is the entrancingly grim, yet hilarious story about a scientist who signs a deal with Satan not once, but twice. Truly one of the top dieselpunk books.
Small Bet
Cabal gave his soul away a number of years ago so as to become a necromancy-expert. However, he kind of needs it back. Satan amuses the thought and offers a small bet – if Johannes can convince one-hundred different people to give their own souls, he'll get his back, but if he doesn't, it's eternal damnation.
Absolutely Charming
Johannes accepts and he has a single year until the two of them meet again. Johannes' tale is brimming with charming, gothic, and humorous storylines that we believe the reader will absolutely love.
---
Jake Sullivan
New York Times bestselling author Larry Correia is a writer that we think is criminally underrated. For one, the 2011 book Hard Magic is among the best dieselpunk books we know of.
Its main character is Jake Sullivan. Sullivan work as a private eye and his attitude is a bit harsh at times. Jake also boasts some magical abilities, which let him change the weight of things at a single thought.
Magical Abilities
When Jake is asked to help out with an alleged killer that has been taking to the banks to get some quick cash, he isn't all that interested. However, as soon as they say that the person at hand has some magical abilities, too, Jake is already invested. When Jake makes the discovery that the culprit is an acquaintance of his, he knows that he's in over his head, but he'll be damned if he stops now.
---
Matt Cruse
Kenneth Oppel is a Canadian writer whom we adore. One of our favorites from Oppel's work is the best dieselpunkbookAirborn, published in the year of 2014.
Matt Cruse, the main character of the series, works as a cabin boy for the airship Aurora. Aurora is almost always trailing the firmament, a couple hundred feet up.
Finding the Truth
Matt's always wanted to work on an airship, but when a soon-to-be-deceased balloonist tells him of beings and creatures that deck the sky as well, he finds it more than just a bit odd. When the balloonist's daughter comes to Matt after the balloonist's death, Matt is more than interested. When Matt's fascination skyrockets, he is resolved to find out the truth, but what when the truth is so strange.
---
Robert Hitchcock
Award-winning authoress K. M. Weiland is an amazing one, to say the least. Weiland's novel that was published in 2015 titled Storming is one of the books that we would call the best dieselpunk books and we mean that sincerely.
Robert Hitchcock, nicknamed Hitch, is a pilot, a cocksure one at that. When a lady comes down from the sky by his biplane out of seemingly nowhere, he is more than just stumped.
Jael
Jael, the lady, immediately comes off as an assertive woman as she's just about fearless. What she asks of Hitch is to take her home; her home being the sky. Hitch accepts, though his reservations about the lady being a nutcase are intact. When he finds a tremendous airship about the sky, though, his whole belief-system is rocked.
---
McNaughton Corporation
Robert Jackson Bennett has won just about all the awards that a writer can be expected to win at that stage of their career. In The Company Man, a 2009 novel, we see a company like no other.
The events unfold in 1919 as the McNaughton Corporation is the epitome of the industrial USA. They were the ones that made the weapons that would win the first World War prior to its beginning.
Evesden
Their airships were the finest of the time, and more than anything, Evesden is a brilliant metropolis that came from them. However, Evesden is not all perfect. Beneath the shining beauty, there are eldritch, brutal events occurring that no one save Cyril Hayes can even stand a chance to resolve them. As Hayes is torn between his company and the union system, between justice and bloodshed, a terrible secret finally sees the light of day.
---
Dangerous Sea
Austin, Texas novelist Jack Conner is a bestselling author that has continually released terrific novels. The 2014 book named The Atomic Sea: Volume One is a worthwhile tale that we think belongs on any list of the best dieselpunk books.
A millennia ago, the sea's alteration started and this alteration was not confined to a single spot. As the Atomic Sea, a venomous, lightning-riddled body of water, has now enclosed all oceans of the world, the sea-creatures are now eldritch and out of the ordinary.
Ghenisa
Even the humans aren't averse to the Atomic Sea's impact as upon contact they either die or they are changed too. Even worse, a world war is taking place as Ghenisa, a small country is nearing a breakdown. Doctor Francis Avery is aboard a ship crossing the terrible Atomic Sea when suddenly a number of murders occur sending everyone on board down a whirlwind of horror and disarray.
---
What Is Dieselpunk?
Dieselpunk is a genre of science fiction that carries similarities to steampunk while taking the diesel-founded tech's looks of the 1950s period in tandem with the retro-futuristic advancements and postmodern subtleties.
What Does Dieselpunk Represent?
Dieselpunk represents a chance to display the world in a manner that the steampunk genre just doesn't allow. It is an opportunity to showcase certain things in the light of a slightly different or skewed history.
What Is the Difference Between Dieselpunk and Steampunk?
While steampunk is based upon the steam-powered and contraption-based mechanics, dieselpunk owes its foundation to diesel technology along with more subtle themes.
---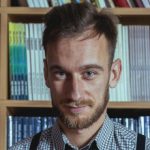 Robert is a science fiction and fantasy geek. (He is also the best looking Ereads writer!) Besides reading and writing, he enjoys sports, cosplay, and good food (don't we all?). Currently works as an accountant (would you believe that?)