Bio
William Ford Gibson was born on the 17th of March, in the year of 1948, in Conway, South Carolina, United States of America. He is a world-renowned and famous American-Canadian writer, namely of speculative fiction, but also of essays. To Gibson's name is credited the sci-fi subgenre today familiar as cyberpunk.
Growing Up
As noted above, Gibson was born in Conway, South Carolina, but he grew up, for the most part, in Wytheville, Virginia, which is a small Appalachian town where his own parents were born and brought up. Over the course of his childhood, his family often moved around as his dad was a manager for a construction company.
---
Best William Gibson Books
---
Career and Education
A mere year into his education at Pines Elementary School in Norfolk, Virginia, Gibson lost his father as the man choked in a restaurant while on a business trip. Gibson's mother, feeling inapt to break the news, asked someone else to tell him. Over the years, the tastes of William changed, just as he was to start his pursuit of a master's degree.
He started to view hard sci-fi novels as fascist literature, he deliberated, and made the decision to stop just then. It was upon meeting punk musician John Shirley, years and years later, that he was encouraged to pick up the proverbial pen and paper and to start writing. With that said, let's now take a look at what we think are the best William Gibson books.
---
Sprawl Series
Neuromancer was the breakout novel from and for Gibson. To this day, it remains as being one of William Gibson's best books and with a good reason. The novel was published in the year of 1984 and spanned about two-hundred or so pages. While often it is called Gibson's Neuromancer series, the series' true name is the Sprawl series.
Blue or Red Pill?
Henry Dorsett Case is the main character of Neuromancer. Henry Dorsett Case is currently employed in a somewhat criminal or less than legal occupation, that is he deals with data thieving.
In fact, there was hardly any tool sharper in the shed than Case when it came to doing just this. However, it just so happened that his ex-employees came back to hurt him and did severe damage to his nervous system in the process.
Book That Inspired the Matrix
At the moment, though, things are pretty much set to change, and change they will – at a moment's notice. An enigmatic and even strange employer has come to Case and has offered him the chance to take up his so-called final run in the business he was so good at.
What may the target be? An Artificial Intelligence which is in orbit around the Earth and which is controlled by the Tessier-Ashpool business clan. While starting comfortably slowly, Neuromancer soon picks up the pace and becomes the powerful cyberpunk book and the best William Gibson novel it is known as.
---
Too Good to Be True
Count Zero, another one of the best books by William Gibson, is the sequel to the genre-shifting Neuromancer. Count Zero was published in the year of 1986 and it spanned some three-hundred-odd pages. Book number two of the Sprawl series, as well. The tale of Count Zero has to do with three stories that are intertwined and which will, towards the end, unravel together. One of these stories is Marly's.
Marly is an art specialist whose life has been put on hold as a result of a certain scandal. At present, though, she's just been given the chance to find where certain art pieces come from and all this for an inordinate amount of money. Soon, however, she realizes that it was too good to be true.
Three Sprawling Tales
Turner is a mercenary whose devotion to his craft is unmatched. He is merciless and works exceptionally. Mitchell is the new employer of Turner, but soon enough the job has taken a wrong turn, and Turner is forced to keep Mitchell's daughter alive.
Young Baby Newmark, finally, is a cowboy hacker, who's greatest ambition is to be known as Count Zero. A close call is what saved Newmark's life at his first job, but then he finds out more about the woman that saved him – The Virgin.
---
Worlds Collapse
The third and final entry into the Sprawl series. Mona Lisa Overdrive is a novel whose page count is in the three-hundreds and it was published in the year of 1988. With that said, Mona Lisa Overdrive is one of our favorites and one of the top William Gibson books, as well.
Mona is a fairly young lady whose past is somewhat marked by a foggy, obscure, and inordinate air, but she's ready to start again. Her future, on the other hand, is wholly uncertain and everything depends on how she makes her next move. Angie Mitchell is a Sense/Net star, an extraordinarily successful and famous one, and the two of them, Angie and Mona, are seemingly set to meet and clash with each other.
Crumbling World
Ever since she was a mere child, Angie was capable of tapping inside of cyberspace. That might not seem anything special, seeing as many children have computers and thus access to the cyberspace. The strangest thing about Angie is that she doesn't need a computer to do so.
A ghostly figure from the cyberspace, though, now has a plan for both Mona and Angie, and even all of the world. A plot of abduction and subterfuge is set thus. William Gibson's book reviews were overwhelmingly positive which make Mona Lisa Overdrive William Gibson's best book.
---
Searching the Web
Pattern Recognition is a fantastic novel and one of the top William Gibson best-sellers, too. Pattern Recognition is book number one in the Blue Ant series and it was published in the year of 2003. The page count is about three-hundred-and-sixty or so pages. Cayce Pollard is a market-research consultant with the kind of intuition to make your skin crawl, that is if you could afford her services.
Pollard, a lady in London for a certain job, she receives an offer for a top-secret job. She is to look into certain video snippets that have riddled the Internet for a while now. The people that are interested in these videos are a certain subculture that hasn't been penetrated yet, so Cayce is surely the woman for the job.
Things Are Seldom What They Seem to Be
All was well, seeing as Cayce has made a living from some such jobs, but then her apartment is burglarized, her computer has been hacked, and she pretty much has no one to turn to. This sets her off on the idea that this isn't any run of the mill job to get some info about a group of people, but something far more sophisticated.
Having nothing else to do, Cayce brings her father, an ex-CIA agent, and her prodding into the deepest crevices of the Internet begins.
---
Only One Objective
Spook Country, the second novel in the Blue Ant series, is but another terrific novel that we absolutely and unabashedly love. The novel was first published in the year of 2007, spanning some three-hundred-and-seventy pages. Many fans consider this particular series to be the best William Gibson series, too.
Tito, a man in his twenties, was born in Cuba. Tito is fluent in Russian and he currently resides in a single room in a NoLita warehouse. The occupation of Tito has to do with the most delicate assignments that bring info transfer in question.
Hollis Henry
Hollis Henry, on the other hand, is a journalist who is working for the Node magazine. The odd part is that Node, for one, doesn't exactly exist just yet, but it's nothing out of the ordinary. For one, Node has a buzz that most successful magazines have prior to their founding, so there's that.
The Bluest of Blue Ants
Milgrim is a junky that is addicted to anti-anxiety drugs and pharmaceuticals. Milgrim is under the impression that if he doesn't get the drugs a certain Brown gives to him, he'd probably not make it out of the day. Milgrim doesn't know much about Brown, but he has his secrets, that's clear enough.
All was going as well as it could for a junkie until his curiosity got the best of him. Now he knows a bit too much about Brown and the uneasiness creeps in. If we made this list of Gibson's novels ranked, this book would be at the top!
---
Must-Read
Zero History is the final book in the Blue Ant series and it's a terrific way to cop off a trilogy as brilliant as this one. We stand firmly with the opinion that this is the best William Gibson book series that we've read. It was published in the year of 2010 and spanned some four-hundred pages.
Rehabilitated Man
Hollis Henry worked once for Hubertus Bigend and she vowed to herself not to ever take up a job from him again. However, the global marketing tycoon has a one-up on Hollis: she's kind of broke at the moment and Bigend has a lot of money to spend.
On the other hand, Milgrim is a man that can vanish at a moment's notice from pretty much thin air. His Russian is immaculate and his addictions were paid to be cured by none other than Hubertus.
Entwined and Unraveled
Garreth, on other hand, is a man who thinks and knows that he owes nothing to Bigend, nothing at all. He does, however, have friends that he can call to get some help if things go astray or something bad happens.
Bigend sees something in all three of them that he needs direly and he is prepared to do and pay anything to get the job in hand done. However, a new player has just joined the game.
---
Damnable Story
Virtual Light is book number one in the Bridge series of Gibson – the third from our William Gibson series list, today. Virtual Light was published in the year of 1993 and it spanned about three-hundred pages. The two main characters of Virtual Light are Chevette and Rydell.
Both of them couldn't be more different, yet one thing is what drives them together. Chevette Washington is an escapee from a juvenile facility in Oregon. Some time has passed and she has made her way to NorCal. She is currently working as a bike courier and her home is on the Golden Gate Bridge, one that is under the control of the mob.
Bridge Between the Worlds
After making a bit of a name for herself, Chevette is in a somewhat good place. That is, until she stole a pair of glasses as a means to get revenge on a bell-end at a party.
Now, things are not looking up for Chevette as she is once more ready to be on the run, but an ex-cop, currently rent-a-cop, named Rydell might be just what Chevette needs if she plans on staying alive long enough to keep the glasses. This novel is a perfect example of the best William Gibson book.
---
Something That Doesn't Exist
Idoru, the second book from the Bridge series, is another indicator of why we chose these particular books for the best William Gibson books. Idoru was published in the year of 1996, as worth noting. Rez is Lo/Rez' star. Lo/Rez is an extremely successful band.
Rez has just made the announcement that he is in plans to marry Rei Toei, a new pop talent that has hit the stage in Japan and that fans absolutely clamor for. One main issue is that she doesn't quite exist. Rei is an Idoru, meaning that she is a wholly synthetic being who doesn't exist like we do. Laney, on the other hand, has just hit rock bottom, or so it seems.
Catfished
Laney is a PI for Slitscan, a TV network, whose job is to probe data on the Internet so as to find clues, patterns, and paradigms. A terrible event involving someone's suicide is what forced Laney to join a different group named Out of Bounds.
Out of Bounds' main goal is to show the world that Slitscan is a morally depraved and sensationalist network whose main goal is views. What may Laney's first job for Out of Bounds be? Getting to the bottom of Res' interest in marrying Rei, of course. One of the best novels by William Gibson.
---
Wonderful Novel
The last book of the Bridge series by Gibson, All Tomorrow's Parties, was first published in the year of 1999. All Tomorrow's Parties is a wonderful novel that we find ourselves reading at least once in a while.
The Time Has Come
Colin Laney, the journalist that we know and love from the second Bridge novel, is a man that essentially lives in a cardboard box. However, Laney's true power lies in the fact that he can literally alter the world if he chose to.
As a result of an experimental drug from Colin's younger days, he is now able to note certain nodal points in data streams that comprise the enormous and seemingly infinite worldwide computer network.
Once in a Lifetime
These nodal points are quite rare, once-in-a-lifetime things, and they happen to come out in points of history where and after which dramatic changes are about to come upon society and the world as we know it.
They are seldom, if ever noticed at the moment that they come up, but something tells us that Laney's going to change that. Laney's own fears are that the next nodal point might be too great a change and it is supposed to happen on the Bay Bridge of San Francisco – which following an earthquake has really been rocked. Possibly the best book of William Gibson.
---
The Jackpot Series
The Peripheral is one of the most recent works of Gibson and it is the first novel in the Jackpot series. Published in the year of 2014, The Peripheral once more shows why it is that Gibson is such a great author. Of all Gibson's cyberpunk series, this one is his most modern.
World at the Brink of Collapse
Flynne Fisher is a woman living on the lower end of a certain country road. Rural America, especially in the near-future world, isn't a place where jobs are in abundance, at least not ones that don't involve drug manufacturing.
Burton, Flynne's brother, is living his life off of money that he received as compensation for the neurological damage he suffered during his time in the Marines. Wilf Netherton, on the other hand, lives in London of the UK, but only some 70 or so years into the future.
Nearing Apocalypse
Wilf is living the apocalypse that generations and generations before spoke and warned about. Those that have the means are still living somewhat comfortably, though doesn't that don't aren't alive enough to warrant the attribute of being alive.
Accordingly, in Wilf's time, it is even possible to go back into the past, which for a man like him, a romantic in the truest sense, is an opportunity that he takes upon often. Then, he and Flynne cross paths. One of the best-selling William Gibson books.
---
New Release
The newest book from Gibson and book number two in the Peripheral series is no other than Agency. Agency, a 2020 novel with a page count of about four-hundred, is surely among the easiest books to recommend.
Something Fishy
Verity Jane is a woman working as a beta tester, but she's really struggling with money. A somewhat suspicious tech company offers her a job to make them their new consumer service system, and Verity accepts. She notes that the sort of technology they have is really high on the scales.
What stumps Verity is when she picks up the company's earbuds and glasses and makes the acquaintance of Eunice, the Artificial Intelligence. Eunice is not any run of the mill AI, but an AI that is extremely developed, extremely intelligent, and with some extreme plans.
Two Sides of the Same Coin
As Verity and Eunice begin their working together, so much so that the very company they were employed by starts trying to stop them dead in their tracks. Eunice's arrangements get stranger by the second.
Wilf Netherton, in his advanced-tech London, is then tasked to, against his better judgment, aid Verity in her journey, even if it means change on the world scale. Atop the greatest William Gibson cyberpunk novels, without a doubt. The Difference Engine is another one of the best William Gibson novels that we recommend picking up.
---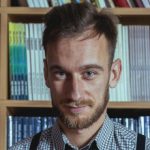 Robert is a science fiction and fantasy geek. (He is also the best looking Ereads writer!) Besides reading and writing, he enjoys sports, cosplay, and good food (don't we all?). Currently works as an accountant (would you believe that?)