Pimp, Get Used to it
The author we will be taking a look at today is surely one to remember. Robert "Iceberg Slim" Maupin, before being a writer, "earned" his living by serving as a manager for sex workers under his protection. In short, he was a pimp. He made a name for himself in the streets for almost twenty-five years, starting at just eighteen years old and retiring at forty-two.
Road to Hell
He was born in Illinois, Chicago but would live out his childhood in Wisconsin, Milwaukee before returning back to his hometown. He went to Wisconsin because his mother worked in a beauty salon there to take care of herself and Robert after his father abandoned them. In his autobiography which we will talk about shortly, Iceberg talked about his gratitude to his mom for not abandoning her as well and providing him with a good life including a college education.
Robert got accepted into Tuskegee University located in Alabama after finishing high school. But because of the bad influences the street culture that he grew up in had on him, he could not fit in. He would go on to be expelled from the university because he began bootlegging on campus. After the explosion, Robert's mother attempted to pursue him into being a criminal attorney but he was more interested in the pimps bringing women into the beauty shop.
---
Best Iceberg Slim Books
---
An Autobiography and a Public Classification
I will be starting my search for the best Iceberg Slim book with one of the most popular Iceberg Slim books, Pimp: The Story of My Life. It is the autobiography of the author that was meant to be some kind of cautionary tale. It is a public classification of the pimp stereotype of the sixties, presented with simplicity and cold-hearted honesty. It is clear that he knows the things he did were wrong but he is definitely not apologetic for them.
Maybe one of the first things you will notice while reading the book will be that Robert Maupin is not actually the Iceberg Slim persona he portrays. He, although in not so linear ways, confesses to actually feeling all of the emotions he was supposed to feel under the icy persona. We learn that he just found it essential to hide the fears, doubts, and sadness for others in order to succeed in his world.
Surprising and Impressive
His writing predominantly uses street language but he manages to create fully developed and highly detailed scenes with it. His ability to use proper structure in terms of sentences, paragraphs, and chapters is both surprising and impressive. I would like to remind all of you at this point that while he was a pimp, he also studied as a college undergraduate for some time. So, do not get your expectations so low.
The story told in the book itself is the transformation of Robert Maupin into a pimp. He talks about his dubious first steps in the business, shares stories of the times he learned how to do it better, and his eventual success as a master of renting women. One of the most interesting points for me was his discovery of the usefulness of psychology knowledge when it comes to subduing people. This also includes beating women with whip-shaped metal coat hangers though, so beware.
---
White by Association
Second in the article we have another one of the best selling Iceberg Slim books that was ever published, Trick Baby. It is maybe the best Iceberg Slim novel that tells a story motivated heavily by racial factors in our society. It is also a story that takes into hand the matter of today's fathers leaving their sons and girls all alone just because it suits them. A situation which the author also went through and suffered from.
It shares with us the story of Johnny O'Brien, a very special man whom we will get back to in a second. Before that, let's talk about the history of his parents. His mother was an African-American woman who just about had it with men from her culture and his father was an Irishmen who, as you can probably guess, had a drinking problem. The duo would marry while his father was drunk but after receiving pressure from his family, his father would leave them both.
Hilariously Satirical
Getting back to the protagonist himself, Johnny O'Brien was the "trick baby" who was born as a result of this short-lived marriage. For those of you wondering, trick baby was a derogatory term that meant a mixed-race baby born from an Afro-American sex worker. Because of his mixed genes, Johnny had a skin tone that made him look like a Caucasian. He would learn how to be a conman from a father figure and use his looks to his advantage.
The promise of this book comes off to me as intentionally satirical because of the detail of Johnny's father being Irish. It is not widely known but people of Irish descent were not seen as "white" people, mainly because of their conflicts with the English. To think the child of an Afro-American and an Irishman would go around conning people by using his whiteness is almost hilarious. All in all, Trick Baby is definitely one of the best Iceberg Slim novels out there.
---
Contemporary Rather Than Pulp
Mama Black Widow is a piece that is among the best rated books by Iceberg Slim. The story it shares with us is one of African American culture like the previous title and the horrific suffering that the LGBT people go through in our world. It is a book closer to the genre of contemporary fiction than it is to the pulp fiction that the author usually works with.
The owner of the first in the list of top rated Iceberg Slim books talks about the story of a young African-American named Otis Tilson and his transformation into the Mama Black Widow. In other words, Otis is a queen and this book talks about how this came to be. It also concerns itself highly with the ghettos of Chicago and a mass movement by the residents of these settlements to the North
Handling Two Opposing Views
We find Otis traveling with his brothers and sisters through the ghettos, forced to witness the constant sex trafficking and violent crimes taking place. The language through which these events are portrayed is very well-seasoned with both Afro-American slang and to quote the book, "the gut-level language of the homosexual underworld". This colorful use of narration along with the thrilling setting makes this piece one of the best Iceberg Slim books.
Mama Black Widow is a book that touches on many controversial subjects which are sadly not seen and talked about enough. Most importantly, it touches on two of the most sensitive matters in the United States, ghettos and LGBTQ+. Another thing to consider is that these two are opposing problems. Maybe one of the most unsuitable places for LGBTQ+ folk to live in is the ghettos which make the author handling them together all the more impressive.
---
The Real Iceberg Slim
Our search for the best Iceberg Slim book continues with The Naked Soul of Iceberg Slim, a book in which the cold-blooded and unsympathetic Iceberg Slim leaves the stage completely for the innocent Robert Maupin to shine. The Iceberg pulls down all of the walls surrounding him to allow a look into his "naked soul". How does it achieve this? It focuses on what made him the way he is, his childhood and early adolescence.
The author brings forth his memories of being a small boy raised solely with the efforts of her mother. He vividly recalls his would-be father who not only abandoned them but went as far as to slam his body into a wall. Then, we are let into the mind of Robert who can do nothing but watch as a friend of his gets stabbed to death among all the other horrors he lived through.
Many Subjects, Many Voices
He talks about the times he spent in jail with the first time taking place in the sixties followed by all of his different crimes and sentences. Once again talks about his experience as a respected pimp who is so well known that aspiring young men come to him for advice. Besides these; the book also includes the women he has been affected by, the story of how he became a writer, his thoughts on being a "black man" in America, and an apology letter to his father.
The narrative of the book changes from being poetic to aggressive with the changes in the topic the author talks about. The tone is elegant and kind as Iceberg exposes his more vulnerable sides step by step and it switches to intense anger when he talks about the bigger problems. He also publicly states his desire and admiration for the more pragmatic and ruthless "black movements". This collection book by Iceberg Slim is definitely higher up in our Iceberg Slim books ranked list.
---
A White Sequel
The next piece we will take a look at in our Iceberg Slim book reviews is Long White Con, a sequel to the sensational Trick Baby which included the half-Irish, half-African-American protagonist Johnny who conned people out of their wealth by using the fact that he looked white. I want to give you the name of the conman mentor of Johhny before we go on with the book, Blue. Blue, whose name I did not mention previously so I could do so in this book.
Blue Howard was the father Johnny never had. Johnny had learned everything that allowed him to live his life from Blue and when he disappears from the scene at the end of the first book, Johnny is left on his own once again. In this book, we pick the story up from that moment of great loss for the protagonist and we go on to discover the things he did afterward to find a new friend or maybe even a new purpose in life.
Good Book but not a Good Sequel
Johnny travels up to Canada at the start of the book to meet up with a fella known as the Vicksburg Kid. There, he aids the Vicksburg Kid in achieving his potential as a conman and they ultimately form a fearsome duo who can take up any challenge. This chain of events also ties down with a curious call Johnny gets from his ex-spouse Christina after she sends his ring back to him.
Long White Con is a really enjoyable and interesting piece, especially with the more complicated and intriguing conning techniques it talks about. Still though, it does not come close to the quality of the initial book in my opinion. It almost completely lacks the intense flow of emotion Trick Baby had. It reads more like a war of wits than a story of survival and while it is a good book on its own, it fails to be a good sequel. Definitely not one of the best books by Iceberg Slim.
---
Not Just a Player in the Game
Next up on our Iceberg Slim book list is Airtight Willie & Me, another collection of short stories. Piece by piece, the author talks about women of the streets and the people who run them. It is both a case study and a monument about what it takes to make it on the rough streets of lawless and ruthless cities. In the stories, there are people who just can not put up and give up and there are people who are simply naturals.
The author uses all of his experience with the different aspects and businesses of the ghetto lifestyle ranging from his field of experience, pimping and sex workers to the inside relationships and rivalries of drug dealers who sell "dreams in a blizzard of white powder". Because of this, you will be very disappointed if you were expecting the mainstream tropes about the subjects. I say this confidently because Iceberg was not just a player in the game, he was among the ones playing the players.
Truly Horrific
Another thing to mention about Airtight Willie & Me is that it was sure as eggs not meant to be a book of glitter and sunshine. One of the biggest strengths of the author is that he is able to convey the most horrific parts of his lifestyle with no signs of timidity. He turns this up to the fullest in these stories as he casually fleshes out some of the most real and mind-warping ruthless characters you will ever read.
I can claim without a doubt that Airtight Willie & Me has a place in the list of the best novels by Iceberg Slim. The way I look at this book is that the author talked about all there was to his emotions and decided to let his literary excellence run wild afterward. You will not see this book very often even when you are searching for a book by the author to read but I highly advise you to give it a chance.
---
Gang Violence and Personal Grudges
The last one of the Iceberg Slim books that I have in order for you is one with a daring title and an even more daring story, Death Wish. It is a novel in which the author explores the world of gang violence and the personal grudges of the criminal world. It encapsulates the unhinged violence these people carry. We are hit in the face by the sheer intensity of the characters and masterfully executed gore.
The book tells us the fictional story of a war between a notorious Don named Jimmy Collucci and a lone man with revenge running in his veins, Jessie Taylor dubbed the "Black Warrior". Jimmy Collucci is dead set on taking over the city and ruling it as the king of the "Honored Society" of Chicago. When these two characters come face to face over a conflict of interest, blood will spill.
The Original Mafia Story
Death Wish: A Story of the Mafia has been an inspiration for many written and motion picture works over the years. If you see the book branded as "the original mafia story", this is the exact reason why that is. It is an excellent collaboration of well-written characters living the life and a narrative that makes telling a thrilling story look as easy as cutting a piece of butter.
---
Final Thoughts
Robert Maupin is a pioneer of two of the most game-changing literary movements of his time. One of them is the pre-beat style of street writing very similar to Bukowski and the other is urban fiction where he pulled the strings along with the legendary Donald Goines. I am not in a place to judge the author's life or personality but I can judge his writings. And let me tell you, they are brilliant.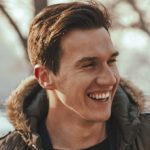 Michael is a graduate of cultural studies and history. He enjoys a good bottle of wine and (surprise, surprise) reading. As a small-town librarian, he is currently relishing the silence and peaceful atmosphere that is prevailing.