---
Best Japanese Philosophy Books
---
Happiness and Inner Peace
Japanese philosophy is one of the best ways to learn a lot about life, happiness, true meaning, inner peace, and the list just goes on and on. The Japanese have spent countless years focusing on learning and discovering meanings behind topics such as these and there are some truly great minds who definitely know what they are talking about.
The books on this list are some of the best Japanese philosophy books that you can start out with if you wish to learn some of the brilliant breakthroughs that Japanese minds have come up with.
---
On Your Way
Zen Buddhism, the perfect topic to start off this list with and to learn the mind-blowing and powerful ability of self-restraint.
It might sound like an easy thing to do, but surely you have been in a situation where you badly want to argue with someone who you know has never been more wrong in their life. Once you master the techniques shown to you in this book by D. T. Suzuki you will definitely be on your way to a happier life.
Understanding Yourself
The way that this author makes sure that you master this skill in life with Zen Buddhism is by first learning about and understanding your own self. You should always know yourself best and being totally realistic and honest while attempting this.
It is the best and fastest way of learning and growing as a person. This book and the rest on our list are definitely worth reading if you wish to improve as a person and stir for greatness and happiness.
---
Way of Life
Hector Garcia is the author of several Japanese culture books and this time he brings a lot of what he knows about Japanese culture and philosophy in this one of the best Japanese books about philosophy ever written.
Hector shows you the Japanese term Ikigai, something that Japanese people have lived by for centuries which has allowed them to have long and happy lives. We really love this book and that's the reason why we included it in our selection of the awesome books about Japanese culture.
Your Reason to Live
The best Japanese minds who practiced the way of the Ikigai have said that everyone has an Ikigai, this means that everyone has their own reason to live, a reason to stay active, a reason to work for every day, this could be a goal of some kind, an achievement that will keep you going and motivated for a long time. This book will show you how to harness that power and set a goal for yourself that will allow you to do the same as countless other people have done in the past.
---
One of the Best
T. Suzuki is someone who you should definitely listen to when it comes to Zen Buddhism as he was a professor on that subject at Otani University. When it comes to the philosophy of Zen Buddhism, he writes some of the best Japanese philosophy books out there and that's a fact that has been supported by many of his readers.
Most Famous Essays
This book is a collection of his most influential and popular essays on the topic. Discussed inside is the history of Buddhism, a day in the life of a Buddhist monk, and he tells you a few things about the path to enlightenment which so many seem to seek.
---
Knowledge and Insight
The secrets of Japanese philosophy have finally been translated into English so that this book by James Heisig can bring the knowledge, value, and insights into the Western world and many more can learn from brilliant thinkers throughout Japanese history.
Priceless Knowledge
Western philosophy can also learn a thing or two from this book which talks about some valuable topics coming from all sorts of sources like the ancient wisdom of Buddhism, Confucianism, and Shinto. The book is actually a little over 1300 pages so you can definitely expect to get a huge amount of priceless philosophical knowledge from this what is considered to be one of the best Japanese philosophy books out there.
---
Impermanence
Discovering and learning about the beauty of impermanence and accepting that hard fact about life is something that definitely has the power to change one's life. This book by Andrew Juniper focuses on exactly that as you get to read this wonderful, eye-opening story about some of the most beautiful and most important things in life.
Andrew Juniper has studied this way of life a lot and he urges his readers to take a step back and slowdown in this fast-paced world that we live in.
Acceptance
How to stop and enjoy the imperfect surroundings around us and just accept things as they are as a new kind of happiness will emerge from finally being able to realize that. If you are somehow unsatisfied with your life or can't handle changes around you, then be sure to give this book a try and see what it can offer, you have nothing to lose if you do.
---
Everything is Unique
Have you ever realized that each unique moment and everything you experience in life only happens once? Each time you do something is unique and this book by Hector Garcia is the perfect guide to show you how that can be a very important thing that can better your life and state of mind.
Love Every Moment
This guide is one of the best things to introduce you to Japanese philosophy and to show you how to love every moment of your life. This book is something that can help you to live in the moment and love every bit of it, to focus on the present as that is the only time you are living in, not the past and not the future.
All of the books listed here are created to bring some form of enlightenment to your life, definitely try to give them all a read if you seek this in your life as the valuable knowledge inside is something that can surely be life-changing.
---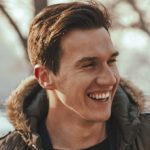 Michael is a graduate of cultural studies and history. He enjoys a good bottle of wine and (surprise, surprise) reading. As a small-town librarian, he is currently relishing the silence and peaceful atmosphere that is prevailing.