Bio
Joe Hillstrom King, born in June 1972, goes by his shortened pen name: Joe Hill. Hill adopted this pseudonym to make sure that his success as a novelist was due exclusively to his own writing merit, and not to his prestigious literary family tree.
Under Pressure
Hill is the son of writers Stephen and Tabitha King. Given that he also chose to concentrate on writing horror, he knew the comparisons between his father's prose and his own were inevitable.
---
Best Joe Hill Books
---
Career
Turns out, he had nothing to worry about. Even if he inherited their talent, he carved out a place for himself thanks to his own brilliance. Before he revealed his connection to his parents, his work had already been recognized. He's received awards such as the Bram Stoker Award and British Fantasy Awards for both Best Collection and the Best Short Story in the Horror genre.
We've put together the 10 best Joe Hill books so you can read them and see for yourself if he really does live up to all those awards. You'll find the Joe Hill book reviews for some of his best-known and loved works.
---
Family Trauma
The first series on our list of Joe Hill's books is Locke Key, which is widely considered the best Joe Hill series, especially amongst graphic novel fans. A father is brutally killed by a deranged teenager who breaks into their house. The adolescent murderer attempts to go after the rest of the family, but the wife and three kids – Ty, Kinsey, and Bode – manage to survive.
What to do when your husband is dead, and you have to raise three children on your own while dealing with the trauma? Where do you go when your father has been murdered in cold blood? As it turns out, you go to the home of your deceased father. A house that actually has a name: Keyhouse.
Keyhouse
The house's bizarre name turns out to be well-suited to it, as it is filled with rooms that require keys to enter them. Soon though, the four living family members will start to realize that the house is filled with more than just rooms… They aren't the only occupants in it. They may be the only human residents in the house, but the other tenants aren't going anywhere and are fueled by years of hate and resentment.
With enough post-traumatic stress to warrant a lifetime of therapy, the Locke children will have to face an even more horrifying reality. The house is haunted. And the spirit creatures that roam have the key to a well-kept secret that will reveal that their father's murder wasn't random, after all.
Amazing Series
Hill's prose and Gabriel Rodriguez's art masterfully complement one another to create a terrifying and thrilling horror graphic novel series centered around the haunted Keyhouse and its supernatural secrets.
The series is made up of six volumes in total and Joe Hill's books in chronological order are: Welcome to Lovecraft, Head Games, Crown of Shadows, Keys to the Kingdom, Clockworks, and Alpha & Omega.
Award-Winning
If you like your secrets and reveals long and drawn-out, savoring every jump and jitter caused by a plot twist, Locke & Key is one of the most popular Hill books and the perfect book for you, because it's six times more.
Locke & Key was awarded the British Fantasy Awards in 2009 and 2012, and also won an Eisner Award in 2011. This is one of the top Joe Hill books for readers that love to read about child adventures and find the idea of a haunted house enchanting.
---
June Branch
Basketful of Heads is one of Joe Hill's new books on our list, it was published only a couple of months ago, in September 2020. In this seven single-issue graphic novel, readers get to follow poor June Branch in her quest to find her boyfriend.
June Branch is a young woman in love, but her boyfriend has gone missing. Except this isn't your run-of-the-mill story about a commitment-phobe significant other who skips town to avoid having the "are we exclusive" talk. June's boyfriend has been kidnapped by a gang of deranged criminals.
Viking Axe
June has one weapon to help slay the villain: a Viking ax forged in the 8th century. Being more than 13 centuries old doesn't stop it from being deadly; it can cut a man's head off in a single swipe. And then, leave the severed head… conscious and talking.
As June hacks through her list of enemies to save her boyfriend's life, she collects a basket full of talking heads. Each dismembered one trying to tell her their own twisted stories, filled with lies and scheming plots.
Disturbing Truths
She will have to cut through their lies like she cut through their heads if she wants to get to her love partner in time to save his life. And get to the bottom of this terrifying event in her life, which is wrapped up in mystery and is hiding some disturbing truths…
This is one of the most recent books by Joe Hill and the best books by Hill for readers who love a crazy blend of horror and supernatural fantasy.
---
Destination: Anywhere
Victoria McQueen is introduced as a sweet, very special eight-year-old with a very special bike. Her bike takes her anywhere. Literally, anywhere – and no, I am not misusing the world. Victoria's bicycle has magical powers and can transport her to any place in the world she needs to be through a time-traveling tunnel.
Evil Itself
This means that our heroine can find whatever she needs, whenever she wants. She'll hop onto her bike, which will lead her straight to the place where she needs to be to find what she's looking for.
Unfortunately, it doesn't stop her from finding evil itself, dressed up as Charles Talent Manx, and driving a 1938 Rolls-Royce with the vanity plate NOS4A2. Charles Manx's vehicle also has special traveling abilities, but in this case, it takes you straight to the land of nightmares.
Feliz Navidead
The evil villain in NOS4A2 is a child-abducting psychopath who takes children to his own terrifying amusement park: Christmasland. A place where the spirits of these innocent souls are crushed, turning them to the dark side for good… When you're taken to Christmasland, it's Christmas every day because there's no escaping. Or is there?
Persona Non-Grata
Somehow, Victoria McQueen manages to get away from the deranged clutches of Manx and makes it back into the real world. The only one to ever achieve such a feat. Unfortunately, that has put her on Manx's persona non grata list, and he plans to get even. Since vengeance is best served cold, Manx bides his time. Victoria grows. She falls in love. She marries. And then comes the baby in the golden carriage.
And what is Charles Manx notorious for? Child abduction. Victoria will see her worst nightmares come true when she discovers her child is missing, and only one Rolls Royce driving maniac is to blame… The best of Joe Hill's new horror novels. An absolutely chilling story of how far some will go for revenge.
---
Like Father, Like Son
Readers who love short-stories and love Stephen King will find this the best Joe Hill novel pick for them. Why? Because Hill co-wrote two of the thirteen short stories with his father, the King of horror fiction himself.
Father and son share writing DNA, and their unique styles blend well as they write about a trucker with no face having to face (pun intended) a gang of motorcycle outlaws in the sweltering heat of the Nevada desert.
Magic Everywhere
And that's just one of the many stories Full Throttle has to offer. Magic, supernatural abilities, portals that open up to parallel dimensions, deep dark waters hiding secrets in their inscrutable depths… A compelling, entertaining, and engaging collection of short stories.
If you like the Father, and you like the Son, you will also like the Unholy Ghosts that haunt the pages of one of the best-rated Joe Hill books; a complete Holy Trinity of Horror novels.
---
Feeling Horny?
The morning after a particularly heavy binge-drinking session, Ignatius Perrish wakes up not quite feeling like himself. Except, it's not just because of the raging headache, dehydration, and level 10 hangover. Something besides pain is banging against his skull: a pair of horns. Sounds like one of the best novels by Joe Hill, doesn't it?
Flabbergasted, Ignatius examines the bumps on his head and establishes that the two bumps on his head aren't from drunkenly stumbling into a wall. He's growing honest-to-God horns. And the horns don't come alone, either. With this supernatural, but very real, twist in his life come some new and dark abilities. If you are looking for good Joe Hill books, Horns is one of the most popular Joe Hill books that won't disappoint its readers.
Traumatized
Ignatius has a reason for seeking solace in the bottle. Years ago, his girlfriend and love of his life, Merrin, was raped and killed in a brutal incident. This loss has left Ignatius feeling torn and lost.
And worse: as her boyfriend, he was the number one suspect in the case. He was never tried, though, because evidence was "lost", perhaps due to his wealthy and influential family pulling some strings.
Traumatized
But fingers still point to Ignatius behind his back when he walks down the streets of his New Hampshire town. Even among his family members, not all are 100% convinced of his innocence.
Weighed down by the absence of his partner, the circumstances surrounding her loss, and the silent accusation in the glares of those around him, Ignatius is a traumatized individual. And now, he is a traumatized individual with the devil's horns growing out of him, and possibly also the devil's agenda.
---
Draco Incendia Trychophyton
A new virus is spreading all over the world. It doesn't make you sick though – it burns you to a crisp. Like wildfire, it's catching on. City after city is seeing its citizens affected by it.
First, the infected patients notice the appearance of golden flecks on their bodies; that's when they know the clock of life is ticking. At some point, they will spontaneously burst into flames and die. Scientists are calling it Draco Incendia Trychophyton, but no one knows where it came from. And worse, no one knows how to get rid of it.
Mother's Love
Harper Grayson has been caring for infected patients since it began. As a nurse, it's her job, so she's seen up close what the new contagious disease does. She and her husband have spoken about what to do if one of them catches it. However, Harper is pregnant, and that changes everything.
She's witnessed infected mothers give birth to healthy babies, and she's clinging onto the hope that the same will happen to her own unborn child if only she can give birth to him. Her husband becomes paranoid and obsessed, convinced his wife has made him ill. Unhinged, he leaves his family behind just as the city is being taken over by a special kind of chaos.
Vigilantes vs Fireman
A group of vigilantes are roaming the streets, calling themselves the "Cremation Squads" and putting an end to anyone they believe is contagious. The only thing between the Cremation Squads and absolute anarchy is The Fireman.
A mysterious stranger dressed in a firefighter's uniform who, despite having Dragonscale, can control the fire and isn't engulfed by the inner flames. Instead, he is using his inner fire to right the numerous wrongs. He is Heather's only hope. One of the best books written by Hill for those that find disease and pandemics – even if paranormal – to be one of the most terrifying things.
---
Penchant for Darkness
What's an aging, retired rock-star supposed to do when he hits his fifties and becomes irrelevant? Judas Coyne decides to collect rare items. His collection is a reflection of his sick fascination with everything macabre: he collects sketches made by notorious serial killer John Wayne Gacy, perforated 500-year-old skulls, a witch's confessions, and so on.
So, when his assistant contacts him to let him know that a ghost is up for auction on the internet, Judas jumps on the opportunity and purchases the spirit. The "ghost" comes packed as a suit of the late Craddock McDermott, and he arrives in a heart-shaped box. Which is ironic, because as it turns out, the specter that's living inside the suit is entirely heart-less.
Ghost From Christmas Past
Strange things start to happen as soon as Judas and his partner Georgia open the box. And strange quickly turns into scary, and scary into terrifying, as it becomes clear that Mr. McDermott didn't turn up in their house as a coincidence. His arrival was planned. And he has a bone to pick (or break) with Judas.
Hill's debut novel, and still considered one of the best Hill novels by many of his fans, he entered the world of literary horror with relatable characters and a deviant ghost who uses his knowledge of the human psyche -as a former hypnotherapist- to slowly exert revenge by taking control of his victim's mind.
Recommended
It is one of Joe Hill's romance books that continues to be one of best-selling Hill books for good reason – you'll find out for yourself once you read it.
---
Masterpiece
Like most writers, before Hill started writing lengthier novels, he wrote short stories. 20th Century Ghosts is a compilation of some of his best work, including short stories from his genre of choice – horror – but also non-horror stories.
If you're looking for a varied selection of works of fiction by a talented and engaging author, and have no strong preference for any particular genre although you do favor a scary story, this will undoubtedly be one of Hill's best books for you.
Sneak Peek
What kind of stories can you expect? A story about old-time Hollywood glamour and the ghosts of a time long passed; a young boy who acts as a magnet for abusive behavior; a basement painted with the blood of children murdered long-ago, where only one disconnected landline phone still rings every night…
---
See the Horror
Whether you have previously read one of the vampire books by Hill titled NOS4A2 or not, the Christmasland series promises hours of engrossing fun. We're not listing Hill's books ranked, so even though it is the last entry in our article, it is not the worst. Quite the opposite! Hill has once again paired up a superb illustrator to bring the chilling story of Charles Talent Manx III and his child-abducting ways to life in 2D.
Hill's writing chops and Charles Paul Wilson III art skills make for a dream-team designed to scare the sleep right out of you. Welcome to Christmasland was published as six issues of graphic novels, but it is possible to purchase it as a single issue to binge-read the entire thing, it's the best Joe Hill book for those that love to see as well as imagine the horror.
The Night Before Christmas
This graphic novel works as a prequel to NOS4A2. If you are wondering, if you should read Joe Hill's books in order, it isn't mandatory to have read it first. However, if you did and were left with a lingering curiosity about how Charles Talent Manx turned into the evil devil he was in the novel, your thirst for knowledge will be quenched with Wraith.
Even psychopaths have a backstory. So too, Charles Manx III, because he doesn't have those roman numerals in his name for nothing. Forces of darkness have been at work for generations. Readers will also discover how Christmasland came about, and how it turned into the funhouse of horrors it was in NOS4A2.
Must-Read
A must-read for lovers of the sequel, and one of the best Hill graphic novels for those readers that are also fans of the graphic format. Because the images of Manx's terrifying, saw-like smile are the stuff nightmares are made of.
---
Short Stories
When you can't decide whether you have the energy to invest in a novel, but also don't want your hours of reading leisure to fly by too fast with a short story, there's the novella. And Strange Weather is a successful attempt at creating a book and one of Hill's recommended books on our list.
Loaded
This novella explores the world of gun violence in Florida. The real horror in this story comes it could easily be real. Plausibility adds an extra layer of fear.
Snapshot
What role do your memories play in your life? The town where The Phoenician is roaming the streets will soon find out. This rogue and rough mystery agent has a Polaroid camera that snaps your memories away, capturing the image and fading its imprint in your mind.
Aloft
A parachute jump that doesn't end as expected. Aubrey's fall is braced by a soft but firm cloud – and one that isn't just made of condensed water vapor because it has capabilities unknown to clouds. Aloft explores the distance that always exists between what we want (or believe we want) and what happens when we actually get it.
Rain
What would happen if instead of droplets of water, nails that pierce through your flesh come pouring down from the skies? Honeysuckle, a babysitter stuck in Boulder, Colorado, will find out when she needs to travel to her home-town to see her father and is forced to brave the post-apocalyptic scenario taking place outside her home walls.
---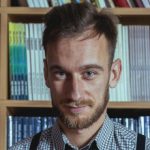 Robert is a science fiction and fantasy geek. (He is also the best looking Ereads writer!) Besides reading and writing, he enjoys sports, cosplay, and good food (don't we all?). Currently works as an accountant (would you believe that?)