Bio
Ray Garton was born on the 2nd of December, 1962, in Redding, California, United States of America. Ray Garton is an American writer, most notable for his books in the horror fiction genre. Having written more than a whopping sixty books, Garton was presented, in the year of 2006, with the World Horror Convention Grand Master Award.
Garton has, throughout the course of his lofty and lengthy writing career, utilized three different pen names – his own, of course, along with two different pseudonyms: Arthur Darknell and Joseph Locke, most primarily used during the author's middle years.
---
Best Ray Garton Books
---
Novels
Though the author has written a high number of books, most of them were released as standalone novels. For most of the series that the author has written, they don't go above two books each.
Garton has also done the novelization for many a movie, including the novelization of the fourth and fifth Nightmare on Elm street movies. At the present time, Ray Garton lives somewhere in Northern California along with his spouse named Dawn. Let's take a look at what the best Ray Garton books are.
---
Famous Series
The Davey Owen series is Garton's most well-known series, to date. It even features Garton's most loved book. The series is comprised of only two books, though they are quite a doozy. The books are:
Live Girls, published in 1987.
Night Life, published in 2005.
Davey Owen
Our main character, Davey Owen, is having a bit of a rough patch. He doesn't get the promotion that he has, by all means, deserved; his temper gets the better of him and now he doesn't even have a job; and as the proverbial cherry on top, his girlfriend just left me because of his inability to stand up for himself.
Live Girls
Having no other recourse, schlemihl Davey goes to a New York City peep show aptly named Live Girls. He is allured to go inside and when he does, he gets more than what he bargained for. At the end of the day, Davey went home with more than just a smiling grimace on his face. We see that a bit lower than the smile, upon his neck, there's an oddly placed bite mark.
Amusing and Entertaining
There aren't many vampire stories that can amuse, entertain, and satisfy like this one does. It has interesting characters, intriguing villains, a plot that absorbs, and, to top it all off, it's paced perfectly.
---
Gruesome Assault
Ravenous is one of the standalone novels penned by Garton. It was published in 2008. The story starts out with a woman. Said woman has just endured a vicious, gruesome sexual assault: she's just been raped.
Her attacker, however, is dead and has just been taken to the prostration before the grave: the morgue. The lady is escorted to the morgue so as to identify the fallen perp. There's just one issue: the body is nowhere to be found.
Werewolf?
A man, devoid of any clothing, is seen running out of the ER doors of a hospital. The deputy is sent after this man, but the same sheriff is soon found dead. He'd been eviscerated in a brutal fashion. It is deduced that such a wound could only have been caused by a singularly large wolf or wolf-like animal.
The slayings proceed and, at one such occasion, an individual, wholly ominous, shoots one such rampaging murderer. What's left is but a body resembling a human and a wolf at the same time.
STD
This same individual reports to the sheriff that what they have on their hands is a 'werewolf infestation'. It's revealed that this trait is spread via sex, so it acts like an STD. The brutality of the story is only aided by the visceral writing of Garton. Truly, this is one of Ray Garton's best books.
---
Disturbing Premise
The Frankenstorm series is Garton's longest series, to date. It is comprised of a total of seven books and they are:
Frankenstorm: Severe Risk, published in 2014.
Frankenstorm: Hurricane Quentin, published in 2014.
Frankenstorm: Category 8, published in 2014.
Frankenstorm: Deranged, published in 2014.
Frankenstorm Chaos Theory, published in 2013.
Frankenstorm Survivors, published in 2014.
The premise of the book, in spite of the weirdness of it, is a candidly disturbing one. The people are, once again, being dominated by their worst enemy without whom they can scarcely get by: The Government. A biological weapon to rule all biological weapons is being crafted by their fiendish hands. A doctor has been hired, one suffering and battling a horrible addiction to drugs, so as to make the biological weapon that they need.
Kidnappings
It works like this: people become sick, people go on a rampage. The doctor, however, isn't keen on testing it on lab subjects like mice, but on living, breathing humans. As such, the government gets going with kidnapping homeless people off of the street and transporting them to a horror staple, an abandoned hospital. To make matters even more convenient, it's far off into the woods.
Vanishing Vagrants
People take notice of the suspiciously vanishing vagrants. A conspiracy theorist, the ultimate enemy to any governing body, decides to investigate and help. He happens to come by an abnormally-armed homeless man and together they break into the hospital. They learn, however, that they can't just let everyone out since they're already murderous. This is where the book enters into the bloody, terrifying waters.
Thrilling Writing
While this is all going on, a horrifying hurricane is rampant. For someone that primarily writes horror novels, Garton has an astounding command on the thrilling tenseness and stresses associated with action adventures. This series features, without a doubt, the best books by Ray Garton.
---
Keller Family
The Loveliest Dead by Garton was published in 2005. It is one of his many superb standalone novels. Essentially, it is a haunted house story. However, when the substance of the book is viewed, we see that it is much more than that.
The family of the Kellers has recently had to cope with the loss of their youngest child. The mother, Jeanna, has also inherited the house of her father, whom she never met, nor knew.
Vanishing
The family decides to move into the new house so as to change the dreary scene. Jeanna's husband is named David, their son – the currently living one – is Miles, and they also live with Jeanna's mother, Martha.
Without wasting a moment, frightful, odd things begin to occur. Out the corner of their eyes they see children playing in the backyard, but when they turn to look, the kids have vanished. Miles even has a recurring occurrence – he sees a hefty, grotesque man coming out of the floor in the dead of night.
A Psychic
However, an elderly person, one that has made a career of being a psychic, is subjected to vision of the family. These visions, in short, aren't ones that a kind soul can fancy. She has to act fast and act hastily as she hasn't a moment to spare if she wants to spare the Kellers' souls.
There is no doubt that Garton is a complete master of the horror genre. Even more so, this book, in spite of the author's usually explicit, brutal depictions, is rather tame and has the reader on his toes the whole time. This dead home is one for any horror lover.
---
Davey Owen
While we did mention Night Life when speaking of the Davey Owen series, we think that the book, by itself, is also a true marvel of horror literature. In it, we see Davey Owen, once more. Davey, however, has spent the past twenty or so years hiding from the venomous, horrifying vampires that nearly took his life – in a sense, they even succeeded.
Rampant Story
Though the story is set in the future, the depravity and perversion is still very much rampant. While in the first book, the vampires were only getting into the adult industry, here we see them really comfortable in it. While the first book had that psychedelic, 1980s vampire feel to it, the 2000s sequel goes more for a rave-like feel. Whereas the vampires only gave you a peep in book one, in book two the offer is a bit more extravagant.
Margin Burgess
We meet Margin Burgess, a writer of horror bearing an obsessive attitude towards vampires. He's heard a few stories about the Live Girls of NYC, so he hires a few investigators to get more scoop on what really happened. The investigators succeed and they are led to a reported, Walter.
Walter once attempted to uncover the secrets, but fearing for his life had to step down into obscurity. The vices of reporting still linger in Walter's heart, so he convinces Davey along with his undead wife, Casey, to speak to the investigators.
Carnage
The vampires, though, don't fancy the prospect of having their secrets exposed, so carnage is to ensue. The sequel is a more than worthy addition to the original. Even by itself, it is one of Ray Garton's best books. Other books from the scary quill of Ray Garton are the following: Bestial, The New Neighbor, and Lot Lizards.
---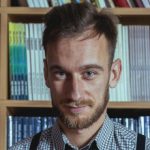 Robert is a science fiction and fantasy geek. (He is also the best looking Ereads writer!) Besides reading and writing, he enjoys sports, cosplay, and good food (don't we all?). Currently works as an accountant (would you believe that?)