---
Best Science Fiction Horror Books
---
Suspense and Thrill
The science-fiction horror subgenre is a mixture of sci-fi and horror and it is one of the best and most entertaining book genres out there.
The reason for this is because we all know that horror novels are highest in thrilling events and suspense and when you mix that with some sci-fi experiments, aliens, and stuff like that, you get unforgettable stories with unique and fascinating characters. Take a look at some of the best science fiction horror books in our opinion.
---
Area X
We immediately get to some of the good stuff right from the start as our first pick is a story of great excitement as a crew of various characters are about to embark on a very dangerous and scary journey.
In this world, nature has become one of the deadliest enemies to humans and there is a special place of horror called Area X.
Trying the Impossible
No one who has gone to explore it has returned back alive and this set of new characters will try to do the impossible. You get to see some pretty scary things on this crazy adventure and find out if these are the ones who make it further than the rest. You can also find this book on our list of the LGBT science fiction books!
---
The Passage Series
This story starts right after a failed scientific experiment that has gone terribly wrong. It all happens when a security breach at a secret US government facility appears and something monstrous from a military project is let loose.
It doesn't take much time after that for the world to crumble and civilization to fall apart. You then get to meet an FBI agent who will play a big part in what is to come next, his name is agent Brad Wolgast.
Amy Harper
Brad is determined to protect an orphan girl who is only six years old, her name is Amy Harper and you will soon realize that there is something very special about this girl. You can learn more about the series in a standalone article. Just take a look at The Passage series review.
---
Verge of Extinction
Our next pick is a story that comes very close to the extinction of humanity after a terrible war threatens so much. True horror will be presented in this book as you get to read about the fear of the people who had to experience this terrible zombie war that Max Brooks writes so passionately about.
Patient Zero
The long struggle begins with the 12-year-old Patient Zero and after that, you will get to find out for yourself what exactly starts to consume the world as this dangerous event will quickly get out of hand.
---
Gyre Price
This amazing book will be talking about a story of survival and about a character who will definitely be amusing, no question about that. Her name is Gyre Price and she managed to get herself included in an expedition through lying because she thought she would make easy money mapping mineral deposits.
Everything Goes Wrong
But then, things get super exciting by going very wrong, things catch up to Price really quick and the next thing she knows she is on a hostile planet, completely alone, or at least that's what she believes at first.
---
7 Stories
The next book in our best science fiction horror books review is a collection of a couple of short stories by Harlan Ellison and an introduction by author Theodore Sturgeon.
There are seven stories here actually and all of them are in a similar genre which means that you have a couple of very exciting reads waiting for you in this short story collection.
Absolute Marvel
The titles inside include I Have No Mouth and I Must Scream, Big Sam Was My Friend, Eyes of Dust, World of the Myth, Lonelyache, Delusion for a Dragonslayer, and Pretty Maggie Moneyeyes.
---
Infected Series
Infected is a story about a very mysterious disease that is transforming people, turning them into brutal murderers in search of violence and blood, those who are turned never think twice about inflicting pain and suffering upon strangers, loved ones, and even themselves.
Dew Phillips
Dew Phillips is one of the main characters in the story who is trying to capture a live victim so that Margaret Montoya can analyze and examine them to find out what this strange disease is. You are definitely going to be surprised by what they find out and from the coming events.
---
Chester's Mill
You know that it's going to be a good horror book when Stephen King is the author, but he is also no stranger to writing a great sci-fi book as well.
This thrilling story takes place in Chester's Mill, Maine, as this town is suddenly cut off from the rest of the civilization by an invisible force field.
Time is Running Out
There are many secrets that you must discover about this strange dome that the people are trapped in now as planes crash into it, people get separated from their families, and you later realize that time is actually running out for those who are inside. A definitely scary story that is full of surprises.
---
Loneliness
The last book in our review is finally here and this story is about the last living man on Earth, his name is Robert Neville. First of all, can you imagine how scary it would be if you realized that you were the only living person left in the world? The loneliness alone would be enough to scare you badly.
Not Entirely Alone
Anyway, Robert is not exactly alone as the rest of the humans have either died or become vampires and he has no way of changing them back, he is forced to kill his family, friends, and others just to survive.
That's all of the books that we have in mind for the best in this genre and chances are low that you won't like them if you truly love reading science fiction horror.
---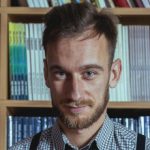 Robert is a science fiction and fantasy geek. (He is also the best looking Ereads writer!) Besides reading and writing, he enjoys sports, cosplay, and good food (don't we all?). Currently works as an accountant (would you believe that?)