---
Best New Science Fiction Books
---
Something Refreshing
Do you feel like you've read every old mainstream science fiction book out there? Sure, there are tons of science fiction books that were amazing coming from the old days when science fiction was first born, but the world of science fiction has evolved so much and there are some pretty unbelievable stories nowadays that have what it takes to blow your mind away.
This best new science fiction books review will show you some of the best sci-fi books that have been published recently and you will find out just what the new science fiction stories have to offer.
---
False Memory Syndrome
The first book that will be launching our review happens in our own world and there are two characters who will be taking you on this exciting journey. The main plot revolves around something known as False Memory Syndrome and people have been experiencing this a lot lately.
Berry and Helena
What this does to people is it creates painful memories of a life they have never lived and quickly starts driving them crazy. The first of the two main characters is a New York City cop named Berry Sutton and he is investigating this whole situation. The next one is Helena Smith and she is a neuroscientist who is researching what exactly is causing this. These two are about to reveal a lot of secrets that are enough to scare anyone.
---
Complex Storyline
This book is a long one, about 750 pages, and it talks about a lot of things inside that are related to war, space travel, a whole lot of politics, complex characters, and much more. The plot in this story revolves around a few main characters who are involved deeply in politics and the story can get a bit complicated so you'd better keep focused.
Darrow
One of the main characters here is a guy called Darrow, he is the one who has been the leader of a revolution against the corrupt color-coded Society for almost a decade now. There are a lot of political talks inside but there is also action from all of the wars that you are about to see. The book has plenty of exciting sci-fi material to offer, that's why it's on our best new science fiction books list.
---
Necromancer
Our next thrilling book here is also released in 2019 and it talks about a character named Gideon, she is the main focus of this story and she is a very interesting person indeed.
Gideon is a necromancer, she has been brought up by scary and definitely not innocent nuns, ancient retainers, and a bunch of skeletons, and her life is the result of all of their teachings.
Escaping the Old Life
You will find out that she is sick of serving and living as an undead reanimated corpse so she decides to pack her bags and escape her old life to start a new one, completely abandoning everyone she knows. You will also find out that this won't be as easy as it seems as the story finally starts showing you some action and even more thrill.
---
Vast Universe
We have another book that comes to us from the year 2019 and this one packs another great sci-fi story. It definitely fits into any top new science fiction book lists and you are about to find out why.
The majority of exciting events in this story come from outer space as this story talks about many different characters from many different worlds.
Mahit Dzmare
It is also a murder mystery, one that will reveal a ton of secrets that are definitely going to make this plot a lot more exciting. The main character who will be showing you around is Ambassador Mahit Dzmare as he starts his investigation on who performed this murder and finds herself in even more danger than ever before.
---
Terraforming People
Becky Chambers is an amazing sci-fi author who brings us a new thrilling story that talks about a unique series of events that you will definitely be fascinated by.
This bestselling author has created a story that talks about humans trying to colonize other planets but instead of trying to terraform the entire planet to suit their needs, they transform themselves to be able to live anywhere.
Ariadne
Ariadne is the main character in this story who will be showing you how this process exactly happens. The book is not very long, unfortunately, but it is still enough to show you the plot in this story in detail and introduce you to a whole new idea in science fiction writing.
---
Murderbot
This next book on our list about some of the best new science fiction books will be introducing you to Murderbot, a very interesting character who is full of surprises. But first, you have to meet him. Murderbot will do anything besides be social but even he is conscious enough to know when a person is in need of help.
The Murderbot Diaries
This is the fifth book of the Murderbot series and this time, one of his coworkers is in trouble and Murderbot must choose whether to go home and binge-watch his favorite series or take action and cause some trouble while saving his coworker, of course.
---
Love Story
Here is a new science fiction book that might be best for the more experienced sci-fi readers as the story here is a bit complex and it actually resembles a sort of love story. The main characters in this book are two women who will later fall in love through reading letters from each other.
Red and Blue
These women are referred to as Red and Blue and there is a devastating war going on in their world, one that doesn't look like it could end very soon. Red represents a future in which technology is the main focus of every aspect of life, and Blue represents a world where nature is still enough for the perfect life. The book is definitely one interesting read, you can be sure of that.
---
Second Collection
Exhalation is a science fiction book alright, but it's one that holds a bunch of thrilling sci-fi stories that will leave you wanting more. It's actually Ted Chiang's second collection of this type and if you have read the first one, then you know what to expect, some really exciting reading material.
Amazing Stories
Some of the stories inside include Exhalation, of course, where you read about a discovery that an alien scientist makes, one that will reveal a shocking secret that might just affect all of reality. Another story inside is The Lifecycle of Software Objects where a woman cares for and nurtures an artificial intelligence for 20 years and witnesses this digital being becoming a living and conscious one.
---
January
Charlie Jane Anders has managed to create one of the best new science fiction books out there with the story presented inside.
It talks about humanity again, but this time they have colonized a planet called January, a planet that is divided into two sides, one is always filled with endless darkness and cold nights and the other is always sunny with blazing hot days.
Sophie
The main character who will be showing you around is called Sophie, a young student who has a rough life thanks to the fact that she was a part of a failed revolution. She is now exiled to the dark wastelands of this world and from there, she meets a few other exiles.
---
Feminist Novel
If you have ever heard about a story called Guardians of the Galaxy, well this book is similar to it and it is sort of the feminist version of that same story. This space adventure will introduce you to a bunch of unique characters who will make sure that everything ahead is always worth your time.
Vivian Liao
Vivian Liao is one of the main characters in this story, she has a unique set of skills that will serve her well in what is about to come. The antagonist of this story is a powerful and cruel Empress who lives deep in space and has the power to either bless or blast an entire planet with a single thought.
---
Global Warming
Eden addresses a very real problem we ourselves have at this moment, global warming. The story in this amazing sci-fi book tells us about how global warming has managed to bring so much of this world to ruins and something has to be done.
Virgin Zones
The author introduces you to something called the Virgin Zones, huge territories spread out into a couple of locations that serve as Earth's lungs. These places hold nature in its purest form and those who wish to travel there are rare. The ones who seek danger and extreme adrenaline levels will be taking you on their journey into these deadly places where nature kills very easily.
---
Shana
Here is a perfect example of what one of the best new science fiction books should look like. This book holds a story that tells you of a very unique and well thought out adventure. The main character in the story is a girl named Shana and her little sister.
Specific Location
The story follows these two as Shana wakes up one night to discover her little sister sleepwalking. This was no ordinary sleepwalking as her sister was determined to travel to a location that only she knows.
Destination Unknown
Then you find out that there are many other sleepwalkers who are traveling in the same way and most of them have friends and family who are joining them on the journey to protect them. The story that follows when these characters reach the destination is one you wouldn't want to miss.
---
Haimey Dz
Haimey Dz is a character who you will be reading about in this new sci-fi novel and her story is one that is not short of excitement, it might be a bit too much even. During her routine salvage mission, she discovers information that has the capabilities of changing the entire universe.
Black Hole
After this fact becomes known and Haimey realizes that authorities are badly corrupt and cannot be trusted, she makes it her own duty to save everyone from what she has discovered. So begins her journey into mysterious depths of space to find a supermassive black hole and on the way, many more secrets will be discovered, secrets about herself and of ancient intelligence that haven't been seen for countless centuries.
---
Interstellar Travel
Humanity rises to interstellar travel once more in this book by James Corey and you can imagine all of the opportunities that come with this new discovery. Thirteen hundred gates have been opened to solar systems all around and humanity is now building their space empire on top of alien ruins.
Elvi Okoye
Many things will present exciting in this book, one of those is the search that a character named Elvi Okoye will begin that focuses on discovering what caused a massive genocide that happened before humans ever existed.
Deadly Foes
You also see humanity facing deadly foes that they couldn't have even imagined, things are definitely not looking good for us but there is much more to the story and that's for you to find out. Corey's name can be also found on our list of the top hard science fiction books.
---
Luce Cannon
This fun and the addicting story will be introducing you to a former music star who is living in a world that has ruined her dreams. Before the devastating events, Luce Cannon was rising to the top as her music career was kicking off.
Attacks and Viruses
Then, her whole world changes as deadly terror attacks and even deadlier viruses have made this world completely rid of freedom, and many people are simply locked at home all day, kind of similar to the whole coronavirus thing, don't you think? Anyway, you get to read the story of what is really going on in this world and how Luce will deal with her new situation. Small spoiler, it has something to do with virtual reality.
---
Idir
Here is one of the best science fiction books out there that you will gladly read in one sitting, in fact, it's best to do so because this addicting masterpiece will be holding on to you until you finish the whole thing.
This story by Sylvian Neuvel is a very thrilling one that follows the life of a character named Idir, an Iranian man, husband, and father who is about to take the British citizenship test.
25 Questions
These 25 questions are about to determine so much of his future and the strangest thing happens mid-way through and for the sake of not spoiling too much of this story, you will get to find out what exactly happens that turns this man's whole life into a great science fiction story.
---
Beth
This fascinating story starts in the year 1992 and you quickly get to meet a 17-year-old girl named Beth who is currently sitting in a car with the abusive boyfriend of her best friend and she and her friends immediately find a way to get rid of his body. This even motivates these girls to a life of violence and vengeance as there are more girls that need protection.
Tess
Then the story jumps to the year 2022 when you meet Tess, a girl who uses time travel to make sure she corrects some mistakes in history. She has the intention of making a safer future but when she meets Beth and her group of avengers, they tell Tess to stop what she is doing at all costs as she has no idea what is about to happen.
---
The Interdependency Series
The third book of John Scalzi's The Interdependency book series is finally here in 2020. If you haven't read any of the books in the series, we suggest you do because the stories are directly connected and you would simply be lost starting here.
Good Terms
Anyway, the story in this book happens in a world where humanity is on good terms with many empires from all around the galaxy and it's also a story in which you get to read about struggles for power, profit, survival, and things like that.
---
Virtual Reality
All of the books we have on our list so far are some pretty good new science fiction books and this one is no less. Neal Stephenson's Fall; or, Dodge in Hell is a story that talks about the concept of virtual reality as it is becoming more and more popular these days.
Richard "Dodge" Forthrast
The main character in the story is a multi-billionaire called Richard "Dodge" Forthrast. The story follows him as one day, just like that, he is pronounced braindead and his decision a while back was to be put in cryosleep until he can be revived.
Plenty More
So begins the story as a few years later, a virtual reality world is perfected. Make sure to check out our Snow Crash book review, which is another amazing book written by Stephenson.
---
Nick Hayes
The next brilliant piece of content in our best new science fiction books list is a story about a teenage genius boy named Nick Hayes. Nick is only 15 years old and he has just discovered truly terrible news, he is dying.
Different Game
This is not even the strangest thing that happens to him in this short period of time. Nick has a few friends with whom he enjoys playing Dungeons & Dragons and when Mia joins their group, they get to experience the game in a whole different way. Then the story shows you some events that involve Mia as her life becomes threatened and Nick will have to save her as time is running out for him too.
---
Kin Stewart
Here you get to meet a character who might prove like an everyday boring man, but he will surprise you as more and more is revealed about him.
His name is Kin Stewart and when the book starts, you meet him as an average working family man who is trying to spend more time and connect more with his daughter, Miranda.
Time Traveler
But he has a strange past, one that no one would believe about this normal man who works in IT. Kin was a time traveler back in the day and you get to see this man now as his life becomes weirder as ever as he is torn between two different lives thanks to his time traveler past.
---
Charlie
Prepare to have another thrilling reading experience with this one as this is an interesting and unique kind of science fiction story that you don't get to find very often.
One of the main characters here is Charlie, a lazy day-trader who will do anything to avoid working a full-time job. He likes a girl, an attractive young student named Miranda, and is figuring out a way to bond with her.
Love Triangle
When Charlie comes into a bit of money, he buys one of the first-ever human-like androids and calls him Adam. He asks Miranda to help him work on him together to form his personality and so begins a love triangle that will surely have your mind blown. If you are interested in Ian's work, take a look at our The Daydreamer book review.
---
Understanding AI
This is the ultimate book on AI (Artificial Intelligence) and you will find that author Janelle Shane has definitely put in a lot of thought into this book and her many others as this author is just fascinated with understanding AI and spreading her learnings in her books.
Don't Miss Out
If you too are fascinated by AI and want to understand a lot more about it, it's practical uses, how it all works, what else it can be used for, and stuff like that, then be sure not to miss out on this one of the best new science fiction books out there.
---
Space Travel
This story will give you chills once you get to know what actually goes on inside. It all starts as humans develop a sophisticated form of space travel and finally take to the stars to begin their terraform program and try to expand human civilization on other planets.
Nod
A suitable planet they find called Nod seems perfect but it has alien life on it. Humans try to overwrite the alien life with human memory but once this fails, humans are left to crawl back to Earth. Then, countless years later, humans detect a signal coming from this same place, the old Earth, and what they discover is something that you wouldn't want to wish on your worst enemy.
---
Complicated War
We have another war story here with a few special characters that won't let you be bored while reading the book. It is a war between Earth and Mars and it's a complicated war indeed.
The Light Brigade
There are those known as The Light Brigade, they are the ones who come back different from the war against Mars, and what different means is that they have experienced the princess that involves them being turned into light in order to travel quickly between battlefronts. The main character who will be showing you around in this one is Dietz, a fresh recruit who is about to learn just what kind of war this actually is.
---
Yun Tianming
Yun Tianming is an interesting character who will be bringing you all of the fun in this story where a huge interstellar war is currently going on. Yun's story begins as he decides to join the front lines as he has no goal to live anymore because of the struggles cancer has brought.
Decades of Torture
After being captured by the enemy, his torture begins but he also gets a new, healthy clone body and his decades of torture begin and he finally becomes a traitor for his people on Earth. When a new problem arrives, Yun decides to not be a pawn in their game anymore and he creates his own path to save his fellow species back on Earth.
---
Sanda and Biran
This one is another science fiction war story that will be talking about the lives of two main characters, Sanda and Biran Greeve, two sisters who have unique and powerful skills. Sanda is a high-flying sergeant with amazing fighting skills and her sister Biran is a politician who plans to use her new position for good.
Bero
But then, their lives start going downhill and Sanda's ship is blasted and she wakes up 230 later on a deserted enemy warship that is controlled only by an AI named Bero. So begins another adventure of Sanda and Biran as they both fight to make things right as their people and the enemy have managed to rid each other of the Universe.
---
Environmental Disaster
Speaking of the best new science fiction books out there, this one fits this description as you get to read an amusing story about an environmentally destroyed USA and the events that are currently going on in that world.
Truckee Wallace
The year when all of this takes place is 2085 and the main character of this story is a guy called Truckee Wallace. He is an average factory worker without any major ambitions and one day, his life will become a lot more serious when the president chooses him for an important mission. So begins another interesting story with this character and a cool android with a lot of surprises.
---
Mind-Blowing
Here is a book that is perfect for the readers who have trouble focusing on one long story for a long time as this book is a collection of short science fiction stories that will blow your mind away.
17 Stories
You get to see some of Ken Liu's best work over the years and few new ones that will definitely surprise you. A total of seventeen stories are stored here and all of them have their own unique sci-fi events inside with interesting and fun characters.
---
10 Astronauts
And the last book in our review is not least as this exciting story will be taking on you one of the best adventures through space ever. This new science fiction story talks about a group of 10 astronauts who are about to leave a dying Earth to explore and search for a planet that is said to be able to sustain human life.
Dalton Academy
Four of the group are decorated veterans of the 20th-century space race and the rest are teenagers who just graduated from an elite astronaut academy called Dalton Academy. That's it from our review so be sure to pick your favorite and start reading some epic adventures that will leave you wanting more sci-fi reading material.
---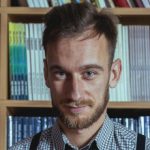 Robert is a science fiction and fantasy geek. (He is also the best looking Ereads writer!) Besides reading and writing, he enjoys sports, cosplay, and good food (don't we all?). Currently works as an accountant (would you believe that?)