Greg Bear
From the brilliant Sci-fi author Greg Bear, Anvil of Stars book is from the Forge of God series and it is one of his earlier works.
Forge of God Book Series
We have the best of opinions in our review of Anvil of Stars as Greg has managed to come up with thrilling and well thought out stories even from his early days in his career. This is the second and final book from the series and we are excited to talk about it in our Anvil of Stars book review.
---
Anvil of Stars Book
---
Distant Futures
This time, Greg introduces his readers to a story where unlike his other ones where he talks about the planet Earth existing in distant futures, it is completely destroyed and totally uninhabitable.
This is definitely a big tragedy and it will not be taken for granted as some of the few survivors of the destroyed Earth gang together and volunteer for the quest to find the ones responsible for this great tragedy. This quest is organized and ordered by a very mysterious alien race called The Benefactors.
Cruel Law
These "Benefactors" have a very strict law which was to destroy everything and everyone who had the intentions or already have succeeded in building any kind of technology that had the ability for great destruction.
Martin Gordon
We feel obligated to mention in this book review of Anvil of Stars that the story mainly focuses around a key character in the book by the name of Martin Gordon which you may be familiar with as Martin Spruce as he is the son of an important character from the previous book of the series, The Forge of God.
Martin finds himself in some moral doubts on his mission to destroy "The Killers", the civilization responsible for Earth's destruction, as he finds out that these beings have very strong philosophical explanations for why they did what they did.
Self-Replicating Beings
They have even created beautiful and complex life that can raise doubts in almost anyone. Anyone except Hans, who is another character in the book that has absolutely no hesitation in doing Martin's job. Back to The Killers, they continue to create self-replicating beings that have the ability to destroy anyone and anything.
You will find out that a number such as trillions comes to play when we talk about the number of required deaths for them to succeed in their mission. Anvil of Stars is a sequel to The Forge of God, which you can read about in our The Forge of God book review.
Masterwork
This book is definitely something to keep you focused and impatiently waiting to reveal the ending. Many book reviews of Anvil of Stars recommend this wonderful book for the biggest Sci-fi fans out there as it presents a world of courage, torture, death, unbelievable high tech, heroes and villains, and so much more. If you know any book from Greg Bear, then there is no question about this one, as it meets the highest of his writing standards.
---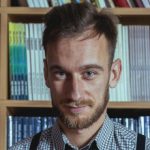 Robert is a science fiction and fantasy geek. (He is also the best looking Ereads writer!) Besides reading and writing, he enjoys sports, cosplay, and good food (don't we all?). Currently works as an accountant (would you believe that?)