---
Best LGBT Science Fiction Books
---
Fascinating Characters
The LGBT science fiction genre is, as you can guess, most popular among a certain audience. This subgenre of the science fiction world is different in one way than the rest of the science fiction books.
The main characters, the protagonists, or the antagonists in these books are mostly favored among the LGBT community. The stories, however, are just as thrilling as the rest and you will be very surprised by some of the fascinating characters who you will get to meet inside these stories. So, here are some of the best LGBT books out there.
---
Underwater Facility
Let's start off our list with an all-time favorite book and a classic sci-fi story that talks about a lot of very exciting events. The story mostly takes place in an underwater facility that has been created to exploit geothermal power. The crew that is sent down there have been genetically modified to withstand the harsh conditions in the deep areas of the ocean.
A Bit Crazy
You are about to meet a few unique characters but most of the people who are sent to work there are crazy in one way or another. The story gets super exciting real quick as strange mysteries start to uncover one after another.
---
Winter
Behold, this book by legendary Ursula K. Le Guin will introduce you to an alien race that has the ability to change their own sex at will. The story follows a lone emissary from Earth who has been sent on a planet called Winter for a very important mission.
Intergalactic Alliance
This emissary has an important role to play in the story that is about to happen. His mission asks him to make sure that this alien species joins an intergalactic civilization, a sort of alliance is needed from their side if things go smoothly.
There's More
The story that follows is an exciting one and you don't want to miss out on all of the fun events that happen inside.
---
Area X
In Annihilation, the story is about to show you one of the most exciting sci-fi adventures of all time as this band of characters is about to go on a very dangerous journey.
The events, that are about to happen, take place in a dangerous world, one in which nature has become a fierce enemy to many and the land known as Area X is a place that everyone wants to avoid.
12th Expedition
There have been countless expeditions to this place and no one has come back alive. This is the 12th expedition and the team consists of an anthropologist, a surveyor, a psychologist, the de facto leader, and a biologist. You surely don't want to miss this adventure that awaits you.
---
22nd Century
Here is one of the best gay science fiction books out there as the main character and protagonist in this story happens to be gay. The story takes place in the 22nd century in China.
Zhang Zhong Shan
This China has become the world leader in the economy and many other areas and the protagonist who will be showing you around is a young man of mixed heritage, called Zhang Zhong Shan. You get to discover many thrilling things about this fascinating character and some exciting events are also waiting to be uncovered further in the story.
---
Belimai Sykes
There are two characters in this thrilling sci-fi story who are about to show you an exciting reading experience. One of them is a Prodigal and a man of dark temptations, you can easily describe him as the devil, his name is Belimai Sykes.
William Harper
The other guy is called Captain William Harper and he is in serious trouble which is why he has come for help from Belimai knowing that he always has such high prices. The story that follows after that is a thrilling one as these two work together to face some very deadly threats.
---
Brady Garrett
Brady Garrett is the first main character who you get to meet here and the story follows him on a long mission in the military. He is serving on a space station, one that has a mission to protect and inform Earth of any new and suspicious alien activity.
Cameron Rushton
The other guy who you get to meet is a character called Cameron Rushton. These two characters will get to know each other very well and form a special bond that is like no other. You don't want to miss out on what happens next.
---
New Breed
This story talks about a futuristic Earth where very few things are similar to our own. You get to find out a new breed of human that is becoming more and more present.
Quite an Upgrade
This breed is better in almost every way than the old humans as they are gorgeous, strong, and they possess plenty of psychic and physical supernatural abilities. Things are beginning to seem that this new breed of humans is coming to replace the old one but you get to read a story in which the old humanity will not give up without a fight.
---
Isaac Ozawa
The last book in our best LGBT science fiction books review is another thrilling story about adventure and thrill. This story starts as you meet a space crew that has received a distress signal from a stranded ship in space. One of the first main characters is a character named Isaac Ozawa and he is the ship's communication officer.
Wrecked Ship
They find a bloody mess in the wrecked ship and only one sole survivor, a man who looks troubled. These two characters will be bringing you so much excitement and it is up to you to find all of that out. Hopefully, you like our review of some of the best gay, lesbian books, and generally LGBT science fiction books out there. Make sure to give them all a read if you enjoy this sci-fi genre.
---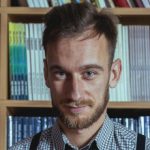 Robert is a science fiction and fantasy geek. (He is also the best looking Ereads writer!) Besides reading and writing, he enjoys sports, cosplay, and good food (don't we all?). Currently works as an accountant (would you believe that?)