Bio
Harlan Ellison (1934-2018) was a prodigious American writer working in speculative short and long fiction and screenwriting. Growing up in a small town in the American mid-west, Ellison suffered from bullying because he was Jewish, a fact that imbued in him a "lifelong, blood-drenched obsession for revenge," and often fueled his creative ideas.
Career
He wrote more than 1,700 short stories and articles, at least 100 books and dozens of screenplays and television scripts. He also served as a science fiction adviser on memorable episodes of Star Trek, Babylon 5 and the Twilight Zone.
---
Best Harlan Ellison Books
---
Style
His aesthetic values lead the vanguard of American New Wave fiction by making it possible to say things about sex and politics in novel ways that varied from stylized fabulism to the radically deranged.
He also had a reputation as a cantankerous, pipe-smoking polymath, just as capable of charming a talk show host as he was of breaking the pelvis of a studio executive. Despite his volatile legacy, he is considered on par with eminent science fiction writers like Ray Bradbury and Isaac Asimov.
---
Collection
I Have No Mouth and I Must Scream (1984), is a short story collection first published in 1967. This volume contains the original introduction by Theodore Sturgeon and the original and updated foreword by Harlan Ellison himself because of the original and incendiary writing style.
Classic Dystopia
The title story has become one of Ellison's touchstone pieces, a futuristic nightmare that ticks all the boxes of classic dystopic science fiction. To find out more about this amazing book, check out our I Have No Mouth and I Must Scream book review.
5 People Left
After a war that affects the entire world there is left only five human beings and one super computer in command. This super computer is incredibly sadistic and persecutes the humans more intensely as the story progresses, from keeping them underground for years to using its advanced A.I powers to torture them as slaves; a typical scenario in best Harlan Ellison books.
Other Stories
Other stories in the collection are Big Sam Was My Friend, Eyes of Dust, World of the Myth, Lonelyache, Delusion for Dragonslayek, and Pretty Maggie Moneyeyes. Pretty Maggie Moneyeyes was apparently Harlan Ellison's favorite, and his early authorial calling card. Conversely, it's stories like these that provoked accusations of misogyny and arrogance in some reviews, but regardless, his brilliance as a writer is inarguable.
---
Revered Collection
Dangerous Visions (2002), originally came out in 1967, and was subsequently published on its 35th anniversary, housing a compendium of short fiction by distinguished authors of fantasy, speculative and science fiction genres.
This widely revered collection includes published work by writing heavyweights such as Isaac Asimov, Philip K. Dick, Larry Niven, Fritz Leiber and Carol Emshwiller, not to mention the illustrious editor-in-chief himself, Harlan Ellison.
Censorship Issues
This is Ellison's self-proclaimed revolution in speculative fiction, with over 30 original stories in addition to the original and updated introduction, a foreword by Michael Moorcock, and the original and updated forewords by Issac Asimov. Ellison also provides, to each of these stories, an afterword by each author.
He promotes his revolution by deliberately choosing stories that weren't publishable in magazines because of censorship issues. No wonder that we dedicated the whole article to this amazing book.
Breakthrough
The stories included were chosen to represent breakthroughs in form, style, and treatment of taboo topics surrounding violence, sex, and religion, thus defining the overall title. By inviting writers to challenge the conventions of SF fiction with stories about self-destructive anthropologists or strange visions about human eugenics of the future, it's clear the voices are as original as the writing itself.
Original and Controversial
Ellison provided a platform for writing that was highly original and at times, controversial when first published back in 1967. It was, however, well awarded at the time, with a special Hugo for the whole anthology as well as various literary nods some of the stories themselves. Many SF fans still review this collection with unbridled support, saying it changed the entire direction of science fiction as it attempted to push the genre in a more extreme way.
---
Philosophical Work
Deathbird Stories (2006) was published between 1960 and 1974. The themes running through this volume are heavily philosophical, based on speculative ideas of death and God, uppercase G intended.
Originally titled, Deathbird Stories: A Pantheon of Modern Gods, the stories deliberately intertwine around the idea of modern-day gods replacing the old, traditional ones and by its nature, is inherently satirical.
Distant Future
The title of the book, and the final story in the collection, mixes science fiction with mythology and surrealism as it is set 250,000 years in the post-apocalyptic alien-controlled future, where the protagonist struggles with the fact 'God' has always been insane and 'Satan' is actually a caretaker. Meaningful themes of humanity relating to what love and compassion are defined as, are the undercurrent throughout this story of Earth.
Awards
The resounding opinion among critics and SF fans alike is that this collection is easily the best Harlan Ellison books because of his trade-mark writing and themes being at their fearlessly original best. The last of formal recognitions seems to reflect this regard as one story earned a Locus Poll Award and the two final ones both received Hugo Awards and Locus Poll awards.
Pinnacle
A no-longer existing award for Deathbird was also given called the Jupiter Award from the Instructors of Science Fiction in Higher Education. The collection also won the 1979 British Science Fiction Award for Short Fiction as soon as it was published in Britain. Harlan Ellison built his career on the short story format and this collection is considered by many as the pinnacle of that career.
---
Mortal Dreads
Shatterday (2014) is a collection of short stories about mortal dreads. Ellison wants us to be aware that human frailty and darkness are real and the fear we have of it should be acknowledged.
His goal, he wrote, was to shock his readers into the comprehension that these fears are what unify all people. He starts each story with his own thoughts which could be succinct or carry through many pages.
Recognition
Both the Nebula and Hugo Award was given to Ellison for Jeffty Is Five. In it, a five-year-old boy never gets old, living in an immortal cocoon of the past that doesn't exist while the real world threatens his innocence.
Another story had been published the year before called All the Lies that Are My Life. Shatterday, about the struggles of a man whose greatest enemy is himself, was also the base for the 1985 revival of the Twilight Zone pilot episode.
Other Collections
Other collection stories are How's the Night Life on Cissalda?, The Man Who Was Heavily Into Revenge, Shoppe Keeper, Django, Count the Clock That Tells the Time, All the Lies That Are My Life, In the Fourth Year of the War, Flop Sweat, Would You Do it For a Penny?, All the Birds Come Home to Roost, Opium, The Other Eye of Polyphemus and The Executioner of the Malformed Children, Alive and Well on a Friendless Voyage.
Though not recognized as one of Harlan best Harlan Ellison books, it was highly regarded for how it exposed humanity's darker actions.
---
Dark and Edgy
Strange Wine (2004) is a series of fifteen short stories from the nightside of the world of Ellison. This volume was published in 1976 in a series called Amazing Stories, and has Ellison's signature dark, edgy writing, engaging the subversive bedtime reader from start to finish.
It includes fifteen short stories of varying length, often considered to be just as enjoyable as reading the stories themselves. The book content is mix of horror, science fiction, dark fantasy and metafiction, yet is all gathered in outstanding storytelling and imaginative prose.
Past Sins
The title story involves a long-suffering protagonist who believes that he's an alien trapped in a human body, his existence on Earth a punishment for past alien sins. This story features a relativist narrative with a classic Ellison twist at the end.
Some reviews regard this volume as more hit-and-miss but it has garnered just as equally positive reviews praising it as the most inspired fiction ever imagined and probably the most influential book of short stories ever written in the SF genre.
Holy Chore
Harlan Ellison considered storytelling as a holy chore and though he denounced the label of science fiction writer, he always wrote as an imaginative purveyor and creator of humanities' psychological and philosophical darkness.
---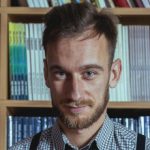 Robert is a science fiction and fantasy geek. (He is also the best looking Ereads writer!) Besides reading and writing, he enjoys sports, cosplay, and good food (don't we all?). Currently works as an accountant (would you believe that?)