New Weird
Paul Tremblay is the American author known for his science fiction and horror thriller novels although his portfolio also includes works inspired by weird fiction and new weird genres. Besides his work as a novelist, he is also well known for his numerous short stories and he has also made a name for himself as a brilliant editor. He had worked on and contributed to countless novels before publishing his own.
The author was born in the Aurora region of Colorado but he spent most of his childhood in Massachusetts. After graduating from a local high school, he attended Providence College in Rhode Island. He completed his Bachelor's course in 1993 and went on to complete his master's just two years after that, in 1995. Clearly, he was eager to get on with his life.
Jack of All Trades
While he was studying in college, the author would work in a toy factory during his summer breaks. He got into another field after graduation that is arguably even harder than his previous assembly line job, teaching in a high school. He gave mathematics lessons and also coached the school's junior varsity basketball team. He published his first novel "The Little Sleep" in 2009.
---
Best Paul Tremblay Books
---
Descent Into Madness
Now that I have introduced you to the author, let's go over some of his work now. The first piece I am going to tell you about is one of the best selling Paul Tremblay books, A Head Full of Ghosts. It is a paranormal mystery thriller and it is one of his most well known horror pieces. It also won the author the 2015 Bram Stoker Award for Novel which is not a minor accomplishment at all.
The story of this piece revolves around the Barretts, an ordinary New England family. At the start of the story, the family is in the middle of a major crisis as fourteen years old Marjorie shows clear signs of acute schizophrenia. The family seeks help from medical science but the doctors inform them that there is nothing they can do. In desperation, they ask a Catholic priest for help.
Suffering Made Entertainment
The local priest Father Wanderly deems the problem might be solved by an exorcism. He also wants the event to be filmed by a production company and as the family is already riddled with financial problems, they reluctantly agree. The exorcism turns into a hit reality show and fifteen years later, someone from the family speaks up. This psychological drama makes up for one of the best Paul Tremblay books you can read.
---
The Forward Collection
We are carrying on with our article and the second book that I will be introducing to you is going to be one of the best rated books by Paul Tremblay, The Last Conversation. You might not see this piece in some of the bibliographies of the author because it is part of the Forward Collection series which was organized by Blake Crouch.
The collection consists of six short pieces that were written as Kindle books and their contents range from grim humor to deeply disturbing. This piece falls closer into the latter category as it tells an absolutely bone-chilling story. It is the story of someone… I do not know who he is, because even he himself does not know who he is.
New Day, New Life
He wakes up in a room he can not recognize and he has no memory to speak of. Not of himself, not of his life, and not of how he got there. The only thing he has is Dr. Kuhn, the supposed owner of the disconnected voice that promises to help him reclaim his lost self. Given everything, it tragically might not be in the protagonist's best interest to "remember".
---
Zombie Outbreak
Next up in our article, we will be taking a look at another one of the most popular Paul Tremblay books which is Survivor Song. This horror and science fiction novel gives us a story of struggle in a world filled with zombies. It was published just three years ago, in 2020, and it stands as the second most recent book published by the author.
When the saliva-spread rabies-like virus hits the state of Massachusetts, everything comes crumbling down in just a handful of weeks. Once contracted, the disease needs only an hour to turn its host into a mindless and aggressive vessel with the single purpose of biting healthy people. Despite quarantine and curfew regulations, the situation worsens day by day.
A Desperate Journey
The actual story revolves around two characters, Dr. Ramola Sherman and her pregnant friend Natalie. When Natalie's husband is killed by zombies that also manage to bite her in progress, she is forced to take on an almost impossible journey to Sherman's office in order to receive a rabies shot. This contender for the best Paul Tremblay book title tells her tale of thrill and struggle.
---
Devil's Rock
We are almost at the halfway point of Paul Tremblay books ranked article and Disappearance at Devil's Rock will be the fourth piece that I will be introducing to you. As you can probably guess from its title, this is another one of the author's paranormal horror novels. It provides us with a story that is harsh enough to upset even the toughest ones of us.
On a fateful summer night, Elizabeth Sanderson is faced with one of the most heartbreaking news that a mother can receive. Her fourteen years old son Tommy has been lost in the forests of the local park. A search is conducted as soon as possible but the boy seems to have just vanished out of the thin air. The only thing they know is that he and his friends were hanging out at the Devil's Rock landmark.
Devil in The Woods
Whether be it from the pain, the guilt, or some other thing, Elizabeth starts to notice unexplainable events happening around her. She first catches a glimpse of his son's shadow in her bedroom. More so, other neighbors also claim to have seen the figure peering from their windows. Things get even eerier when pages of Tommy's journal start showing up at random places.
The journal reveals an introverted Tommy with a ton of troubles and an obsession with phantasmagoria, a theatre practice involving the use of lighting effects to cast scary visuals. There is also a folktale that mentions a devil living in the woods of Borderland which Tommy thinks is tied to all of the negative parts of life as the result of a horrific accident.
---
Too Remote For Comfort
We are about half finished with our Paul Tremblay book list and The Cabin at the End of the World will be our next topic of discussion. This is perhaps the most notable book by the author as it received both the 2019 Bram Stoker Award for Novel and the Locus Award for Best Horror Novel. Still, let's take a look at it and see for ourselves if it really is that good.
The book tells us the tale of seven years old Wen and her parents, Andrew and Eric. At the start of the story, the small family is taking some time off at a remote cabin that sits near a calm lake in New Hampshire. However, the cabin might be too remote for comfort as the closest neighbors are about two miles away and the only clear way is a rutted dirt road.
A Terrifying Chain of Events
One afternoon, a friendly stranger named Leonard approaches the cabin. He spends some time with Wes and after having a little play session, he tells her that none of what is about to happen is her fault. Almost in an instant, three other men carrying "unidentifiable, menacing objects" appear. The events that follow make up one of the best novels by Paul Tremblay.
---
Nineteen Pieces
Continuing on with our Paul Tremblay book reviews list, we will take a look at Growing Things and Other Stories as our sixth piece. I have mentioned that the author is well known for his short stories besides his novels and this piece is a collection of some of the best ones that he has ever written. These stories even include a Bram Stoker Award for Best Short Story nominee.
The collection is made up of nineteen pieces and it includes some excellent stories connected to the previous works by the author but I will not mention as to not spoil anything. I will, however, say that there are a handful of stories that involve characters from A Head Full of Ghosts so, you might want to take a look at them if you liked that novel.
The Teacher and More
However, there are many more remarkable stories in this one of the best books by Paul Tremblay. The Teacher, for example, tells us the story of a student who is forcefully exposed to a disturbing video which results in a lot of suffering for both her and her friends. In Swim Wants to Know If It's as Bad as Swim Thinks, we witness the moving and disturbing story of a meth-addicted father and his daughter.
---
A Touch of Insanity
Moving on with our article, I will now go over another one of the best Paul Tremblay series. The series I am talking about is the Mark Genevich series and it will be the seventh piece on our list. Genevich is a South Boston private investigator and he has a big problem. He is a severe narcoleptic to the point that it causes him to have hypnagogic hallucinations as he is going through his day.
In the first book, Mark is visited by Jennifer Times who happens to be the daughter of the local D.A. and one of the contestants on American Star. The interesting woman wants him to find the man who stole her fingers. The ext thing Mark knows as he wakes up from his latest hallucination is that he is alone and there is an envelope on his desk with, let's say, not work-appropriate photographs of Jennifer.
Bender Gone Boring
The second and last piece in the best Paul Tremblay book series tells us his adventures with a new acquaintance, Gus. When Mark is forced by his mother to get into group therapy sessions for his worsening narcolepsy, the duo goes on a two-day bender to take their minds off of everything. However, their fun time is interrupted when they find themselves in the middle of a murder investigation.
---
Variety of Genres
Carrying on with our search for the best Paul Tremblay book, let's try and get a sense of the book In the Mean Time. This piece will be the second and last short story collection that we will talk about. It provides us with a variety of different genres as it includes stories ranging from horror, science-fiction, dystopian, and fantasy genres. It also includes adult content which I think is always worth mentioning.
One of my favorite stories in this collection was the weird fiction piece The two Headed Girl which tells us the story of a, you got it right, two-headed girl. This teenage girl suffers heavily from being in isolation as you can guess. It also does not help that she has a complicated relationship with her single mother. Her second face which takes the shape of many historical and fictional characters seems to be a helpless curse.
Absurd and Unreal
Most of the stories in the collection present absurd and unreal situations like this to us. Whether they are contemporary, science-fiction, or fantasy, they always have a touch of weirdness. This is done so well that I would these easy-to-digest stories can be a great introduction to weird fiction for those who are unfamiliar. This piece surely has a solid place among the best Paul Tremblay books.
---
Creepy and Clever
As we are nearing the end of our article, the ninth piece I want to introduce to you is the latest Paul Tremblay book which is The Pallbearers Club. It is a psychological thriller packed to the brim with insights into the nature of friendships and interpersonal relationships in general. It's also very rich in its creepy atmosphere and clever language.
This piece introduces us to Art Barbara, a seventeen years old high school loner who listened to metal like any cool teenager in the eighties. Still, he was not cool at all. He had to wear a gigantic back brace at night to help cure his scoliosis and he was the founder of the Pallbearers Club who volunteer at poorly attended funerals.
No Red Flags Whatsoever
Happily for him, one of the cutest girls he has ever known thought his club was cool. She sometimes tagged along and even brought her Polaroid camera to take pictures of the corpses, as one does. This character of the new Paul Tremblay book has several other curious habits and qualities which serve as the driving factor of the story.
---
One of His Best
I am hoping you have enjoyed the article so far and I wanted to introduce you to another one of the top rated Paul Tremblay novels as its last piece. Swallowing a Donkey's Eye is, in my opinion, the best science fiction story the author has ever written. It paints us the picture of a very advanced world that spares no expense to be one of the most horrific and merciless dystopias you will ever read.
In this story, there are only three locations you need to know about; Farm, City, and Pier. Let's go over each of them starting with City. It is a thriving town that relies on its technocracy to grow and prosper. It is also a wonder of architecture as it sits atop a gigantic pier that stands hundreds of feet above the coastline below.
Unimaginable Horrors
Farm is a mega-corporation. It is a monopoly that owns every single aspect of the food infrastructure of City. This behemoth of a capitalist idol is no different than a god for the City's citizens. It is all-powerful, all-knowing, and it is absolute. They can get away with anything and they do use this quite efficiently, especially in how they treat their workers like slaves.
And lastly, there is Pier. Yes, it is the Pier that the City is built on. It is also the dumping ground for any waste produced there as well as sickly or old citizens who can no longer produce something of value. When our protagonist who has worked for Farm his whole life loses contact with his mother, his biggest fear is that she has been deported there.
---
Final Thoughts
From an outside perspective, Paul Tremblay might be seen as a decent but not really remarkable writer. That might be true, at least for now, but I would advise you to keep an eye on him in the future. I think he has the talent and the originality to produce something of enormous value. His writings are impressive no matter how corny they might come off as at first which does tell something.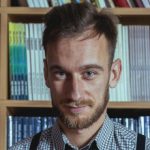 Robert is a science fiction and fantasy geek. (He is also the best looking Ereads writer!) Besides reading and writing, he enjoys sports, cosplay, and good food (don't we all?). Currently works as an accountant (would you believe that?)