Kathleen Erin Woodiwiss
Superb writer Kathleen Erin Woodiwiss, born as Kathleen Erin Hogg, was born on the 3rd of June, 1939, in Alexandria, Louisiana, United States of America. Woodiwiss was a prominent American author. The historical romance genre is widely regarded as to have been pioneered by her works, namely her 1972 novel The Flame and the Flower.
Kathleen, as we mentioned, was born in Alexandria, Louisiana. She was the youngest child of father Charles Wingrove Hogg, who was a World War I veteran, and mother Gladys. The family had eight children, in total.
---
The Wolf and the Dove Book
---
Early Life
As a very young child, Kathleen loved crafting her very own stories. She notes that from around the sixth-year mark, she'd begun telling stories to herself before sleep. While only aged twelve, Kathleen's father died, leaving Gladys to fend for the family nearly alone.
When only sixteen, Kathleen acquainted herself with Ross Eugene Woodiwiss, a US Air Force Second Lieutenant, at a dance. On the 20th of July, 1956, the two married. Kathleen went to a local school and graduated a year later.
Career
The career of her spouse had them relocate to Japan. Merely three years later, they came back to the US, namely in Topeka, Kansas. During the course of this period, Kathleen tried her hand in writing, stopping several times in frustration. However, Ross bought her an electric typewriter for Christmas, which is when she finally decided to become an author.
Upon Ross' death in 1996, she returned to Louisiana. Eleven years later, in 2007, Woodiwiss was stricken with cancer and succumbed in a hospital in Princeton, Minnesota. Her two sons, Sean and Heath, along with their grandchildren were the ones that survived Kathleen. With all of that noted, we can now pick the genius brain of Kathleen and look at our book.
Quintessential Novel
This book might just be the quintessential Woodiwiss novel. It is an indispensable read from the authoress and shines as a standalone medival romance novel. It was first published in the year of 1974.
The year in which the novel is set is nearly a millennium ago. It is 1066 and the Saxons of England are currently under onslaught and invasion from the Normans. The Normans are thought to have taken up whichever cause it is that the future King, William, is to align himself with.
Aislinn of Darkenwald
The main character of the story, eighteen-year-old Aislinn of Darkenwald is set to be the taken by Wulfgar, the Iron Wolf of Normandy, who, by the atrocities and ill logic of war, is thought to be her rightful owner.
Aislinn is the daughter of Darkenwald's lord. She is a proud woman, a wise woman, and an infinitely attractive, alluring, and beautiful woman. However, at the present moment, Aislinn seems to be nothing more than the slave to the conqueror-Normans; a toy to her father's killer.
She is strapped in the hall and not allowed to move by virtue of knots, and she can't do anything but look as the invaders ravage her home and hurt her mother. Aislinn vows that she will never again kneel to a Norman, and she will get her vengeance.
Wulfgar on the Inside
Wulfgar is thought to be a merciless, pitiless, and fearless warrior, which he is when on the battlefield, but even his heart is wont to succumb to sympathy, sweetness, and being kind. With time, Aislinn, though recognizing Wulfgar as her enemy through and through, begins regarding him with interest and intrigue.
It seems that there is much more to Wulfgar than what rumors entail and what meets the eye. For instance, we learn that Wulfgar was born as a bastard child; his mother hated him and he has come to loath the very presence of women.
A Fair Man
In spite of the rumors, anyone that meets Wulfgar in the normalcy of conditions will attest to him being a fair man. It was Wulfgar that sent the knight that slew Aislinn's father. However, he didn't send him for murder, but just to secure the township.
When he observes the things that have occurred, and sees Aislinn in pain as she attempts to grant her father the dignity of burial, he is instantly intrigued by her. That kind of beauty tinged with the unflinching boldness she espouses – he must have her.
Anything But Normal
Aislinn, though unwilling to ever regard a Norman man as a friendly being or even as a human being, she still can't deny that Wulfgar is anything but a normal Norman. For instance, he is exceedingly attractive, wise, and bright; he is witty and he doesn't shy away from challenging her.
He's even honest and he doesn't just go straight for raping her. He chains her feet to the bed, but doesn't stoop as low as the damnable Ragnar that slew her father. Though his sense of morality and justice is a visibly horrible one, with a swiftness unmatched, he is also inexpressibly kind.
The Breaking of a Vow: The Creation of Love's Promise
With the turning of the pages, their romance deepens and we plunge headfast into the love of ages. Aislinn can't shake the feeling that she has when she is met with kisses from Wulfgar, nor can she forget the travesties that his sort have brought her.
However, she also acknowledges that the mystery around Wulfgar, his past, and his intentions is a drawing one. And, how can we forget about the passion that is aflame inside of her whenever the two find themselves alone? She can't deny the feelings she has let the feelings begin denying her.
Remarkable Story
The story is a truly remarkable one. Sorrow and love, pain and attraction, suffering and passion, but also wit and bliss, kindness, and mystery, are all perfectly blended into the story and into the two love birds' romance. Our book review of The Wolf and the Dove should surely have tempted one to take up the book.
The Birmingham series of Kathleen is a treat to read, as well. Shanna and Petals on the River are ones to keep an eye on, too.
---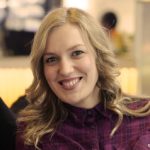 Alissa is an avid reader, blogger, and wannabe writer. (She's a much better cook than a writer actually). Alissa is married, has one human, one feline, and two canine kids. She always looks a mess and never meets a deadline.