Madeleine L'Engle
Written by Madeleine L'Engle, the Time Quintet book series is a science fiction and young adult series that tells a story of time travel in a fantasy world filled with exciting adventures and characters who will most certainly make you tag along with them on their journey throughout the five books in the series.
This review of Time Quintet will make sure you know a thing or two before checking out the whole series for yourself. We included this wonderful series in our selection of the best time travel books for kids. Take a look!
---
Time Quintet Book Series
---
A Wrinkle in Time
The story starts with the first book of Madeleine's series, A Wrinkle in Time. In this novel, you begin to read the story about a few characters who witness an event that is about to change their whole lives, a story that sets in motion the events that are going to be explained all throughout the 5 books of the series.
The characters of this journey that you get to meet in Time Quintet series are Meg, her little brother Charles Wallace and their friend Calvin O'Keefe as they are about to have quite the strange visitor knocking on their door.
Important News
It is this visitor who delivers important news to these characters and sends them on the most exciting, dangerous, and thrilling adventure that they have ever witnessed. The visitor tells them something that is about to endanger all of their lives, but more importantly, it will prove threatening to everything they have ever known as it goes as far as affecting the whole Universe.
A Wind in the Door
All of this happens in just the first book of the series. The events continue in the second one, A Wind in the Door, where you find out how Meg's little brother Charles falls very ill and things begin to look very bad for him. Charles' sickness makes him think that he is seeing dragons in the vegetable garden who actually turn out to be Proginoskes, magnificent creatures who are made out of wind and flame.
New Mission
Meg and the Proginoskes have a new mission in this novel, to do whatever it takes to save Meg's brother from dying so young as they travel to wondrous places, never before seen by anyone, and attempt to find something that will cure Charles.
This novel packs a bigger punch than the previous one from what we gather in this Time Quintet review as the story proves to be even more exciting than the last.
A Swiftly Tilting Planet
Another adventure follows for these unique and exciting characters in A Swiftly Tilting Planet, the third book, as a story about another journey with the purpose of saving an entire world begins to unveil. This time, Charles and a unicorn named Gaudior set off on yet another thrilling adventure that has the purpose of saving the world from a truly mad and evil dictator called Madog Branzillo.
This journey isn't anything less than the previous one as the author of the series, Madeleine, has truly managed to create an exciting tale about some thrilling adventures and unique characters.
Exciting Series
For the sake of not giving out too many spoilers, we let you keep the excitement for yourself of finding out what the rest of the books in the series hold as the stories inside them just keep getting better and better. If you are a fan of time travel, as all of the stories involve that event, then these 5 books will make for an exciting way of passing the time at home.
---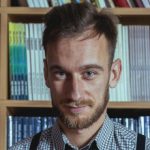 Robert is a science fiction and fantasy geek. (He is also the best looking Ereads writer!) Besides reading and writing, he enjoys sports, cosplay, and good food (don't we all?). Currently works as an accountant (would you believe that?)