The Modern-Day Jane Austin
If you are fond of stories filled with complex characters that inspire affection, matched by degrees of emotional complexity that have resonated with both critics and readers abroad, then Emily Griffin is the author for you.
Emily Griffin's best books are no stranger to the New York Times bestseller status, with her penmanship earning her this success in over five countries, and five of the best novels by Emily Griffin being optioned for the big screen. She is clearly a powerhouse you want to feature on your bookshelf.
From Litigation to Literary Success
Here is a short background before we jump into a breakdown of the top Emily Griffin books. The string of success started early on in her career when the Chicago native graduated cum laude from Wake Forest University and the University of Virginia School of Law. Despite a flourishing career in litigation at a large law firm in Manhattan; she spent every moment of her spare time writing with the dream of becoming a published author (and we love her for it).
Success was not without its hurdles as her first manuscript was rejected but Griffin persevered, retired from her legal practice, and moved to London to make her dreams a sweet reality. What better way to reflect on a daring endeavor than to review a list of the most popular Emily Griffin books in order as we read them!
---
Best Emily Griffin Books
---
BFF's
We kick off the list of Emily Griffin's books with the Darcy and Rachel Series, a two-novel journey of love, the art of redemption, and the practice of forgiveness. The first book, Something Borrowed follows the story of Rachel, a young aspiring attorney living and working in the big borough of Manhattan (sound familiar?).
Rachel had always been the type to play by the rules, accepting the behind the scene role in her lopsided friendship with her best friend, Darcy. This all changes on her thirtieth birthday when a night of too many drinks results in a terrible mistake that sees Rachel navigate the lines between what is right and what is wrong.
Running Away
Second in the series is Something Blue, about Darcy Rhone, a woman who lived her life reliant on her beauty, her charm, her Fiancé Dex, and her best friend Rachel. Everything changes when, after a series of unfortunate events, Darcy flees her life in Manhattan and attempts to recreate it abroad in London, where she journeys towards the true meaning of happiness. Emily Griffin gives us her best in this series, for everyone to enjoy.
I loved both books in this best series from Emily Griffin. Each story was easy to read and enticing enough to get lost in. It truly held my attention throughout as I watched each character build and play out as the story unfolded. I especially loved that Emily Griffin shifted perspectives with each novel. You will catch yourself questioning your feelings throughout both books.
---
All About Choices
Continuing the success of First Comes Love and Something Borrowed, we dive into another one of Emily Griffin's best-selling books: All We Ever Wanted. The book follows three very different characters that are challenged in their choice between family and values. Nina Browning is a middle-class and small-town girl who lives the good life after marrying into the elite.
Everything seems great but she cannot shake the feeling that she has strayed away from the person she once was. Tom Volpe is a single dad who is pushing through multiple jobs over and above raising his headstrong daughter, Lyla. His road has been lonesome, grueling, and long, but things start to look up when Lyla earns a scholarship to a prestigious Nashville private school.
One Important Moment
Unfortunately, amidst so much privilege and money, Lyla struggles to fit in and her overprotective father does not make it any easier. One moment at a party changes everything, as Tom, Nina, and Lyla are forced together – questioning anything and everything they know in the pursuit of a life with true meaning.
I found this book compelling on so many levels; it is definitely not a chick-lit fiction. Many heavy topics are explored, and thoughts are provoked that further address the subject matter that is so relevant to our present day. I refuse to give any more away; it's up to you to explore the perspectives as the various character's stories unfold.
---
A Fateful Surprise
Adding to the growing list of the best Emily Griffin novels is none other than Where We Belong. Marian Caldwell is convinced that her life is exactly as she wants it to be, living her dream in New York City as a television producer in a satisfying relationship, challenged only by attempting to convince her CEO boyfriend of two years to drop a knee.
This all changes when she answers a knock on the door to find Kirby Rose, an eighteen-year-old girl with the key to Marian's past – one that she swore she'd locked away forever – threatening everything that defines her and her life. As the two women begin their shared journey to find missing pieces of their love, recognition stems from a place that neither would have ever expected – their hearts will never forget.
Rabbit Hole
After being a nominee for Best Fiction in 2012, I simply had to pick this book up. Griffin explores the idea of family from all aspects that one can understand in the most sensitive and realistic way possible. I loved the writing style that Griffin used, as we got to see each viewpoint from the different characters.
This led me down a rabbit hole of reading that prevented me from putting the book down (even when I really should have). Emily Griffin has a talent for characterization, even if the perspectives are on opposite spectrums, and this can be seen in not only this book but in most of her best-rated pieces.
---
Blast From The Past
The New York Times best-selling author strikes again, but this time with a story about true love. Nobody could ever question Ellen and Andy's deeply devoted love for one another, and better yet, how they naturally bring out the best in each other. Their marriage seems perfect in every way.
But that changes quickly on one fateful afternoon. Enter Leo, the one who brought out the worst in Ellen, and left her heartbroken eight years ago, leaving her with memories she could never forget. Their interaction awakens emotions that Ellen thought were long dormant, and she begins to question everything…
The One That Got Away
In this book, Emily Griffin's storytelling does it's best to go straight to the point of what it means to love, be loved, and come to peace with difficult decisions. Although the scene is set in an atmosphere of riches and country clubs, the emotions experienced by the characters are relatable. The characters are authentic, and their struggle is sympathized with, as many can resonate with the wonder of whether "the one" they had in the past got away.
I found myself on the edge of my seat, wondering what Ellen will decide next as Griffin takes a multi-faceted approach to navigating this storyline. I loved how real the themes were; a story of the true tests of love and commitment in a stormy setting of doubt – another novel to add to Emily Griffin's stream of highly ranked books.
---
American Royalty
Another take on love by Griffin, this time the star-crossed kind. In Emily Griffin's latest book, we follow the story of two destined lovers. Joseph S. Kingsley III is born practically into American Royalty, renowned for heroics, politics, service, and elegance, and is set to inherit the weight of this legacy (no pressure). He has the Kingsley looks and charisma, a mixture that should aid him with this undertaking after his father's untimely death.
However, Joe can be reckless even under the spotlight of the entire country. Cate, on the other hand, grew up in a single-parent home with little expectation from anybody. As a teenager, Cate is discovered for her looks and is soon featured everywhere as her modeling career takes off, despite the knowledge that she would be outcasted from her circles if her true story was to be revealed.
Opposites Attract
Fate, however, would have it that Joe and Cate cross paths and experience an instant connection – forcing their relationship to bear the glare of the country's eyes that seem to follow Joe everywhere. Emily Griffin takes on the challenge of telling a story of love that transcends the bounds of circumstance through the eyes of two very different backgrounds.
Joe is a member of a well-off family (which I believe to be loosely based on the Kennedy's) and Cate, is a self-made woman from nothing. The story is made better by supporting characters that shine in their own ways as the two main characters navigate love from the roots of opposite circumstances. Exactly what fans would want from a new book expertly written by Emily Griffin.
---
First Comes Love…
I wanted to mix up this collection of Emily Griffin book reviews with something a bit wittier and more heartfelt. That is the best way to describe Baby Proof. This is the story of Claudia, a successful editor, loyal sister, and loving wife. Challenging the conventional idea that all women want children, she thought she would have to abandon hope of finding a man who feels the same way.
That is, until she meets and falls hopelessly in love with Ben, both agreeing to abandon tradition and opt for a child-free marriage. But everything shifts when one of them has a change in heart. We are always told that compromise is a pillar of any successful relationship, but Emily Griffin flips the script, navigating decisions around a point of no understanding.
Change Of Heart
I do not want to elaborate further to avoid giving the storyline away but I can tell you this: Griffin does what she knows best – including several strong supporting storylines that perfectly complement the overarching narrative allowing the reader to not only see but understand the challenges faced in parenthood and marriage from a varied degree of viewpoints.
Griffin's insight is duly present as I found myself relating to more than one character on varied levels as the story pans out. Baby Proof is thoughtful, brutally honest, and surprisingly moving despite being an easy read. Trust me when I say you can blissfully read this quickly and move on to another best book by Emily Griffin.
---
Personal Favorite
I am going to begin this review by admitting that this was the first of Emily Griffin's novels that I read (and one of the best in my opinion). I believe that in order to really see what Emily Griffin's best books are about, you need to read this one at some point. Don't be fooled by the purple cover that it boasts.
This book takes you on a moving journey, following two mothers that live in the same Boston suburb and have little in common apart from their love for their children. The first is Tessa Russo, a mother of two children and the wife of a skilled pediatric surgeon who recently gave up her career to focus on her family and the pursuit of domestic happiness.
Two Mothers
The second, is Valerie Anderson, an attorney and single mother powerhouse to six-year-old Charlie, who has never known his father. After a cycle of disappointments, Valerie has given up on the pursuit of romance, and to some degree, the maintenance of friendships. One night, tragedy strikes as both Tessa and Valerie's lives are converged in ways nobody could have ever imagined, and tested beyond their belief.
I feel like the story transports you not as a follower of two people's lives, but as a passenger of their thoughts and ideas as you get hoisted into a tornado of feelings – whether it is fear, love, betrayal, or even forgiveness. This book serves as a reminder of miracles, no matter how tough life might be.
---
The Rebound That Kept Rebounding
My opening statement of this review is that if you loved Something Borrowed, you will love The Lies That Bind. Set in the spring of 2001, 28-year-old Cecily Gardner meets a man named Grant in New York's East Village after a devastating breakup with her long-time boyfriend, Matthew.
The two forge an unlikely connection and insist that they should avoid the perils of a rebound relationship. Their timing could also not be worse as Grant prepares to move overseas. What follows is a rollercoaster of a relationship, as neither can listen to their head and instead follow their heart. Suddenly, the unthinkable happens in an event that shook the world.
No Spoilers
The Lies That Bind is an interesting exploration of the search for love and truth, not only in our relationships but our careers and own hearts as well. These are themes that Griffin knows how to narrate all too well. The characters are likable and relatable. The story is emotional, dramatic, and compelling, scattered with mystery and surprises.
I was hooked from the first paragraph which was unsurprising as Emily Griffin has a way of pulling you into the story with any of her best novels. Do you want to know my favorite part? We see a sneaky feature of characters from another one of Emily Griffin's best-selling books. I won't spoil it, but you will want to know who they are!
---
A Tale Of Two Sisters
First Comes Love introduces a pair of sisters named Josie and Meredith Garland whose delicate bond is splintered at a young age due to a family tragedy. Their responses propel them on very different life paths. Josie is a first-grade teacher who is single – and very close to not dating anymore (we've all heard this before). What makes this situation worse is her undying desire to be a mother.
Meredith is the model child; a successful attorney married to a wonderful man and raising a beautiful four-year-old daughter. Despite this prosperous course, she is dissatisfied and restless, wondering if this is the life she actually desired. As the anniversary of their family tragedy looms fifteen years down the line, painful secrets begin to arise.
Differences Aside
The sisters find themselves forced to confront the issues that have kept them divided and learn to come to peace with their own choices. I really loved the theme that this novel took; ownership of actions and openness to forgiveness. Griffin sculpted a story that showed that the sisters needed each other now more than ever, despite their differences.
This is something that I am sure any sibling can relate to. I love how Griffin keeps each story original, even if she borrows from the same themes. It allows for the story to be new, but for the characters to maintain a level of relatability throughout each novel. It dealt with tough issues, but it motivates the reader to listen to their heart.
---
Small Town, Love And Loyalty
Last and certainly not least, we have The One & Only. Griffin returns with another riveting story of the reconciliation between love and loyalty. We follow thirty-three-year-old Shea Rigsby in the small college town of Walker, Texas – a place she has spent her entire life.
Passionate about football (a passion shared by the whole town), Shea has remained devoted to her hometown and never left, staying behind after graduation to work in the local university's athletic department. Ten years later, disaster unfolds in the community, leaving Shea's comfortably lived world uprooted, and she is thrown into a spiral of doubtful thoughts – is this life really enough for her?
Nostalgic
This best book by Emily Griffin is thoughtful, funny, and remarkably enjoyable. This novel was actually loaned to me by a family member and spoke to a personal nostalgia that a lot of people can relate to or sympathize with. If you can leave your comfort zone and look past a lot of football talk, you will begin to enjoy Griffin's development of a truly authentic story.
I loved how Shea as a character beat the conventional view of women in sports, being able to quote stats, recall players, and analyze plays with the best of them. It is an interesting breakaway from Griffin's usual character set and something I could really appreciate being a sports fan myself.
---
Final Thoughts
Well, there you go! A thorough list of all the books by Emily Griffin that I suggest you read. Each one is originally filled with a rollercoaster of interesting characters and even more surprising twists to keep you on the edge of your seat. You do not have to worry about which book to start with – just dive in!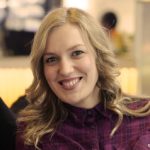 Alissa is an avid reader, blogger, and wannabe writer. (She's a much better cook than a writer actually). Alissa is married, has one human, one feline, and two canine kids. She always looks a mess and never meets a deadline.