Bio
Sandford, whose real name is actually John Roswell Camp, was born on the 23rd of February, in the year of 1944, in Cedar Rapids, Iowa, United States of America. Sandford is a notable American author and an ex-journalist. He has been featured on the New York Times bestseller list and he has received a Pulitzer prize for his work.
Life and Education
As noted, Sanford was born and raised in Cedar Rapids, Iowa. His father was Roswell Sanford Camp, while his mother was Anne Agnes, whose family hailed from German and Lithuanian roots. Sandford acquired his Bachelor of Arts in American History and Literature from the University of Iowa, and later on received his Master's Degree in journalism, as well.
---
Best John Sandford Books
---
Career
For a number of years, Sanford worked for The Miami Herald, before moving to Minneapolis in 1978. In Minneapolis, he began writing for The Saint Paul Pioneer Press and two years later had already become a daily columnist. Now, with all of that duly noted, let's take a peek at what the best John Sandford books are.
---
Huge Series
Sandford's Lucas Davenport series is without a doubt the series by which the famed author is most known for. It is his magnum opus, if you will, and all thirty-one books in the series are wonderous entries and worthy, by themselves, of being on our list of the best books by John Sandford. Several of Sandford's Prey books in order– our favorite sequence for Sandford's Prey series in reading order goes like this:
Rules of Prey
Shadow Prey
Eyes of Prey
Silent Prey
Winter Prey
Night Prey
Mind Prey
Sudden Prey
Secret Prey
Certain Prey
Easy Prey
Chosen Prey
Mortal Prey
Naked Prey
Hidden Prey
Just to name several
Meeting the Savior
One of the most popular John Sandford books is without a doubt the series first, namely Rules of Prey. It is here that we first meet our titular character Lucas Davenport, the most recognizable of Sandford's Prey series characters. The Twin Cities, at the moment, are under the oppression of a certain killer who is both completely mad, yet undeniably very smart and intelligent.
Slaying for Satisfaction
The murderer, sometimes called the Maddog murderer, seems to do it out of pure pleasure and need for satisfaction. He likes to irk the police officers as elaborate and befuddling obstacles and puzzles are thrown their way.
That is why Lieutenant Lucas Davenport was called in. He is just the man for the job and without a doubt a match for the crazed murderer that stalks the streets. No surprise that this is one of the best-selling John Sandford books.
A Series of Interconnected Deaths
In the second entry of the Prey series by Sandford, book titled Shadow Prey, Lieutenant Lucas Davenport is searching for his strangest and oddest case, yet. A welfare worker and a slumlord have been brutally murderer in Minneapolis, a political star was killed in Manhattan, and a judge from Oklahoma City was abducted.
The modus operandi is the same one, so it's agreed that the perpetrator is but a single person. Sandford's Prey novels are our favorites for a reason. However, when Lucas Davenport gets involved, the prowler chooses to get a bit more personal with the Lieutenant and begins targeting his current flame. Brimming with the humorous writing, the smooth storytelling, and the palpable tension.
Two Heads Are Better Than One
Following the Sandford's Lucas Davenport series in order, we come to Eyes of Prey. Over the course of the three books prior to the third, Lieutenant was forced to work against two single-minded, bizarre, and damnable serial killers, and that's only the tip of the iceberg so far as murder investigations go.
At present, he has not just a single killer on the loose causing trouble and adding bodies to the local morgue, but two of them. Lucas knows only a few things about them.
The Neurosis of Murderers
One of them is scarred so much that it is impossible not to notice – he probably views this as one of his defining features. The other is undoubtedly handsome, yet a psychopath none the less. Slightly depressed and uneasy, this might just be the case to get Davenport back doing what he does best – sending crazed killers to jail. Without a doubt, among Sandford's best novels.
The Hero's Plight
Throughout all of the novels that we've been acquainted with Lieutenant Lucas Davenport, there has always been a tangible, undeniable, and potent sense of melancholy in him. He has been through many things, so it's only logical that he carries the burden with him wherever it is that he goes.
In the fourth of Sandford's Lucas Davenport novels, Lucas has no choice but to take the search for murderers in the confines of the police station because it seems to be a man on the inside that's perpetrating them. The tension between Lily Rothenburg and Lucas, also, is something wonderful and adds a lot to this terrific novel.
The Chill of a Coldblooded Killer
The final novel from the best john Sandford series we'll be looking at – though we do recommend and are reviewing the whole series as it is fantastic and more than worth your time – is Winter Prey. Winter Prey is where we meet Lucas Davenport's most resolute and most evil nemesis, yet.
The Iceman is a serial murderer that stalks the streets of the north country, just the right spot for the grisly killer to get away with his slayings. The bodies soon begin piling up in the morgue as Lucas Davenport is forced to go to dire straits if he wants to get to the bottom of the murders and stop the lunatic that's causing them. These novels are among the top John Sandford books.
---
Just Amazing
Sandford's Virgil Flowers series is a close second to the one we reviewed above. Nevertheless, Sandford's Virgil Flowers books are honestly and truthfully some of the author's greatest ever and we cannot recommend them just enough to our readers – they're that good. These thirteen John Sandford's novels in order are:
Dark of the Moon
Heat Lightning
Rough Country
Bad Blood
Shock Wave
Mad River
Storm Front
Deadline
Escape Clause
Deep Freeze
Holy Ghost
Bloody Genius
Ocean Prey, which has yet to come out
Lead Me Through Hell
Looking at Sandford's Virgil Flowers series in order, the first novel is Dark of the Moon. Virgil Flowers is the titular character, a tall, pretty lean, thrice divorced, with lush, long hair.
Virgil was here and there before joining the Minnesota Bureau of Criminal Apprehension, brought in by everyone's favorite Lieutenant – Lucas Davenport. Now, in a small Bluestem town, a place where all the residents are familiar with each other, a house has just gone up in flames with the owner Judd inside.
Hitting a Wall
As Virgil starts digging into the story to try and figure out why someone would want Judd dead, he finds out that there are reasons in abundance for wanting him gone. He had scammed people, he liked to get women to cheat on their husbands, he was connected to a fanatic, and many others.
However, Judd isn't the first person to be killed in Bluestem, but actually the third of the set. We hope you're coming around to the reason why this belongs to the list of the best John Sandford novels.
A New One on the Block
In the second of the Virgil Flowers books, Heat Lightning, Virgil Flowers receives a call from none other than Lucas Davenport. The day was a hot one and the night is keeping in line with that.
A corpse had been discovered in the proximity of a Stillwater veterans memorial. The victim had suffered two shots to the head and was found with a lemon propped into the mouth. The bad thing is that this is the second occurrence that they've had like this, the first being a number of weeks prior.
Making a Choice
As Flowers begin questioning suspects, taking notes, and trying to cope with all of the hysteria, he cannot make headway unless he goes down a certain avenue, but if he's wrong, then the bodies will only increase.
Before long, Virgil understands that there are a lot of connections in the case, but only one can be the true one. All of Sandford's Virgil Flowers novels are absolutely terrific not just the ones we reviewed.
---
Trilogy
The Singular Menace is by far the shortest series that Sanford has penned, but in our opinion, it stands as being one of the best John Sandford series ever. These particular John Sandford's books in chronological order go as follows:
Uncaged
Outrage
Rampage
All or Nothing
Worth noting, we believe, is that the series is actually co-written by Sandford along with Michele Cook, the current spouse of Sanford. With that said, the series is also home to some of the best John Sandford books ever.
Shay Remby, in the series' first novel, has arrived in Hollywood with less than sixty dollars, a handmade knife, and the fervent intention of finding where her brother Odin actually is. Odin, himself, is a terrific hacker that's also liable to get loose at times.
Almost Caught
After a failed raid on a research laboratory, Odin barely made his escape with some flash drives and a post-op dog. Not knowing what to do, Odin called up his sister to tell her about it, then told her he's going into hiding. It was only when Shay was paid a visit by the lab's security team that she knows trouble is afoot.
Experiments
Following what the Shay Remby succeeded in doing along with the merry band of rogue renegades and the blow dealt to the Singular Co. with what happened last time, they are enjoying a bit of a victory. Upon saving Odin, a girl was also freed from the lab.
She had been being experimented upon her, attempting to inculcate memories into the poor girl's mind and the worst is that they were semi-successful in this endeavor. Fenfang is now a person that knows far too much about far too many things, so the main objective is to keep her safe at all costs. Perhaps our favorite of the John Sandford book reviews.
A Coverup or a Retreat?
In the series' final novel, namely the one titled Rampage, we see as Shay Remby along with her group have got the Singular Co. right where they want them, at least as far as the eye can see. As the news breaks that the shady organization was doing such experiments, one by one the company's employees begin vanishing, with the CEO dying in a plane crash.
Whether something far larger is going on or they're covering their tracks, Shay and the group can't conclude, but when they get word of the operation getting moved, it only spells trouble. Some of the best-rated John Sandford books are right here.
---
It's Happening
Dead Watch, the first standalone novel of Sandford's books we'll be taking a look at today, ranks as being one of the best Sandford books for a plethora of reasons, the storyline being perhaps the primary one. Dead Watch was published in the year of 2006.
On a very, very early morning in Virginia, one woman is trying to get away. She is the spouse to an ex-United States senator, who himself has not been seen for a couple of days now. She can't tell whether he's been killed, whether he's been abducted, but she knows that someone terrible is going on and that if she doesn't get away, she's as good as dead. Mere hours later, somewhere in Washington, D. C., a phone rings.
Only One Man for the Job
The chief of staff in the White House requires Jacob Winter at once. Jacob Winter is the primary investigator and an Army Intelligence veteran, so he knows how these things go.
However, not even he could have known that the disappearances and vanishings have become so terrible that there is little hope of getting the situation under control. Then, they uncover a body tied to a tree with barbed wire, and Winter is made aware that the worst is yet to come. Perhaps the best John Sandford novel, all around.
---
Science Fiction
Saturn Run is yet another amazing work from Sandford on our list. On Sandford's novels list, Saturn Run is not just any other novel, but one that we have found to be the best Sandford book. It was published in the year of 2015.
A Star or a Ship?
The time of the novel's events is centered around the year 2066. An intern working for Caltech has just observed a certain oddity or anomaly from the telescope he peruses. This something is a kind of body coming closer to Saturn, but it's getting slower and slower.
The thing is that bodies in space don't get slower, but spaceships and such do. It soon becomes general knowledge that the ones piloting the ship must be more than a century above them in the tech sense. Worth noting is that this would be among the top few if we were forced to give our John Sandford's books ranked in order of best to worst.
Divided as Always
Before long, that they are hellbent on getting the information as soon as they can so that Earth can be just as advanced as the ones piloting the ship, but there's just one problem. The countries of the world can't come to an agreement, so it seems that it's every man for himself. However, little could they have known what would follow.
---
Anna Batory
The Night Crew is a standalone novel that we genuinely love reading. It might just be Sandford's best book, too. The Night Crew was published in the year of 1997. Anna Batory is the one that works with the night crew and runs them.
She's pretty petite, her hair is a darker color one, and she's timid, yet fierce enough. She's a Wisconsin farm girl in LA and she's walking the streets of the city with her group all day. They are video freelancers that want to record something happening so that they can sell it to the highest bidder – most often a television network or a station nearby. Anything to get some money in your pocket, eh?
Wrong Place, Wrong Time
However, when a man jumps from five stories up a building, the cameras are already rolling as the man makes his way closer and closer towards the ground. He's not the only one that's dead, as Jason, a cameraman working for Anna, disappears that night, with his body being found on a beach a couple of hours later, as he was shot and killed.
As the police investigation tries to make headway, Anna investigates a few things herself and comes to a grisly conclusion. One of John Sandford's best books.
Another Series to Read?
Sandford's Kidd series is another one that we recommend you pick up. Sandford's Kidd novels, all four of them, are a great choice.
---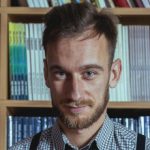 Robert is a science fiction and fantasy geek. (He is also the best looking Ereads writer!) Besides reading and writing, he enjoys sports, cosplay, and good food (don't we all?). Currently works as an accountant (would you believe that?)