Bio
Oliver Wolf Sacks was born on the 9th of July, in the year of 1933, in Cricklewood, London, England. He was a famous British neurologist, science historian, naturalist, and a famed author. He was born in Britain but spent the length of his career in the United States of America.
Life
As mentioned, Oliver was born in Cricklewood, London, where he was the fourth child of his parents. Samuel Sacks was his father, a Lithuanian Jewish doctor, and his mother was Muriel Elsie Landau, also Jewish, was among the very first female surgeons in all of England. The family of Oliver numbered many a distinguished and prominent scientist, physician, and such.
---
Best Oliver Sacks Books
---
Education
Sacks attended The Queen's College, Oxford, where in 1960, he received his medical degree. He soon relocated to the United States, where he was an intern at Mount Zion Hospital, while completing his residency in neurology and neuropathology at UCLA.
In Sacks' own opinion, the brain was the most incredible thing in the universe which is what drove him to the occupation. It was in 2015 that unfortunately, Sacks passed away. With that said, let's now see what our picks for the best Oliver Sacks books are.
---
The Loss of Self
Outright, one of the most popular Oliver Sacks books is his two-hundred-and-forty-page volume titled The Man Who Mistook His Wife for a Hat and Other Clinical Tales. The novel was published in the year of 1985.
It stands to reason and to logic that if a man so happens to lose his eye or a limb of his, the man would, more or less, be aware that he has lost that particular eye or that particular limb. However, if a man so happens to lose his self or his sense of self, then that man will not and cannot know this, for he is not present anymore. In this awe-inducing and wonderfully written book, Sacks tells us of the many stories that he has of his many patients.
The Plight of the Damaged
The patients that had trouble and pain and struggles in between as they attempted with slow success to become inured to the pains of the neurologically damaged lives they were forced to live.
The people in this novel aren't ones that can look upon a flower and see it as just that, these are sadly people that can't remember those that they so dearly love. Not for the faint of heart, this is one of the best-selling Oliver Sacks books of all time.
---
The Effects of Sounds
Musicophilia is another standalone novel that we love dearly and we recommend it to, well, everyone. It is one of the best books written by Sacks. The book in hand was published in the year of 2007. Anyone that has ever read Sacks' book surely knows that the man can write some of the most touching, compassionate, yet insightful books ever.
In Musicophilia, Oliver endeavors to venture into the mind once more and see the plane of the brain where music lies and how exactly it has effects on the human lives and, more generally, on humanity, as a whole. A term which Sacks first brought up, referred to as musical misalignments.
Misalignments
Of the various musical misalignments, we can surely mention one hapless man who out of the blue wanted to become a pianist while in his forties, just after being struck by lightning. Another such case is of children that have Williams syndrome that are hypermusical from their very birth.
Others, like those that have amusia, view a random thud or clatter as something akin to a symphony. People that can only record memories for a few seconds for everything else, but music is the one that sticks longer. Among the best-rated Oliver Sacks books and with good reason.
---
A Mighty Author
An Anthropologist on Mars is, as most of Sacks' books are, a wonderful book. It is about three-hundred or so pages and it was published in the year of 1995. In this wonderful work, Sacks once more shows us why he is so great an author.
The unencumbered moving from one tale to the next, with brilliant words on what is happening, and the genuineness at the heart of each of his stories, is what makes Oliver the awesome author. The patients that Sacks examines and brings up in this particular volume are, of course, very intriguing.
Learning to Live
A number of the patients which Sacks has written of in An Anthropologist on Mars are people that have, with varying success, learned to live with the neurological deficiencies that they have from their birth.
Other patients were, for a time at least, normal people, but a certain event, always different, was what caused them to become so afflicted. Nonetheless, the tales herein are more than worth your time. Deserving of the title of Oliver Sacks' best book, in our eyes.
---
Wartime Childhood
Memoirs is a series where readers can find the best books by Oliver Sacks. The series in hand is also sometimes referred to as Sacks' biography books. The series at hand is comprised of two books and they are the following ones:
Uncle Tungsten
On the Move: A Life
Sacks begins by telling us, with the powerful enthusiasm and earnestness, of the childhood he had in England during the war. He talks about the family members that, in one way or the other, aided and abetted his inclination for the sciences.
We go through his boarding school days, and the time he spent away. Then, we come back to London, where though things have changed, they're quite the same as when he left them.
The Youth's Many Events
In the second book of the series, Sacks talks about more of his youthful proclivities. One of these is his interest in motorcycles and his need for speed. The tale here starts out in the 60s, in California, where Sacks had a spell of trouble with drugs, which he overcame, and then we go to the Big Apple.
Here it is that Sacks found an ailment which he had forgotten about as he was in the back wards of a hospital. Read of the very first brushes with patients and perhaps the time that inspired the future writing of Sacks. One of Oliver Sacks' best books.
---
Illusions We Experience
Hallucinations is indubitably one of the most mature writings, an author whose works are famous for their maturity. Hallucinations, possibly the best Oliver Sacks book, was published in the year of 2012, spanning some three-hundred or so pages.
We have all – and if not all of us, then a large enough number so as to warrant the usage of all – at one or another point had a moment where we thought we heard our name called, whether it was in a crowd or by our lonesome. We have sensed that we are being followed, yet there is no one behind us. At the very least, we have seen something which was not quite there. Hallucinations, it turns out, aren't reserved for those that are mentally challenged, but they come from a variety of sources.
Under the Hood
In this fine book, Sacks' stories of his patients feature the hallucinations that they experienced and how it is that these hallucinations connect to the inner structure of the brain along with its constant activity.
Hallucinations can come from the mildest sources, too. Intoxicated, ill, or by some chance injured, we are liable to hallucinate. Migraine-afflicted people have spells where shimmer light is visible to them, and many such similar cases. Sacks' writing here is among his most important.
---
Being Thankful
Gratitude is yet another book from Sacks which is very much deserving of being called one of the top Oliver Sacks books. Gratitude is, from a writer that has made a living off of being quite realistic and honest, one of the author's most real and most heart to heart books. Without further ado, let's see why this might be the best Oliver Sacks book.
In the eyes and in Sacks' mind, the feeling that is most common or most intense is his sense of gratitude. In his life, he has loved people and he has been loved by people. He has given much to people and he has been given things in return. More than anything else, he is an aware human, an animal which has thoughts, a being on this mesmerizing world, and to him, that is more than enough to be thankful for.
A Few Thoughts
No writer has ever come close to achieving that which Sacks has. The painting on a canvas of the many difficulties, both medical and all too human, of those that are neurologically different to the rest of us, is something awe-worthy.
Over the course of the final couple of months that Sacks was alive, he wrote a number of essays where he gave his most honest thoughts on life, on death, and everything. A harrowing and insightful read.
---
Haunting
Awakenings is a non-fiction book, one of his most brutal and unfiltered volumes ever. It, in our opinion, also stands as being one of the best Sacks books of all time. Awakenings was published in the year of 1973. Awakenings concerns itself with showing the haunting accounts of the most known Sacks experiments.
Drowning Out the Warnings
These experiments were ones where a very new dopamine medication was used so as to treat the encephalitis lethargica outbreak patients from the early 1900s. Even then, Sacks had cautioned against the overbearing usage of the drug, much to the chagrin of his superiors. Here, Sacks gives us the accounts of how each patient reacted to L-DOPA.
Human Guinea Pigs
There were cases of people that had been catatonic and in a perpetual state of coma for decades upon decades. It doesn't need to be said that the cases herein are haunting, frightening, uneasy, and ones that the faint-hearted will not appreciate. A great number of these patients experienced terrible side-effects from L-DOPA, with a few being lucky enough to be treated properly with it. Without a doubt, of the complete list of books by Oliver Sacks, Awakenings stands as being one of the most insightful.
---
A Posthumous Volume
Everything in Its Place is a collection of the final essays written by the fantastic author. It was published in the year of 2019, four removed from Oliver Sacks' passing away. Nonetheless, it still stands, of the whole Oliver Sacks' books list, as one of the best books written by Oliver Sacks.
It is a known fact that over the course of his career, Sacks had managed to garner a great fanbase, readers that adored and devoured each of his fantastic books. In this particular book, though, we celebrate and we rejoice the many successes of Sacks' career. The prose always silky smooth, the empathy and the insight present all throughout, everything is in its place even with this final Sacks volume.
Obsessions and Interests
The book begins with the case history of Spalding Grey which came out a couple of months prior to his death, where he reflects on the sanatoriums and the mental asylums he has had the chance to be in. He speaks of Robin Williams and the heartrending pains of schizophrenia.
Lastly, we can't miss Sacks' opinion on a colleague that was stricken by Alzheimer's. More than anything, Sacks speaks on the plethora of curiosities and interests that he has had over his whole, brilliant life.
---
Amazing Work
The Mind's Eye, the second to last book we'll be covering today with our Sacks book reviews of the best Oliver Sacks books ranked – though in no particular order. The Mind's Eye was published in the year of 2010 and it spans only a hair above two-hundred-and-fifty pages.
Beauty of Music
In a previous book of Sacks', namely in Musicophilia, Sacks concerns himself with the beauty of music and how it affects the brain. In The Mind's Eye, however, he turns his attention towards the world we see.
How is it that we can see in three dimensions, how we remember and recognize places, things, and faces, how we write and make our words into sentences and paragraphs, and how we see the world when our eyes are shut.
Visual Deprivation
Sacks uses the experiences of patients that have sadly lost the ability to see but also learned to live with this problem, in spite of it all. Sacks even gives us his own experience, when in 2005, he felt a light flashing in his field of vision, but one quite different from the migraines he was liable to feel.
Soon enough, a malignant tumor was diagnosed in one of the eyes. Sacks speaks on his own time living with and fighting cancer, and much, much more.
---
The Lack of Sound
Seeing Voices is a touching, heartfelt, and wonderful book. Seeing Voices was published in the year of 1989 and has a page count of two-hundred-and-twenty pages.
In The Mind's Eye and in Musicophilia, Sacks focused on the pains, struggles, and obstacles that come with the visual world when one is neurologically damaged and with the auditory one, as well. In Seeing Voices, however, he speaks on the subject and the topic of being deaf. It should be common knowledge that if one is born deaf, then that brings about more than just one trouble in life.
A Language for the Speechless
If one cannot hear others speaking and talking, then one cannot learn how to talk, which takes language and speech, for that matter, out of one's life completely. Deprived of speech, one cannot enter into discussion, which is a fundamental aspect of life.
However, that is why sign language was created. If one cannot speak with words, then one can speak with the hands. It was in the 19th century that the first sign language was created, but it took a long time until deaf people came to the point of today. A book that needs to be read. Migraine and A Leg to Stand On are two other books from Sacks we recommend picking up.
---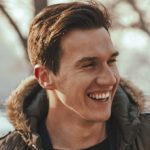 Michael is a graduate of cultural studies and history. He enjoys a good bottle of wine and (surprise, surprise) reading. As a small-town librarian, he is currently relishing the silence and peaceful atmosphere that is prevailing.