Teachings
Sophie Hannah is an author that has released books that are highly ranked. Hannah first came onto the scene with poetry, having released her first published book of poems at the age of twenty-four. She has since published five poetry collections, which are actually studied in schools and universities across the United Kingdom!
Sophie Hannah is more commonly known for her crime fiction works, which have made her a best-selling author and have been sold worldwide. She leans strongly into the psychological crime thriller genre, and a couple of her novels have even been made into limited television series!
A Familiar Story
It may come as no surprise when I tell you that Sophie Hannah, who is known for writing some of the best crime fiction books, is also the main teacher and course director at the University of Cambridge for the Master's Degree in Crime and Thriller Writing – which she helped create!
However, the works that I think Hannah is most known for would have to be the series of novels that she wrote which are based on the character of Hercule Poirot, created by the renowned Agatha Christie. Hannah got the blessing of Christie's family and her estate to publish a new Poirot novel and she has since published two more. They were all huge hits (obviously)!
---
Best Sophie Hannah Books
---
Reintroductions
You may be familiar with Agatha Christie's legendary character, Hercule Poirot. In the early 2010s, the guardians of Christie's legacy gave their approval for a new series featuring the beloved character, that was to be written by none other than Sophie Hannah!
This best book series by Sophie Hannah starts with The Monogram Murders. We are reintroduced to Mr. Hercule Poirot enjoying a quiet supper at a London coffee shop. His relaxed evening is interrupted by a terrified young housemaid. She tells Poirot that she is about to be murdered. She then begs Poirot not to find the killer, because her death is justice.
On The Cuff
Later that evening, there are three other murders. The victims were staying at a fashionable hotel in London and were each found with a cufflink in their mouth. Poirot is puzzled and has a hunch that these murders may be connected to the young housemaid. While he is following clues, the killer is preparing a hotel room for his next murder…
I really enjoyed this Sophie Hannah book, and I think it is one of her most popular in the series! The setting was really good, as were the characters. Sophie Hannah did her best to stay true to Christie's legacy in these books, but she put her own spin on a classic and beloved character, and I think she came out with a really good and solid mystery novel!
Party Time
The second book in the series is called Closed Casket, and we see Poirot arriving at a party in a lavish Irish mansion. Poirot doesn't know why he's been invited, but as the night goes on, things are slowly revealed. Lady Playford is throwing the party and she has decided to cut her two children out of her will and leave her entire fortune to an invalid with mere weeks left to live.
Poirot wonders if Lady Playford is expecting a murder and is curious as to why she seems to be provoking one. Despite his best efforts, he cannot prevent the murder from happening, and now he is left with another puzzle: making sense of the murder victim's identity. Sophie Hannah went for what she knows works best in this novel, and that is the tried and true "whodunit" method. I think it worked really well!
Regards, Poirot
The Mystery of Three Quarters is the third book and is also the best-rated book in this Sophie Hannah series. Poirot has returned home to find a rather angry woman waiting on his doorstep, ready to berate him for a letter he sent her accusing her of murder. The woman in question is Sylvie Rule and the victim is Barnabas Pandy, a man who, she informs Poirot, she has never heard of.
Poirot is equally surprised, having never heard of Barnabas himself, and insists that he never sent the letter. When Poirot goes inside his house, he finds yet another visitor accusing him of the same thing, and he is visibly shaken. How many people have received such letters and who sent them? More importantly, is Barnabas dead? This one is my favorite book and it is a very entertaining read!
Murder In Coach
The last book is called The Killings at Kingfisher Hill and is one of Sophie Hannah's latest books. Poirot is on a luxury passenger coach, on his way to Kingfisher Hill estate. He has been called there to investigate the murder of Frank Davenport. But the coach is forced to stop when a woman demands to get off, insisting that if she stays, she will be murdered.
The rest of the trip passes quietly but Poirot can't help but ponder if the incident on the coach could help him solve the murder. What I loved about this particular novel is that it had all the elements of a classic mystery/crime story. There are many suspects and clues littered throughout to keep you guessing! Also, just a note here that you do not need to read these books by Sophie Hannah in order, they can be read in whichever order you choose to enjoy them.
Take A Chance
I know that people who are already fans of Christie will be hesitant to give these books a try. Just remember when you go into reading these books that Sophie Hannah is not Agatha Christie – they are two completely different writers, and Hannah puts her own spin on Poirot. These books should be judged on whether they are enjoyable mysteries, and they are!
---
Meet The Detectives
Here we have the best mystery series by Sophie Hannah, one that is entirely her own creation. There are a whopping eleven books in this series, so I won't go through every single one. However, I will pick my personal favorites and review those – I have a feeling I'm going to convince you to add at least one of these Sophie Hannah books to your reading list!
We are introduced to the two main characters in this series in the first book, which is called Little Face. Detective constable Simon Waterhouse and Detective sergeant Charlie Zailer are called in to deal with a most peculiar case: child swapping. Alice Fancourt left her newborn baby home alone with her husband David for the first time and comes home to something horrifying.
Nothing You Won't Do
Alice finds that her daughter has been swapped with another baby. Alice is hysterical and immediately calls the police. She is shocked when no one, not even David, believes her. But Alice knows that the baby in her house is not hers. Simon finds he is drawn to Alice, yet he has doubts about her story, and Charlie thinks it's a waste of time.
Simon and Charlie might just change their minds about this case when Alice and the baby disappear a week later. Any mother will know that there is nothing they won't do to protect their children. The first of many best-selling books by Sophie Hannah, any lover of crime fiction will not want to miss this one! It has so many layers, and when I realized how complex the story was, I couldn't put it down!
I Have A Confession
Book number four is called The Other Half Lives and it's an intriguing one, with plenty of twists and turns! Ruth Bussey knows all about living with regret, something that nearly destroyed her. While she doesn't think she is deserving of it, Ruth has now found love with a man named Aidan Seed.
Aidan has a troubled past of his own, one that he decides to confide in Ruth. She is shocked when he tells her that he killed a woman called Mary Trelease many years ago. Ruth is also confused because she is certain that she knows a woman with the same name, and she is very much alive. Simon and Charlie are called in to investigate a crime that may or may not have happened…
Maybe She Did, Maybe She Didn't
Lasting Damage is the sixth book, and let me tell you, the premise of this one had me excited. When I finally read it, I was ecstatic that it surpassed my expectations. In the early hours of the morning, Connie Bowskill knows she should be sleeping, but instead, she is on a property website looking for a house she knows is on sale. Connie clicks on the virtual tour and is taken through all the rooms of the house when she finds herself looking at a woman in a pool of blood in the living room.
Connie wakes her husband to show him, but when he looks, the body is gone. Charlie and Simon are called in from their honeymoon to unravel the mystery behind what Connie saw – or what she thinks she saw. This is one of those books that you need to stay "on" for because otherwise you will be confused. This top Sophie Hannah book will keep you guessing right until the end!
You'll Regret It If You Don't
These three were my favorite books in this series but remember that there are still seven more! Some other really good ones are Pictures Or It Didn't Happen, The Couple At The Table, and A Dark Time. There is no particular order in which you need to read these Sophie Hannah books, but I always find that you end up missing out on the character's backgrounds and little nuances throughout if you just jump in randomly.
This series is dark and exciting, and each story is totally unique. I don't know how Hannah comes up with all these ideas, but she is brilliant at it. She is the perfect person to teach a course in crime and thriller novels, that's for sure! And don't worry, all the books have very satisfying conclusions – all your questions will be answered. Make sure you give this series a try, I think you will regret it if you don't!
---
Mind-bending
This is one of Sophie Hannah's new books, having been released in 2020 (perfect timing for lockdown, really). I'm just going to give it to you straight: this book is absolutely WILD – and I loved every second of it. If you do decide to read this, then be prepared for your brain to explode, because Hannah has no limits. You have been warned.
Beth has to take her son to his Under-14s football match, watch him play like the supportive mother she is, and then bring him home. There is no reason for her to take any detours. Except Beth knows that her ex-best friend Flora lives in that neighborhood. She doesn't need to drive past and try to get a glimpse of her; in fact, she doesn't even want to.
Something Unexplainable
Despite the potential to dig up painful memories, Beth can't resist the urge to catch a glimpse of Flora and see how she's doing. As she parks across the road, Beth sees Flora and her two children, Thomas and Emily, outside the house. Except something isn't right. While Flora looks the same, albeit older, her two children look like they haven't aged a day in twelve years.
The last time Beth saw them, Thomas and Emily were five and three years old. How have they not aged at all? For a second Beth thinks they might be different children until she hears Flora call their names. Beth is wracking her brain, but no matter how hard she tries, she can't figure out what's happening here.
Try Figure It Out
You will be asking yourself a million questions trying to figure this one out! And if you don't believe me, then just go read the reviews for this Sophie Hannah book. There are so many secrets that I lost track of where one started, and another began. I thoroughly enjoyed every second of reading this, and in my opinion, it is one of the best novels by Sophie Hannah.
---
Getting Away
Cara Burrows has reached her breaking point. Not knowing what else to do, she flees everything she knows, her home and family in the UK, and ends up at a five-star resort in America that she definitely cannot afford. She just needs to be alone so she can figure things out, and then she'll go back. But right now, all Cara wants is to get into her room and go to sleep.
When Cara opens the door to her room, she is shocked to discover that it is already occupied by a man and a teenage girl. Cara is terrified as the man makes her prove that she is who she claims to be. When he lets her go, Cara goes down to the front desk, and they are embarrassed at their mistake.
Infamous Case
The resort upgrades Cara to the best room they have to offer, and she should be ecstatic about it. Except there's a niggle in the back of her mind, something she can't quite put her finger on… Cara feels like she knows that teenage girl from somewhere. And then she realizes why the girl looked so familiar – she looks exactly like Melody Chappa!
Melody Chappa's infamous case is known all over the country. She disappeared and was presumed to be dead, killed by her parents who are now serving life sentences for her murder. But surely that girl can't be Melody? Cara doesn't know who or what to believe anymore. She remembers reading about the evidence that put the parents in prison, but can she really ignore the physical evidence that she saw with her own two eyes?
Original Plot
This is definitely one of Sophie Hannah's best psychological crime thriller novels. The plot line is highly entertaining, and the characters are very diverse. You do get an idea towards the end of where the story is going, but Hannah catches you out right at the very end with something unexpected. You won't want to give this fantastic book a miss!
---
Fresh Start
We are now on the last of what I think are Sophie Hannah's best books that you should read. This one is a psychological thriller, one that fans of Gone Girl or The Girl on the Train will enjoy! The story follows Justine Merrison, who has fled London for a new life on the coast after her career almost ended her.
All Justine wants is a fresh start for her and her family. But soon after the move, her daughter Ellen starts to become strangely withdrawn. When asked about it, Ellen says it's because her new friend George got expelled from school. But when Justine goes to the principal to beg them to reconsider, she is told that George doesn't exist.
What To Believe
Justine also finds a chilling story about a murder in the family's new home, one that is detailed and has a character named after Ellen. Justine starts to panic, but Ellen says that she just made the story up. Justine doesn't know what to believe. Why would Ellen make up something so dark and disturbing?
And then, the phone calls start. A mysterious stranger is on the other line, accusing and threatening Justine. She suggests that she and Justine share a traumatic past, one that Justine has no recollection of. When the stranger starts talking about three graves, Justine begins to fear for the safety of her family and tries to get the police involved. But if they can't help, she's going to have to face this danger herself.
Going In Circles
I found this book to be an incredible read. I enjoyed how the story had two parts to it – Justine's side and then the fictional story that her daughter Ellen wrote alongside it. I felt like I was constantly going over things in my head because Hannah has you chasing your tail trying to figure this one out (metaphorically, of course). There is also a dash of dark, witty humor that just elevated the story.
---
Final Thoughts
All in all, I would say that if there is anyone who should be giving lessons in crime thrillers, it is undoubtedly Sophie Hannah. She is a fantastic author, who not only created her own incredible works but also brought back the iconic work of Agatha Christie and gave it her own spin.
Now, I have given you all the best books by Sophie Hannah, so you have an idea of where to start (if you haven't already). I hope you give this author a chance because her books are so captivating and mind-bending. I'm not sure when her next book is coming out, but best believe that I am waiting with bated breath (and sleeping with one eye open)!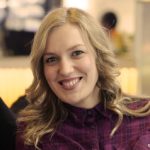 Alissa is an avid reader, blogger, and wannabe writer. (She's a much better cook than a writer actually). Alissa is married, has one human, one feline, and two canine kids. She always looks a mess and never meets a deadline.