Bio
Raina Telgemeier is an American cartoonist who has had a passion for drawing and writing stories for those drawings ever since she was young.
Awards
Known to write amazing children's books as well as graphic novels and to design the perfect illustrations to fit the story and the characters just as she imagines them, Raina has had several nominations for prestigious awards and quite a few awards as well.
---
Best Raina Telgemeier Books
---
Career
She has received the Best New Talent award in 2003. On top of that, she also won the Eisner Award for Best Artist/Writer for her graphic novel Sisters which is a part of this list. Some of the stories in her books are inspired by her own life memories and she has a talent for showing and telling them to her readers.
Raina found love with a fellow cartoonist like herself who she then married. She is a woman who worked hard to get her amazing stories with beautiful illustrations out to the world and these are some of our top picks for the best books by Raina Telgemeier.
---
Relatable Tale
This is one of the best Raina Telgemeier books that presents a very relatable tale. It's based on a true story, a story from her own childhood memories in fact. In the book, she tells her embarrassing and frustrating tale from when she was a sixth-grader.
Dental Issues
She had just been in a terrible accident which was the starting point of many problems to come. The accident caused quite a lot of injuries in the dental area. She had to suffer through constant surgery, constant braces replacements, embarrassing headgear and so on.
As we all know, maybe even from annoying personal experience, kids at that age aren't really that supportive and tend to be a bit too judgy and cruel. For a sixth grader, constant embarrassment like that and getting bullied by her, what she considered friends, can be a traumatic experience which eventually leads to having no self-confidence whatsoever.
Amazing Job
She has done a great job telling her terrible experience from her childhood which actually lasted for quite a while, to be honest. No one wants that, but it happens. In this case, Raina took advantage of her bad luck and made it into a great graphic novel that is adored by many.
The point that it's quite relatable to some extent is what gets the readers going, I'm sure that some of us have had to suffer through wearing annoying braces and retainers.
---
School Musical
In this graphic novel, Raina has done a great job of capturing the drama part in the story. She writes about what it takes for a middle-school teacher, called Callie to organize a middle-school musical.
Callie hasn't actually done this before and she wanted to pull off a version of a set worthy of Broadway called Moon Over Mississippi.
Unstoppable
On a school budget and with no knowledge in the trade whatsoever, Raina has made Callie's job very difficult indeed. However, Callie is set to pull this off and no amount of drama could stop her.
The book keeps you hooked on reading, and reading with its on-stage and off-stage drama. Actors are having trouble getting along and working together, Callie doesn't know the first thing about carpentry and she is the actual set designer for the play.
Cute Brothers
Things get even more crazier when Raina introduces two cute brothers into the whole thing and they cause a number of crazy events in the following pages. You will be seeing a little bit of everything in this interesting graphic novel like comedy, romance, tragedy, and so on thanks to the diverse set of characters that are featuring in the book.
She certainly has a keen talent for designing interesting characters and illustrating them accordingly. Rated for ages ten and up, this drama-filled novel will surely keep you interested in the story.
---
Realistic Story
Although a bit different from her other work, this great book still tells a very interesting story. Raina is known for creating very realistic stories and scenes that happen to be relatable to the readers and enjoyed by almost everyone.
Two Sisters
In ghosts, however, she has created a story about two sisters and their family who are moving to Bahia De La Luna because Catrina's little sister Maya is suffering from cystic fibrosis and the cool, salty air, as well as foggy atmosphere, will help with her condition. The foggy environment is the perfect place to introduce ghosts to any story.
As the two sisters, who care for each other unimaginably a lot, explore their new home and neighborhood, they come across a neighbor who mentions to them that this place is occupied by many ghosts. Some kids are scared of ghosts and some are fascinated.
That Time of Year
In this case, Maya, the little sister with cystic fibrosis, is determined to meet one, and Catrina wants to stay as far away from them as possible. But, since the neighbor told them that the time of year when the ghosts emerge to see their loved ones is close, Catrina is set to find a way to deal with her fear of ghosts for her little sister's sake who all she wants for is to be happy and worry-free.
Raina has truly created an amazing story in this graphic novel which is interesting to most readers. The outstanding illustrations set the right mood for every scene and are sure to bring the story to life. Although it's a bit different from her other work, it's definitely not a bad thing.
---
At Last!
Another graphic novel from Raina that is based on a true story and an award-winning one for that matter is set to tell you the story of another part of her childhood that involves her becoming a big sister and her excitement for it.
She starts out the story by showing her readers that she is truly stoked to be a big sister and just couldn't wait after she heard the announcement. Everything was set and she finally witnessed what she was waiting for.
Grouchy Baby
However, as a little time passed, she found out that Amara, her little sister, was actually a cranky, grouchy baby, and just preferred to spend her time playing by herself. It's not at all what Raina imagined this to go like and she was a bit disappointed.
As they both grew slowly, they found themselves in a situation where they were introduced to their new baby brother. Another twist appears when they find out that things between their parents aren't going exactly smoothly. Having to deal with these things, they actually become closer than ever and figure out how to get along through rough times.
Family Relationships
Basically, in this story, Raina is focused mostly to tell her story about her relationship with her sister Amara through the years. She uses her talent for writing and illustrating to bring out interesting flashbacks from the past and just set a perfect mood for the readers. She truly told a great story about two sisters that relates to a lot of people.
---
Baby-Sitter's Club
Raina has created a true gem with this one as she tells the story of the baby-sitter's club series in a new, more modern, colorful version.
People simply adore and love to read the story about a girl named Kristy's eureka moment when she comes up with an idea to create a baby-sitter's club and just couldn't wait to tell her friends and find out what they think about this exciting idea.
Quite a Drama
The drama is unbelievable in this story as Kristy actually pulls off this idea and starts getting some great results, but that's not the only thing she is dealing with. She is having a rough time dealing with the fact that she is going to have a new stepdad, and the fact that their new member of the gang, Stacey, is keeping big secrets from the others is not making things easier for her one bit.
Now, imagine all of these crazy things happening in this one book and find out that there are actually 8 books of this series that are going to blow your mind with the taste drama that they hold. You are definitely walking into some crazy stories in these girls' exciting world.
Gifted Author
Raina is a truly great author and illustrator who gets her inspiration to write amazing and exciting drama-filled stories from her own life. She surely knows how to draw inspiration from any memory and to translate it into a fun and exciting graphic novel for most teenagers.
You can find that many of the characters in her books are similar to her or someone she knows which is what makes these stories liked by most as they tend to be a bit relatable. You have quite a lot of books from Raina Telgemeier to choose from, but these are our top picks.
---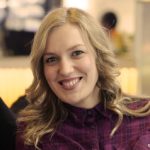 Alissa is an avid reader, blogger, and wannabe writer. (She's a much better cook than a writer actually). Alissa is married, has one human, one feline, and two canine kids. She always looks a mess and never meets a deadline.