Bio
Sarah J. Maas is an American author that writes young adult fantasy books. She began writing the draft to her now New York Times Bestseller series Throne of Glass when she was only 16 years old. Eventually, she decided to get it published and it became an international success, topping the New York Times bestselling author lists and selling millions of copies internationally.
Inspiration
She has stated repeatedly that she draws inspiration from fairy tales, but also enjoys diving into Nordic and Greek and Roman mythology as sources as well. She writes fantasy fiction and is loved by her fans because of her craft when it comes to magical worldbuilding. Sarah J. Maas is originally from New York but currently lives in Pennsylvania. She got her degree in Creative Writing from Hamilton College in 2008.
---
Best Sarah J. Maas Books
---
Celaena Sardothien
Set in the fictional and corrupt kingdom where the king rules with an iron fist, the series follows the journey of a young assassin, Celaena Sardothien, as her quest to regain her freedom sweeps her into the heart of a conspiracy that leaves no one unscathed.
Assassin
Celaena is an 18-year old assassin sentenced to slave-labor in the kingdom's salt mines. After months of grueling and back-breaking work, Crown Prince Dorian gives her a way out: she can participate in a fight with other thieves and criminals, and if she is victorious, will serve as the royal assassin to the King for four years. After that, she will once again become a free woman.
Mysterious Killings
Intrigued and desperate to remove her shackles, Celaena agrees. She will be trained by Chaol Westfall, the gruffy and unrefined captain of the guard. However, as her training is under way and the day of the tournament creeps closer, her opponents start turning up dead. As the bodies pile higher, Celaena must find out who is behind the killings if she wants to survive…
Kingdoms and Magic
And so starts the first book of the 7-volume series that will follow Celaena Sardothien in her adventures through kingdoms where magic exists, others in which it is forbidden, and where mythical creatures such as faes and witches make an appearance in the colorful tapestry these Sarah J. Maas' best books have created.
The twists and turns will see the heroine grow up and become bolder and more powerful, fighting her inner and outer demons on the way. She will bloom into her true power thanks to the many heart- wrenching obstacles she will have to face, including secrets from her past that have been kept well- hidden and will upturn her world forever.
Good Against Evil
Sarah J. Maas has managed to create a brilliant parallel reality populated with intriguing and complex characters, all struggling to survive despite the numerous menaces that the dark side of magic throws their way. Good and evil battle with each other in every volume through the hands of an ever-growing cast.
The Series
The series is completed by the following titles: Crown of Midnight (2013), Heir of Fire (2014), Queen of Shadows (2015), Empire of Storms (2016), Tower of Dawn (2017), Kingdom of Ash (2018). If you just can't get enough of Celaena and her friends, there are also five prequel novellas – The Assassin's Blade (2014), The Assassin and the Pirate Lord (2012), The Assassin and the Desert (2012), The Assassin and the Empire (2012), The Assassin and the Healer (2013) – they all take place before the opening of the first book, Throne of Glass, which kicks off the series.
---
Feyre
19-year old Feyre has to hunt to make a living in the forests that surround her home; it is the only way to ensure her family has something to eat. So, when she spots a wolf trying to hunt down her prey, she slays the predator.
Unbeknownst to her, the wolf is not what it appears to be, and by killing it she has become a prisoner due to an ancient pact she has unwittingly broken.
Prythian
Feyre is dragged into the faerie realm of Prythian after killing one of their own, into the Court of Spring, and taken before the ruler of this parallel world who demands punishment for Feyre's act. Of beast-like appearance, his face is covered by a jeweled mask and Feyre can only make out the green eyes behind it. Forced to live in his estate, she will soon find out that her captor isn't what he appears to be, and that what she thought she knew about the faerie world was nothing but lies…
Seven Courts
Sarah J. Maas has once again created a spectacular magical reality that the heroine will have to navigate through. Seven Courts ruled by Lords that represent a season or a planet, complete with a dark Court ruled by night and nightmares, where evil forces are afoot and building strength.
Feyre will develop over the course of the series, not just as a character but also from human to faerie, leaving behind her familiar world for good. She will know love, hate, and sorrow throughout her quest, and become haunted by the deeds she is forced to commit to save the lands of Prythian.
Unforgettable Characters
Filled with unforgettable characters such as the haunted Tamlin, the mysterious Rhysand, Maas has woven a thick web of political allies, enemies, secrets and deceit among the A Court of Throne and Roses cast.
This series has all the elements a lover of fantasy books will undoubtedly appreciate: magical creatures, intrigue, suspense, and, of course, romance. As the author herself has stated, she drew her inspiration from the beloved fairy tale of Beauty and the Beast, giving it her own particular spin and adding many, many layers.
Other Books
The series is comprised of four books in total. A Court of Thorns of Roses (2015), A Court of Mist and Fury (2016), A Court of Wings and Ruin (2017), and A Court of Frost and Starlight (2018). Tempo Productions bought the rights to make a film adaptation out of the series.
---
Cursing Allowed!
Crescent City is the new series by Sarah J. Maas. The first novel, House of Earth and Blood was released in March 2020 and marks Maas' transition from young-adult to urban adult fantasy.
For those of you who like their character dialogue peppered with swearwords for extra flavor, rejoice! Adult novels, as opposed to young-adult, allow cursing. There is, of course, much more to the latest best book by Sarah J. Maas. Let's get into the plot.
Crescent City
We have a brand new futuristic and urban world, Crescent city, where one of our main characters is living the cosmopolitan dream: Bryce Quinlan gets to work all day and party it up all night. Not sure when she sleeps, but as a half-fae and therefore only 50% human, she has other supernatural worries to deal with.
Her blissful existence takes a dark turn for the worse when her best friends turn up murdered. Bryce is left all alone, licking the painful wounds of her losses. The criminal responsible for their deaths is said to be behind bars, but then the killings start again, and Bryce comes under suspicion…
Hunt Athalar
Meanwhile, Hunt Athalar is a slave to the Archangels whose power he went up against in the past; a Fallen Angel, he can only use his brutal skills now to combat his masters' foes. However, given there is a demon on the loose that is unleashing destruction and chaos on Crescent city, Hunt is given a juicy proposition: join forces with Bryce to find the culprit, and he might get to win back his freedom.
Bryce and Hunt will learn in the wake of their investigation that something much more powerful and sinister is stirring in the heart of their city. Forces so dark and threatening that everything and everyone they hold dear could be in danger are creeping in on them.
Everything You Love
Packed with page-turning suspense and of course, lots of electric chemistry between the two avengers, Crescent city is the beginning of a new Maas series that includes everything her fans have come to know and love… and then some. Grab a cushion and plop it down on your sofa for comfort, because this best Sarah J. Maas's book will have you on the edge of your seat most of the time.
Fantastic Literally Stew
Sarah J. Maas series are perfect for fantasy and magical world addicts who will never mutter "oh, great, another magical creature" while rolling their eyes. The American author adds all the necessary ingredients to make a fantastic action-packed literary stew, so it's a good thing her series span over several volumes because a single book is unlikely to leave you satiated.
---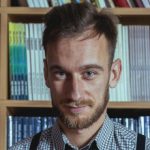 Robert is a science fiction and fantasy geek. (He is also the best looking Ereads writer!) Besides reading and writing, he enjoys sports, cosplay, and good food (don't we all?). Currently works as an accountant (would you believe that?)