---
Best Fantasy Romance Books
---
Aspects of Humanity
Fantasy Romance novels are a brilliant subgenre that stems from the adored, read, and studied genres of romance and fantasy, respectively. The fantasy romance genre describes two very innate aspects of humanity: the need for something transcendent, something above the normal plane of ordinary occurrences, and the urge for coalescing and finding someone that will love us just as much as we will love them.
Extremely Hard
While fantasy writing and romance writing, individually, can be quite hard to juggle what with the clichéd storylines that are increasingly the norm and the fact that a lot of original ideas are just a painted over with a shiny new color so as to seem as if they are new or even better.
However, writing a genuinely good fantasy romance novel is extremely hard seeing as you aren't just blending two genres, but also the staples and idiosyncrasies of both of them. With that said, we can now take a look at our choices for the best fantasy romance books.
---
A Court of Thorns and Roses Series
Sarah Janet Maas is an extraordinary novelist. She was born on the 5th of March, 1986 and Maas comes from NYC, New York, USA. The works of Sarah are most notably in the fantasy genre, though her particular blend of fantasy romance is nothing to be shied away from. One novel of Maas' that we will be taking a look at today is A Court of Thorns and Roses published in 2015.
Feyre
We first meet the protagonist Feyre as she is struggling to make ends' meet in the forest where she and her family live. It becomes evident fairly early into the novel that the only way to survive for Feyre and her family is by way of hunting.
However, during the wintertime, the forest can be an exceedingly harsh and depraved place to live in, so their plights are twofold. Feyre, on a mundane day, catches a glimpse of a deer being chased by a wolf. She engages in a battle with the wolf, kills it, and acquires the bounty. However, soon we learn that that was no simple wolf, but a Fae.
Tamlin
In a little while, the knowledge of the Fae's death has penetrated far out. To the home of Feyre comes a giant beast named Tamlin, asking for information regarding the murder of his fallen brother. Soon, in spite of her loathing for the Fae and their land, Feyre is taken with Tamlin because of her transgression.
Worthy of Love
However, the talks concerning the Fae and their home are revealed to have been misconstrued and false. The Fae were not the beasts that Feyre was taught they were and as she and Tamlin spend more and more time, she learns that they are kind, pleasant, and even worthy of love.
---
Tairen Soul Series
Novelist C. L. Wilson's work is one to be very much respected. Wilson has written in many a genre, from fantasy to sci-fi, though her forte is definitely the work she has done in the fantasy romance genre. One of her most brilliant works is Lord of the Fading Lands and it is our next pick for the best fantasy romance books.
Ellysetta Baristani
The main character of Lord of the Fading Lands is Ellysetta Baristani. Elly is a very loving, kind, and humane individual. She was found as an infant and has been cared by her adoptive parents ever since.
Now, Elly is aged twenty-four and her parents are anxious because she has not married yet; they fear that soon her time might pass. However, the Fading Lands are an awesome and wonderful place, though also a place where changes are wont to occur at any moment.
Procession
As the sisters of Ellysetta ask her to take them to Calieria where a procession of majestic and magical proportions is set to happen, she obliges, though she doesn't know – nor could she ever know – what is about to happen. As they are observing the proceedings, a man named Rainier vel'EnDaris, the Fading Lands' King, has taken an interest in Elly.
Rainier is a man who has been through much toil and pain and he feels that Elly is his soul mate and that she will complete him. When completed, he would be able to brave any obstacle and obstacles are currently in abundance.
Time Needed
On the other hand, though, Elly is not just going to remain passive and be taken away just because someone thinks she'll make them complete. Elly is a strong character and she demands time until her love has been won over. Time, though, isn't something as abundant as troubles are.
---
Kingmaker Chronicles Series
Amanda Bouchet was born and brought up in the USA, namely in New England. The author's oeuvre has entries in the contemporary, paranormal, and fantasy romance subgenres. One of Amanda's most loved novels is A Promise of Fire. A Promise of Fire was released in 2016 and is the first novel in the Kingmaker Chronicles series. Now, let's move further with our best fantasy romance books review.
Main Protagonist
Cat is a Kingmaker. Cat hails from the northern kingdom of Fisa, where the highest members of society are strange magicians and lustful of blood heathens. When it was common knowledge that Cat was a Kingmaker, a line that is astonishingly rare, she was taken and mistreated for a long time. However, Cat somehow managed to get away from the depraved and abusive kingdom of Fisa and found herself in the southern kingdom named Sinta.
Years later, Cat is working in the guise of a fortune teller with a circus that travels quite frequently. She feels that no one has succeeded in uncovering her true identity as she is still alive. Accordingly, her powers do help her in her job and in staying under the radar.
Griffin
Unfortunately, someone has caught up with her little act and that man is Griffin. Griffin tries to enlist Cat as a helping hand for his cause, though she refuses. Soon, though, Cat is kidnapped and she has no choice but to help Griffin. The cause or the mission, however, isn't anything fiendish or malevolent.
In just a little while, the two of them have become so close that they can surmount any mountain, but they can also feel weak in each other's arms. Theirs is a romance that the heart yearns for. A Promise of Fire is a novel that we cannot recommend enough.
---
Graceling Realm Series
Kristin Cashore is a prominent American novelist, whose works in YA and fantasy romance genres is not to be underestimated. Cashore's birthday is on June the 10th, 1976, and she comes from Pennsylvania, USA. One of Cashore's most intriguing reads is none other than Graceling. Graceling is the foremost novel of the Graceling Realm series and it was published in the year of 2008.
Katsa
Graceling's protagonist is none other than Katsa. For as long as she can remember, Katsa has been extremely deft at one particular facet of life: taking life. Even as a mere child, no older than 8, she was capable of killing with the grace of an angel.
It is no surprise that Katsa is a Graceling, meaning that she is a part of a very rare race of people. The Graceling are endowed with unreal competence at one skill. Though, Katsa isn't just a murderous person looking for her next bounty. The picture that the reader gets of Katsa is one that paints her as a nuanced and multidimensional character.
Bigger Than Love
The romance at the heart of the novel is between Prince Po and Katsa. The time they spent together, as they aren't really fans of each other initially, helps them get accustomed to each other's presence. Their love and romance are not secure, though, since things much bigger than them are afoot and terrible events are yet to unfold.
Genuinely, Graceling is a novel that we can't just describe and be done with; it is a work much larger than what a simple summary can offer. Do yourself a favor, reader, and pick it up as soon as possible.
---
Daughter of Smoke & Bone Series
Brilliant novelist and storyteller Laini Taylor is one of the best writers in the fantasy romance genre, today. Laini was born and raised in Chico, California, and her most famous work is Daughter of Smoke & Bone. Accordingly, it is also our next choice for our list of the best fantasy romance books. Daughter of Smoke & Bone was published in 2011 and it is the first novel in a series of the same name.
Karou
Karou is the protagonist of Daughter of Smoke & Bone. As we come to meet Karou, we see that she is a teenager, a few months shy of eighteen, living in Prague, of the Czech Republic. Karou is a woman of many talents.
She can juggle hanging out, being a great student, gossiping, and making her own art, though she does falter in one field. She can't get her ex off of her back; he doesn't seem to be able to comprehend that they're not together anymore. On the inside of Karou, though, we learn that she is something very much out of this world.
Demon-Wishmonger
When Karou isn't engaged in her school work or around her friends, she has to do some work for a demon-wishmonger. However, it's very rare that she doesn't have other stuff to do, but she can't say now. She does the chores and the duties set up for her without resistance, though a day comes when everything is turned topsy-turvy.
Akiva
She meets Akiva, who is a calm, tranquil, and righteous angel-like being. Upon meeting Akiva, nothing is the same for Karou. She cannot stop thinking about him, nor what she is feeling, nor why she is feeling these things, nor a thousand more questions. So ineffable is Daughter of Smoke & Bone in its brilliance that we can't possibly put it into words.
---
Throne of Glass Series
Awe-worthy writer Sarah Janet Maas isn't going to be on our list of the best fantasy romance books just once, as it has become evident. Her work is too great for just one pick, obviously. The next novel of Maas' that we will be taking a look at is Throne of Glass which was also the writer's first novel ever.
Caleana Sardothien
The protagonist of Throne of Glass is Caleana Sardothien. The work of Caleana, though she is just an eighteen-year-old, entails assassinations. To be frank, Caleana was quite proficient at her work, but treachery and betrayal are the downfall of many heroes and Caleana is no exception. Caleana was given a sentence to serve in the salt mines in Endovier.
Tough Choice
Caleana braves the pain that is in front of her knowing that there is little chance of freedom. In a sense, Caleana is just waiting for the day that death comes knocking at her door. However, after her sentence has passed, the Angel of Death isn't the one that has come for Caleana, but Prince Dorian and Captain Chaol.
Caleana is given a choice: take part in a competition or continue in the salt mines. If she wins the tournament, she will be dubbed as the Champion of the King. Caleana accepts knowing that this will surely be the last opportunity she will ever have.
Becoming Free
The grimness of her situation is only overshadowed by the fact that Dorian and Chaol both seem to have taken an interest in Caleana and she seems to fancy one of them, too. Though, which one exactly? In the background of the tournament, though, something malevolent and sinister is happening, and Caleana has taken notice. And she is not going to let some exterior force take the last chance she will ever have at becoming free.
---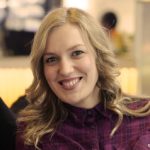 Alissa is an avid reader, blogger, and wannabe writer. (She's a much better cook than a writer actually). Alissa is married, has one human, one feline, and two canine kids. She always looks a mess and never meets a deadline.