Olivia Cunning
Superb writer Olivia Cunning was born on the 13th of August, 1973, in the United States of America. Cunning's stories are always of a formidable quality and they never disappoint.
The subgenres that Olivia Cunning frequents are centered around the broader romance genre; namely, Cunning writes erotic romances, focused on rock stars. As such, her works have been featured on the USA Today and New York Times bestseller lists.
---
Backstage Pass Book
---
Hobbies
The love and adoration that Olivia Cunning has espoused are remarkable. She had attended her first rock concert, a Styx concert, when she was only six years of age; from that point, she was head over heels for live music.
Cunning has been noted to have traveled from one side of the country to the other just so she can see her band of choice. It was only as a teenager that Olivia found that she loved reading and writing romance novels.
Career
The writing of Olivia Cunning is always smooth, the plot always follows a girl in love with a rock star, and the interactions are always sizzling hot. Additionally, the humor is always on point. The most famous works of Olivia Cunning are her One Night with Sole Regret, Sinners on Tour, and Exodus End World Tour book series. With all of this said, we can now give our book review.
This is rightfully amongst the most beloved and read novels from Olivia Cunning. It is so well written, well developed, and it just works so nicely. It is also a part of Cunning's Sinners on Tour series.
Sinners on Tour Series
Sinners on Tour, by itself, is comprised of a total of six novels, with a tie-in novel or two. Additionally, Cunning has expressed a desire to write one more Sinners on Tour novel, though nothing has been published yet. Backstage Pass book was published in the year of 2010.
The Story at Hand
The main character is none other than MyrnaThornhart. Myrna is a professor of human sexuality at a university in Kansas City. Myrna is a divorced woman and she has a few gripes still from that failed marriage, as her surname might imply. At the moment, she is at a mundane, uninteresting conference in a hotel. Her coworkers and colleagues are likewise not the stimulating type.
However, whether by chance or by divine machination, Myrna happens to see one of the members of her all-time favorite band, in the restaurant of the hotel. Awestruck, Myrna deliberates whether to walk up to him; she is finally coxed by her unwillingness to spend another minute with her boring colleagues.
Striking up a Conversation
Anything's better than being bored to death with the suits about her, so Myrna gathers the courage and puts one foot in front of the other in succession. She comes up to Brian and strikes up a conversation. In the backdrop of the everything, Myrna feels an immediate attraction, even lustfulness for Brian.
Why these licentious thoughts have just now been spawned, Myrna can't quite deduce, but she does know that it's what she feels. What she doesn't know, at least now, for the time being, is that Brian reciprocates the same feelings for her.
A Dream Come True
Their interaction continues while the sexual tension seems so palpable that fumes and steam might just spontaneously exude from both of them. The most astounding part of the whole story is the fact that nothing actually occurs between them that night.
They get drunk, though Brian is a lot more hungover than Myrna. The first embrace with the shared lustfulness that Brian and Myrna experience happens in the morning. And, oh boy, is it an absorbing and intense read for the few pages it lasts.
Passionate Affair
The two of them continue with their progressive initiation into their common sexuality. The erotic affair that they have is one marked with a fierce passion and an endearingly entrancing quality that we can't really wrap our minds around. Theirs is not just a run of the mill love story, but a rock romance. And, if we know anything about rock romances, we know that there's a lot of rock and with rock, a lot of rock stars.
With time, the other members of the band begin to see Myrna in this lustful light so that they want to spend some time with her, too. However, that resolves by itself and we see how exactly the dynamic in the band is. Spoiler alert, they are a family. They laugh together, they make fun of each other, and they are just wonderful to read about.
A Heart So Gentle
Brian, himself, is the lead guitarist to Myrna's favorite band, the Sinners. He is used to having girls throwing themselves at them; in fact, that's been how it's been for him for the better part of his life. However, he has a heart and with that heart comes a genuine tenderness.
While Myrna seems only interested in a little affair, fling, or just an adventure that'll end the moment they say their farewells, Brian actually likes Myrna a lot. He seems to think that she's the girl – even though she's a fair bit older – that he's been waiting for all his life. Can he coax Myrna into considering staying with him?
More Stories to Tell
Our Backstage Pass book review can't exactly say what happens next, but the book would be more than happy to grant one that knowledge. The Sinners on Tour series has more stories to tell, more members of the band, so you might want to pick it up soon.
---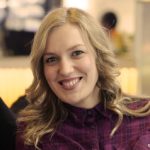 Alissa is an avid reader, blogger, and wannabe writer. (She's a much better cook than a writer actually). Alissa is married, has one human, one feline, and two canine kids. She always looks a mess and never meets a deadline.