Pepper Winters
Successful authoress Pepper Winters was born in Hong Kong. Pepper is a Hongkonger-American writer, primarily known for her works in contemporary and romantic suspense, erotic thriller novels, and her superb dark romance tales.
Achievements
The works of Winters have been featured in the New York Times, USA Today, and Wall Street Journal bestseller lists. The IndieReader Badge was granted to Pepper Winters because she has a Top 10 Indie Bestseller in the romance genre. As of yet, Winters has published approximately thirty novels, that have been translated in nine different languages.
---
Tears of Tess Book
---
Life
As we noted, Pepper was born and brought up in Hong Kong. Pepper Winters is of English heritage, which she uses so as to write stories where her characters are seldom, if ever, from the same geographic location, but more often than not from all over the globe.
Pepper Winters lives with her spouse, but also with a bunny that is always by her side as she writes. The stories of Winters are founded upon the erotic side of romance, and she has found that this aspect of her writing is what grips and draws readers.
Career
Winters' first novel was published in 2013. It was very successful for a debut novel, but her subsequent works were even more achieving. A noteworthy fact is that Pepper Winters is a hybrid author, meaning that she self-publishes her novels, but also has active contracts with publishing houses. With all of that noted, we can now give our book review.
Monsters in the Dark Series
This book was the debut novel of exceptional novelist Pepper Winters and is rightfully cited as being one of Winters' most entertaining and engaging reads. It is the first novel of Pepper Winters' Monsters in the Dark series that is comprised of three primary novels and a couple of tie-in novels. The book, as we noted, was published in the year of 2013.
In this gripping novel of Pepper Winters, the main character is Tess Snow. Tess Snow is twenty years of age, currently at college, living with her significant other Brax in Australia. The relationship and romance between Tess and Brax is one that alights the readers' face with a smile.
Perfect Boyfriend
So far as Tess' own desires may be discussed, Brax was the perfect boyfriend. Accordingly, their life together was also as close to perfect as one can feasibly come. That is, barring their time in the bedroom. Unlike Brax, Tess is a bit of a freak when it comes to sex and she wants to initiate him in her inclinations. Her bright idea on how to achieve this feat? A trip to Cancun.
Be Careful What You Wish For
From the very onset of the novel, we see that Tess isn't a run of the mill college student, but one that has tastes and desires for darker romance. With this, her portrait is painted and we can only wait to see how she reacts, knowing the attitude she espouses, to the events that will follow. We get to see the first of these events as they settle on their vacation. They're having quite an enjoyable time right up until Tess is bizarrely kidnapped.
Complete Failure
She quickly deduces that her captors intend to sell her. She attempts to fight back, elude them by way of subterfuge or scheme, but sadly fails completely. Soon enough, the knowledge is imparted to Tess that she is going to be taken to Mexico so that her owner can take her. One can only hint at the turmoil of feelings that Tess must have felt when this was revealed to her.
Life Upside Down
Still, the day comes and goes, and she is at her new owner's residence. The home is enormous and very pleasing to the eye. In comes the wolf and she is told that his name is, plainly and simply, Q. While she deduces quickly that he is wealthy, extremely attractive for what it's worth, and French, Q is a genuine mystery.
In spite of the fact that she views him as a friend and a heathen, there persists an odd semblance of an attraction. She feels compelled to act a certain way in association with him and she even feels things completely alien to her. We learn of the grimmer aspirations that Q has and we are relieved that they aren't just completely sadistic in nature.
Complex Character
As the story progresses, we see how complex Q actually is. He seems to be making a genuine effort to keep his urges and compulsions in submission, not wanting or not willing to afflict Tess. On the other hand, Tess seems to be showing her own yearnings.
While Q seems to be resistant to letting himself go with Tess, she, oddly enough, tries to get him to open up in this erotic manner. The nuances in their countenances that the reader notices make the story gain much in the reader's eyes.
Planning an Escape?
Is Tess just pulling the wool over Q's eyes and trying to set herself up to escape, or is she actually embracing the situation she's in and using it as an opportunity to be the freak unrestrainedly, as we mentioned? Our Tears of Tess book review has to keep hush on this point, but one way you can find out is by picking up this superb novel.
A Few Last Words
The Monsters in the Dark series has more stories to tell of Q and Tess. Quintessentially Q and Twisted Together are just as engaging as Tears of Tess book is. We also suggest taking a look at our review of Debt Inheritance book, which is part of Winters' Indebted series.
---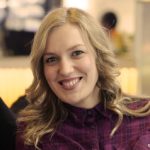 Alissa is an avid reader, blogger, and wannabe writer. (She's a much better cook than a writer actually). Alissa is married, has one human, one feline, and two canine kids. She always looks a mess and never meets a deadline.