---
Best Chinese Cookbooks
---
Delight Your Taste Buds
There is a reason why Chinese is the number one takeout food, and with the Easy Chinese Cookbook in your kitchen, you can now make this great food at home.
Chris Toy has produced more than 85 classics, delicious Asian recipes that will delight your taste buds. The unique spices and sauces that are an integral part of Chinese food will be all yours when you buy one of the best Chinese cookbooks of all time.
Ideal for Beginners
This cookbook is ideal for beginners as the instructions are simple to follow. Try your hand at General Tso's Chicken, Crab Rangoon, and Egg Rolls. There are plenty of tips and shortcuts to help you to cook this delicious fast food.
You may think that it would be difficult to obtain the authentic Chinese ingredients for these recipes, but they are all available at your local store. Chris Toy will soon have you preparing Friday night takeout's or Chinese banquet-style food to delight your family and friends.
---
Southern China
If you like the sound of blanched choy sum with a sizzling oil or Hangzhou broad beans with ham, then you are going to love this one of the best-selling Chinese cookbooks by Fuchsia Dunlop.
The author trained at one of China's top cookery schools and has become famous for her delicious recipes and knowledge of Chinese food. Every Grain of Rice is an inspired collection of healthy food that is produced in the kitchens of southern China.
Authentic
This is the best authentic Chinese cookbook, and it highlights the use of vegetables as the main ingredient in this region of China, although some recipes do incorporate meat and fish.
The recipes are simple to make and have all the necessary information for cooking methods and essential seasoning that are unique to Chinese food. There are also wonderful photographs that accompany the instructions to add clarity and inspiration when cooking. Every Grain of Rice is the best Chinese cookbook for everyone – from beginners to those who are experienced in cooking this style of cuisine.
---
Favorite Dishes
The Chinese Takeout Cookbook by Diana Kuan is the answer to your prayers if you are a lover of Chinese food, like so many Americans are. Diana Kuan is a Chinese food blogger and cooking instructor and she has brought the favorite dishes on the takeout menu right to your home with this fine example of Chinese food cookbooks.
Imagine being able to serve up General Tso's Chicken or Sweet and Sour Pork at a moment's notice!
Tasty and Healthy
Kuan has produced the recipes for more than eighty of the most popular Chinese recipes, from appetizers, main courses, noodles, and rice to desserts. The best thing about these recipes is that they are healthy and do not contain MSG.
You will learn how to ensure that you have all the essential ingredients to hand, and how to blend the herbs and spices for Chinese cuisine. You will soon be stir-frying in a wok and steaming fish to perfection with the help of The Chinese Takeout Cookbook.
---
Invaluable
This essential Chinese cookbook is a New York Times bestseller because it will enable you to cook this popular cuisine in your kitchen. Now, you will no longer need to order takeout, because with The Essential Wok Cookbook you will be saving money and creating much healthier Chinese food options yourself.
Learning to cook in a wok is a skill that you will find invaluable when cooking Chinese food, and Naomi Imatome-Yun has written easy, step-by-step instructions to make you a master in no time.
Fast and Easy
You will learn how to fold a dumpling, egg roll, and wonton, and make favorites like egg drop soup and fortune cookies. Your wok will be overworked as you try your hand at Perfect Pork Pot Stickers, Easy Vegetable Stir fry, Egg Foo Young, and Sweet Chili Shrimp. The recipes are ideal for beginners, people who are short on time and money, as well as those who love Chinese food but want to create healthier versions of their favorite takeout's.
---
Intimate Knowledge
This is one of the essential Chinese cookbooks full of recipes that come from the heart. Bee Yin Low grew up in a Chinese home in Malaysia and her intimate knowledge of the cuisine is beyond belief. The Easy Chinese Recipes Cookbook is the culmination of her collection of memories and recipes that she learned in her mother's kitchen.
When she moved to Southern California, Bee did not lose her longing for the cuisine of her youth, but she found it difficult to find the essential ingredients and the time to prepare the meals she loved.
Whenever You Want
So, she adapted some of the recipes so that they had the flavor of Chinese food, but were less time consuming to make. Now you can follow her lead and create Crispy Shrimp Dumplings, Homestyle Chow Mein Noodles, or Mongolian Beef whenever you want to! Easy Chinese Recipes is one of the best easy Chinese cookbooks ever for creating takeout food at home.
---
Keeping Memory Alive
Katie Chin has brought together her passion for Chinese food and her skill in explaining how to cook this special Asian-style cuisine to the American home kitchens. It is one of the most recommended Chinese cookbooks! Katie Chin's Cookbook is packed full of the dishes that Katie enjoyed in the Chinese restaurant run by her mother, Leeann.
Coming from a family who was renowned for revealing the secrets of Chinese cooking to the American cook, Katie has become a famous food writer and television celebrity, and she wanted to keep the memory of her mother alive by writing this cookbook.
Down the Memory Lane
Some of the recipes are pure Chinese cuisine and some are a fusion of American and Chinese favorites. Katie Chin's Cookbook is more than just a collection of recipes. It is a trip down memory lane for Katie and an inspiration for all cooks everywhere. Firecracker Shrimp, Mu Shu Pork, and Peking Duck Summer Rolls are waiting to be made by you amongst other more exotic picks from the Chinese menu.
---
Part One
The Wisdom of the Chinese Kitchen is more than a cookery book. It is a collection of the memories, philosophies, and superstitions of the Cantonese home where the author grew up. Grace Young remembers how her mother cooked using time-honored traditions and ingredients to create meals that brought joy to the family.
The chapters of this one of the famous Chinese cookbooks are arranged to bring insight to the beliefs and spiritual importance of the meals, as well as telling a story about the way of life for Young's family before the Chinese Revolution.
Part Two
The recipes come from their time in Canton, Shanghai, and Hong Kong, and give the American cook instruction on how to master the basics of Chinese cooking. Steaming and stir-frying, braising, chopping, and slicing.
Part Two of the book deals with The Art of Celebration and includes recipes for special occasions such as Shark Fin Soup and West Lake Duck. The final section is called Achieving Yin-Yang Harmony and deals with the belief in the healing properties of certain ingredients. A fascinating and wonderful introduction to the flavors and benefits of Chinese cooking and one of the top Chinese cookbooks.
---
Wide Range
Land of Plenty introduces Westerners to the hot and spicy food of the Sichuan region of China. Fuchsia Dunlop is familiar with the cuisine of this region and explains that the food there is renowned for its sophistication and diversity.
We all know Kung Pao Chicken, but locals say that there are over 5 000 different Sichuan dishes to be relished. Fuchsia has written one of the most authentic Chinese cookbooks ever!
Easy to Follow
Having studied the cuisine of the region, she is a competent cook and has written simple instructions for those cooks who are just starting to experiment with Chinese cookery. Land of Plenty gives comprehensive instructions on how to prepare Sichuan recipes and the importance of mastery in the skills needed for Chinese dishes.
Fuchsia has included a handy glossary, tips for shopping and there are plenty of color photographs of the final dishes. Land of Plenty has everything you need to know to become an expert in the food of the Sichuan region of China.
---
Bestseller
What is the best Chinese cookbook of all time? We got the answer! China: The Cookbook by Kei Lum Chan has been described as "the definitive cookbook bible" and "a valuable reference" book for cooks who are interested in one of the oldest cuisines on the planet.
Perfect match for anyone looking for old Chinese cookbook recipes. This cookbook forms part of a best-selling cuisine series. Kei Lum Chan has included over 650 recipes from the many regions of China.
Must-Have
He has also included the most loved takeout dishes such as Sweet and Sour Spare Ribs and Dim Sum. China: The Cookbook includes recipes from top chefs around the globe who have mastered the preparation and methods of authentic Chinese cooking. This best Chinese cookbook deserves a place in the kitchen of every lover of Chinese food.
---
Delicious Flavors
If you loved Land of Plenty, then you are going to be super excited by this cookery documentary of Fuchsia Dunlop's return to the Sichuan Province. She studied there more than twenty years ago and has had a love affair with the region and the food ever since.
Food of Sichuan was published in 2019 so it belongs to the new Chinese cookbooks on the market. The Food of Sichuan includes 70 new recipes, along with interesting descriptions of the delicious flavors and textures that will be discovered when you cook food from this region.
Invaluable Insight
This is an excellent example of the best traditional Chinese cookbooks as it demonstrates to home cooks how they can deliver traditional Sichuan food from their kitchen. Dishes like Mapo Tofu, Twice-Cooked Pork, and Gong Bao Chicken are not run-of-the-mill Chinese dishes and your family will be awed and impressed with your efforts.
Food of Sichuan gives you more than a collection of recipes. It gives insight into the culture, traditions, and beauty of the region, which is captured in fascinating photographs.
---
Masterpiece
Having a Chinese Takeaway on a Friday night is a longstanding tradition and the cuisine of China is a favorite around the world.
Kwoklyn Wan has provided everyone with the possibility of replicating this takeout food for anyone looking for good cookbooks for Chinese food with his book called Chinese Takeaway Cookbook. It was published this year of 2020, so it is a fresh new Chinese cookbook!
Loved By Everyone
Kwoklyn is a British-born Chinese chef and received his training in the family's Cantonese restaurant in Leicester, the U.K. He has worked on this project for many years, refining methods and ingredients so that it would be possible for home cooks to recreate the authentic Chinese that is so beloved by everyone.
The Chinese Takeaway Cookbook contains 70 of the classics – Sweet and Sour Chicken, Prawn Toast, Egg-Fried Rice, and Crispy Seaweed. Quick and easy to make and serve, this traditional Chinese cookbook is a must-have for your kitchen.
---
Comprehensive
Look no further than Ken Hom's Cookbook if you want to cook authentic Asian food. Ken Hom has the most comprehensive knowledge of Chinese cookery and he has honed his skills to bring you a collection of the best, most delicious dishes in his repertoire. He provides all the information you need to produce tasty Cantonese stir-fries and hot and spicy Sichuan favorites.
Unusual Recipes
He has also included some unusual recipes from Yunnan and Hong Kong so you can extend your knowledge to foods from other Chinese regions. This book makes cooking Chinese food easy for everyone to prepare in the home kitchen, but that does not mean that you will be compromising on the unique depth of flavor that is essential in Chinese cuisine.
---
Culinary Adventures
All Under Heaven is the culmination of the travels and culinary adventures of Carolyn Phillips through China. Her recipes will take you from lowly, old taverns to modern banqueting halls, and give you a taste of the 35 cuisines of China.
It does not matter whether you are looking for the modern Chinese cookbook recipes or historical Chinese cookbooks, All Under Heaven got it all! Carolyn has included 300 recipes from her time of living and working in China, and they are all packed full of textures and specially blended spices that are characteristic of this oriental cuisine.
For Both Beginners and Advanced
There is something for every cook in this comprehensive collection of recipes. There are simple dishes like Fried Green Onion Noodles for beginners, to Lotus-Wrapped Spicy Rice Crumb Pork for more advanced cooks. If you love Chinese food, then All Under Heaven is the best Chinese cookbook to be found!
---
Favorite Specialties
The author of this cookbook, Sarah Spencer, claims that she was taught how to cook Asian food by Mama Li, and she gives her all the credit for the skills she now has. Best Egg Roll, Spring Roll, and Dumpling Recipes from Mama Li's Kitchen is a tribute to her mentor.
Mama Li taught Sarah how to make those favorite oriental specialties from scratch. She showed her how to make the dough, cut the shapes, mix the fillings, and stuff the different rolls and dumplings to perfection.
Exotic Kitchen
Capturing the unique flavors of Chinese cuisine, your kitchen will soon be filled with the fragrances of exotic ingredients. Most of the ingredients are readily available, and your local Asian market will have any that you are having difficulty sourcing. Grab your copy of Best Egg Roll, Spring Roll, and Dumpling Recipes from Mama Li's Kitchen and start rolling!
---
Influential
Grace Young has a passion for cooking in a wok, and this has driven her to extend her skills in this type of cooking. She traveled to Hong Kong, China, and around America collecting anecdotes, recipes, and tips from the most influential cooks to create this masterpiece of a Chinese Cookery book. Breath of a Wok is an inspiration!
Grace learned the art of wok hay from her father, and she imparts this knowledge to other lovers of Chinese cuisine. Cooking in a wok is a unique method that incorporates knowledge of the culture and the senses, combining them all into a taste sensation.
Wide Range of Recipes
There is a wide range of wok recipes that will suit beginners and experienced cooks. Grace shares her favorite recipes such as Kung Pao Chicken, Moo Shoo Pork, and also includes unusual dishes like Tofu with Cilantro Relish and Stir-Fried Garlic Lettuce. One of the best Chinese cookbooks!
This famous Chinese cookbook will provide you with everything you need to know about cooking in a wok. Buy The Breath of a Wok for a whole new culinary experience! We hope you enjoyed our best Chinese cookbook reviews.
---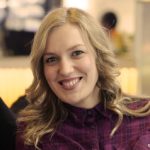 Alissa is an avid reader, blogger, and wannabe writer. (She's a much better cook than a writer actually). Alissa is married, has one human, one feline, and two canine kids. She always looks a mess and never meets a deadline.