---
Best Dragon Art Books
---
Inspiring Dragons
Are you a person who is looking for art inspiration that involves dragons? This best dragon art books review is the perfect way for you to discover some of the best books that have countless unique dragon illustrations in them.
The books in this article are from various artists and authors who have been in the game for a while which is why their books have what it takes to be among the top in lists such as this one.
---
Rare Finds
The first book that we will mention is this one by Graeme Aymer and John Howe in which you can expect some of the coolest dragons inspired illustrations out there. Most of them are definitely rare finds so don't expect to see them anywhere or else or to have seen any one of them previously.
Explanations Included
Among these beautifully illustrated images, there is also quite a lot of text that explains a thing or two about how dragons and dragon art has evolved throughout history. What techniques are used to create the perfect dragon art and things like that are placed in this book so that it can offer as much value as possible.
---
Fascinating Illustrations
This book is perfect for all of the How to Train Your Dragon fans out there as this popular book series and animated TV series is a huge success among dragon lovers and now you get a chance to see how all of the amazing illustrations inside were created.
You get plenty of images of most of the fascinating characters inside the show and there are also bonus illustrations of some of the characters.
---
All the Basics
Here is one of the best dragon art books out there that will have the pleas of teaching you how to draw dragons, step by step, using only a pencil. Some of the best drawings are created with only using a pencil and creating depth with shading.
However, before you do that, you need to check out this book that will teach you all of the basic shapes of dragons, their heads, their torso, their wings, legs, tail, and so on.
Bonus Drawings
You also get a couple of bonus drawings such as baby dragon hatchlings that are too cute to resist not drawing and a special section that will teach you the basics of drawing claws, scales, horns, jewels, and other details such as these that make a lot of difference in the final drawing.
---
Amazing Details
There are actually a few more people who have contributed to the contents of this book, they include Ernest Drake, Wayne Anderson, Helen Ward, and Douglas Carrel. As for the actual contents inside, this book offers one of the most detailed explanations about dragons themselves in history.
Dragon Encyclopedia
This book is a neatly organized encyclopedia about dragons, everything you need to know about them like unique facts about many dragons and their appearance is in this book. We dedicated the whole article to this amazing book.
Stunning!
The images that you get to see in this book are simply unbelievable as you have so many of them and all with such detail that you will definitely be surprised with this book.
---
Thorough Examination
This book is the perfect guide to show you how to perfectly draw eight of the fiercest, deadliest, and most incredible-looking dragons from myth and legend.
This author has organized this book to represent the perfect guide on this topic, you get to carefully examine their anatomy, different positions, different body parts, and so much more.
Very Different
There is more, however, as this author includes different scenery, different lighting effects, and unique details such as these to make sure that you get the most value out of his creation. You definitely won't be disappointed with this one if you truly love to draw dragons and watch them come to life with these techniques offered here.
---
A Huge Success
This book has a very unique learning system and a very effective step-by-step way of showing you how to create your own dragon drawings such as the one presented in the book. This author and illustrator has tons of books like these and you are about to see why so many of them have become such huge successes.
Follow the Steps
Make sure to follow the steps in red color inside to create the basic form of the dragons he has shown you and then add the steps in blow to make those dragons appear more realistic, this is a sure way of teaching you what details make drawings seem more cool and real.
---
Skills Required
The next to last book is a very simple one that is also intended for showing you the basics of drawing a dragon body and then making your dragon unique according to your own taste and skills.
You might be a bit skilled when it comes to drawing, but dragons are a whole different thing and they require a bit more practice.
---
60 Illustrations
And our final pick for best dragon art books out there is this one by Jessica Peffer in which you have the opportunity to gaze on more than 60 amazing dragon illustrations that include all types of different and unique dragons, from the medieval era to dragons from fairy tales and so on.
Amazing Variety
The variety of dragons inside this one is just amazing as there are all sorts of details on them that make them so unique, details like battle scars, wounds, and so on. Hopefully, you find our review information regarding you being able to choose the perfect dragon art book that should get you started on becoming a pro dragon illustrator.
---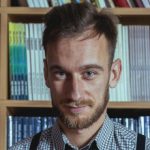 Robert is a science fiction and fantasy geek. (He is also the best looking Ereads writer!) Besides reading and writing, he enjoys sports, cosplay, and good food (don't we all?). Currently works as an accountant (would you believe that?)