---
Best Japanese Flip Books
---
Wonderful Animations
If you haven't heard about flip books and don't know what they are, flip books are tiny books with amazing illustrations and when you move the pages fast, they show beautiful animations that sometimes show great stories with fascinating scenery.
These are some of the best Japanese flip books in our opinion and you should definitely have a look at them if you are into flip books and can't resist the wonderful animations they produce.
---
Many Flip Books
This book is by a very skilled Japanese author and illustrator Mo Hitotsu No Kenkyujo who you will get to meet through his many different flip books.
Jeweled Scarab
This one is among his best work as it shows quite the wonderful animation of a jeweled scarab and its adventure burrowing through the earth. There is a lot you can take out of this humble animation as while the scarab is burrowing through the pages, an entity appears from the earth which eats the insect itself.
This entity later provides life as all sorts of plants start growing on it and the book ends soon after that. It's definitely a neat flip book with a cool animation, it is about 200 pages long and you can always watch its animation when you feel stressed.
---
Loveable Cat
This flip book is the fourth installment of Harumin Asao's Cat's flip book series and it might just be one of the best flip books from Japan in here.
Asao is a popular Japanese illustrator and essayist and you can always expect a good story from him. A very lovable cat is the main character of this flip book series and this time, this lovely feline prances about while celebrating her birthday.
Bringing Joy
This Japanese flip book is also like many others that do a good job of bringing joy to whoever is watching it. The book is appealing to all ages, no matter if you are a child or adult, it's just a simple and elegant animation of a lovely character that is spreading joy and happiness.
---
Lights and Colors
Mo Hitotsu No Kenkyujo appears again in this list with another one of his amazing flip books. Merry Christmas is a Japanese flip book in which you get to see an amazing animation showing all sorts of colors, lights, and Christmas decorations.
Gorgeous Decorations
You get to see how the gorgeous Christmas decorations that this illustrator and author has created get to transform into lovely jingle bells thanks to the elegant and smooth animations. The flip book also does a great job with the lovely background scenery as that level of detail is also to be appreciated.
---
Masterpiece
his one is definitely a next level flip book masterpiece and probably the best Japanese flip book that you will see for a while. What's special about this Japanese flip book is that it actually shows you three different animations instead of only one like the rest of the flip books in this article.
Majestic Background
You get to see some magical animations in this one as the first one shows you an animation of a flying bird through a dark and majestic background, the second is of a flying fairy-like creature, and the third is a fascinating fusion of the two in a space that simply takes your breath away.
---
Spreading Joy
This one is another one of the Cat's flip book series if you remember from the Japanese illustrator Harumin Asao. The other one that we reviewed here is Cat's Birthday and this is another one of the Cat characters that is spreading joy to everyone who watches the animations inside.
Plenty More
This is the seventh edition of his series and there are plenty more where this came from, so be sure to check out all of these flip books in the series if you enjoy this one as the animations and illustrations inside will surprise you and try to bring a little happiness into your life.
---
Creative Mastermind
You might be red of seeing more and more of Mo Hitotsu No Kenkyujo's name but it's not his fault for creating some of the best Japanese flip books you have ever seen. This time he comes back with another one of his beautiful illustration-filled flip books as he brings you the story of the rabbit with the long ear.
Hypnotizing
The level of detail in this flip book is amazing as the illustrator has managed to create an entire moving background that speeds through in an amazing animation that the rabbit character starts after pulling a rope with his huge ear. After that, the whole wall behind him starts spiraling around and making a hypnotizing kind of animation.
---
Complex and Vivid
Here he is again, Mo Hitotsu No Kenkyujo, bringing yet another one of his beautiful illustrations to life with his amazing flip books. This flip book is another one that has vivid colors and a complex background that definitely looks like it took a long time to create.
Complex Illustrations
This author is popular thanks to his amazing and complex illustrations that definitely give a high-quality appeal to whoever decides to get one of his flip books for themselves. The animation in this one features a moving background throughout the whole animation and some characters that are sliding down a hole in the earth.
---
Happy Face
This is the last Japanese flip book in this article and it is not in any way the least as this one is just as exciting as the rest. This one also has what it takes to be in this list of some of the best Japanese flip books as the colorful illustrations inside of Harumin Asao's kitten character from his flip books series is here to bring you more joy as you get to see it's happy face once again.
Beautiful Designs
If you are a flip book enthusiast, then these Japanese flip books are definitely a great way to discover even more gorgeous illustrations and see what the Japanese flip book masters have to offer with their slick animations and beautiful designs.
---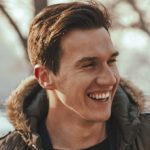 Michael is a graduate of cultural studies and history. He enjoys a good bottle of wine and (surprise, surprise) reading. As a small-town librarian, he is currently relishing the silence and peaceful atmosphere that is prevailing.