Bio
Murakami, in Japanese with his name and surname reversed, was born on the 12th of January, in the year of 1949, in Kyoto, Japan. Murakami is a famous, adored Japanese author, whose works have been featured atop bestseller lists both domestically and internationally. His works have been translated into as many as fifty different languages.
As noted, Murakami was born in Kyoto, Japan, right around the time of the baby boom following the Second World War. He was brought up in Shukugawa, Ashiya, and Kobe. Murakami was a sole child, with his father being a Buddhist priest's son and his mother an Osaka merchant daughter. Both his parents taught Japanese literature.
---
Best Haruki Murakami Books
---
Influences and Awards
The Murakami's writing, and even he, himself, has been under the influence of Western and Russian literature. From reading authors like Jack Kerouac, Charles Dickens, Kurt Vonnegut, Dostoyevsky, Kafka, etc.
Murakami has succeeded in distinguishing himself from the fray. Throughout his career, Murakami has received the Franz Kafka Prize, the World Fantasy Award, the Jerusalem Prize, and the Frank O'Connor International Short Story Award, among many others.
---
Love Marked by Tragedy
Norwegian Wood is the novel that pushed Murakami towards the world stage. As such, it is one of the most popular Haruki Murakami books of all time. Norwegian Wood was published in the year of 1987. It is often quoted as being one of the top Haruki Murakami books, as well.
The main character of Norwegian Wood is Toru. The story begins with Toru, well into his more mature years, on a plane as he hears a certain tune that reminds him of a time quite long ago. We jump into the past as we then meet a young, aloof Toru as a college student in Tokyo. Toru loved a girl of alike age named Naoko and she loved him back, but when their best friend killed himself, everything was tinged with a certain morose and dreadful air.
Whirlwind of Emotions
Now, as the young man navigates through the years of college, what with education, life on the campus, the seclusion, isolation, and loneliness that he feels, he senses that Naoko doesn't have the same proclivity for going on despite it all, but instead finds the onerous duties to be insurmountable.
Naoko resides in a sanatorium, deep into the country and the mountains, as Toru tries to wrestle with the things given to him. Soon enough, he begins having interactions with a girl from school, but can his melancholy be healed? Oftentimes, Norwegian Wood is looked upon as Haruki Murakami's best book.
---
Complicated Journeys
Kafka on the Shore is one of the standalone Murakami novels, one that is held in quite a high regard, with many fans going so far as to note it being among the best-rated Murakami books. Kafka on the Shore was published in the year of 2002. Kafka on the Shore is a tale that one will certainly like if one has a refined taste for this kind of literature.
One of the main characters, Kafka Tamura, a runaway that left his home with the intention of evading an oedipal, terrible prophecy, or to search for his mother and sister that have been missing for quite too long. The other is Nakata, a slightly moronic man, who is entering the senior years of his life. Nakata never recuperated from the affliction of the war, so he now feels as if he is drawn towards Kafka, but why and how, he cannot say.
All Those In Their Path
The journey that the two have, one that is as incomprehensible and enigmatic to each one, just as to both of them together, is one filled with many a thing happening.
Characters like a phantom-like pimp working with a prostitute that quotes the writing of Hegel, soldiers that streak the forest, yet haven't aged a day since the Second World War, conversations between cats and people, and many more are what make this magical realism tale such a delight to read.
---
The Cat and the Wife
The Wind-Up Bird Chronicle is, without wasting time, is one of the best Haruki Murakami books. The Wind-Up Bird Chronicle was published in the year of 1994, spanning some six-hundred pages or so. It is also one of the best-selling Haruki Murakami books.
In the city of Tokyo, Japan, namely in one of the suburbs, a young man by the name of Toru Okada is in a deep search over something that is missing. The object of his investigation is, in fact, the cat of his wife, with the latter being sick worrying for the little feline companion.
A Sweeping Search
Before he knows it, however, Toru is ensnared by the ongoing events and enters a search for his wife as well as the cat of fore. The search, then, is being carried out in the so-called netherworld between the imperturbable shell of Tokyo.
Worth noting is that The Wind-Up Bird Chronicle is, in fact, a book consisting of three books, all grouped under the same name, namely The Thieving Magpie, Bird as Prophet, and The Birdcatcher.
Enigmatic Characters
Now, while Toru searches for his wife's cat and his wife, he comes upon quite a few intriguing, enigmatic characters. A delightedly morbid teenager, an evil, yet charming politician, a psychic prostitute, and a veteran suffering from PTSD. To many fans, this is the best Haruki Murakami book.
---
Losing Out on Friendship
Colorless Tsukuru Tazaki and His Years of Pilgrimage, by no means just another entry among the Haruki Murakami book reviews, is a fantastic tale and one that we adore. It was published in the year of 2013 and it is one of the best Haruki Murakami novels, in our eyes. Worth noting is that it is among Haruki Murakami's new books, too.
Throughout our lives, everyone of us has, at some point or other, lost friends. They could move on with their lives, relocate to a different region, or unfortunately die. For the character of Tsukuru, losing out on his four friends, and a memory passing into his brain years and years after the fact is something that grips him with a mighty grasp.
A Life Marred by Loss
Tsukuru receives a phone call from one of his friends, where he is told that they unambiguously decided he is no longer a part of the group. This jolt at being pushed away from the group he loved so much, is something that he carries along for the rest of his life.
A dread for getting too close to others accompanied him everywhere. The Colorless of the title is pointed towards Tsukuru as he only walks through life in a fashion pale and languished. A magnificent story and one of the best books by Murakami.
---
Masterpiece
Hard-Boiled Wonderland and the End of the World, provided that we were concerning ourselves with Murakami's books ranked from one pole to the next, would find itself among the best of the author. Hard-Boiled Wonderland and the End of the World was published in the year of 1985, spanning four-hundred pages.
Divided World
Hard-Boiled Wonderland and the End of the World is a novel that gives us a look into a dystopic and utopic world, at the same time, it seems. In the dystopic one, the protagonist we follow, a thirty-odd-year-old man, working as a Calcutec in Tokyo, that is as a human encryption creator for a group concerned with spying and such, known simply as the System. The System's nemesis are the Semiotecs, ones that seemingly bow to the force of the Factory.
Hiding Out
The man accepts the job, working for a genius and terrific scientist, known only and solely as the Professor. The Professor has been hiding from both of the aforementioned factions as the newest discoveries he's made haven't exactly put him on anyone's tea-party list. With writing that is ultimately and always dreamlike, spiraling through the consciousness, Murakami paints a vivid picture.
---
What Is Desire?
Sputnik Sweetheart is a beautiful, wonderful tale, oftentimes dubbed as being the best Haruki Murakami novel. Sputnik Sweetheart was published in the year of 1999, with a page count of approximately two-hundred pages. It is one of Murakami's best-selling novels. The main character of Sputnik Sweetheart is none other than Sumire.
We have all been subject to some form or other of unrequited love or, to take a step back, a love that was in some fashion illicit or, even further, a love that was never meant to be. For Sumire, the love she feels is a magnificent one and it is a love aimed towards none other than Miu, a woman that is some seventeen years older than Sumire. Where Sumire is an author, struggling, and on the rise, Miu is a woman living in luxury, one granted by the great success she enjoys.
A Triangle of Love
Sumire and her best of friends, K, oftentimes spend hours upon hours just talking about the great puzzles of existence. One of these puzzles, logically, connects to Miu – what, in fact, is desire and how can she open herself up to Miu and tell her what she feels?
K, on the other hand, is stumped at whether or not he should bear himself to Sumire and reveal that he loves her. Before long, Sumire has disappeared.
---
Unique
Of all the Murakami's books 1Q84, or the books present therein, stand out as being quite unique and very, very special. 1Q84 is one of the best Haruki Murakami book series and one we can't recommend enough. It would be somewhat fruitless to put these particular Haruki Murakami books in order, seeing as they all bear the same title.
World so Similar
The year when the story happens is 1984, as the title implies. We are located in Tokyo and we follow a woman named Aomame. Aomame is a young woman, one that is currently going through with the recommendation given to her by a strange taxi driver.
As she does, she soon begins to observe the many oddities in the world which surrounds her. In her head, she believes she has walked into a parallel world, one she names 1Q84, with the Q bearing enough resemblance to a 9, while also being a letter marking Question.
Nothing Better to Do
Another character we follow, Tengo, is a writer on the rise, struggling with the things that all novelists are seemingly afflicted. Tengo has just received a ghostwriting project to work on, one that is suspicious, but what can he do?
Before long, though, he is pulled into a world different from the one he is used to, with his pale life gaining color. Among Murakami's best books, without a doubt.
---
Memoir
A book from Murakami that takes the author a bit away from the usual kind of writing he does is What I Talk About When I Talk About Running. The memoir at hand is, of all Murakami's books, one of the best books written by Murakami. The memoir was published in the year of 2007.
Getting Into Running
In the year of 1982, Murakami decided to sell the jazz bar he owned and to plunge himself willingly into the world of writing, but he also needed a hobby that would keep him fresh while he does so.
That is how Murakami came upon the idea of running. In 1983, Murakami took part in a solo course all the way from Athens to Marathon, which has certainly lent itself brilliantly to the author's mind and his writing.
A Revelatory Book
With a terrific career, with so many books acclaimed, with the deserved moniker of Murakami's famous books, and with so many marathons and triathlons, Murakami has given us here a piece of writing that ruminates on the pastime he devoted himself. With specific details about notable periods of his life, this is one of the author's most revealing works.
---
Enigmatic
The Rat series by Murakami is another very much deserving of the title the best Haruki Murakami series. Among the books of Haruki Murakami, one is always liable to find some strange works, but none as enigmatic as the Rat series. These four Haruki Murakami's books in chronological order are:
Hear the Wind Sing
Pinball
A Wild Sheep Chase
Dance Dance Dance
The Grip of Suicide
In the series' first book, Hear the Wind Sing, the narrator tells us a story set in the summer of 1970. A student in a Tokyo university back then, the young man was coming back to the hometown by the sea for the period of the summer.
The previous spring, the young man had been involved with a girl that ended up killing herself. Now, as the summer is underway, he frequently finds himself in a bar, downing as much beer as he can.
A Chance for Something Again
A friend of his, one nicknamed Rat, always accompanied him to the bar referred to as J's bar. One odd day, the narrator had come upon a girl lying on her back in the bathroom, so he ended up taking her home.
He remembered her by the fact that she was missing a left pinkie. Before long, the two see each other, this time soberer, at a record shop, before they begin hanging out together. The story has only just begun. On the list of Murakami's books, these four are definite stand-outs.
---
Amazing Work
Among the Haruki Murakami books list, one can find his strangest, oddest, and most enigmatic work ever – After Dark. After Dark is a short read, less than two-hundred pages, that was published in the year of 2004. It is in league with Murakami's best novels, too.
After Nightfall
The story of After Dark is one that follows two sisters. Eri is a fashion model that has been afflicted by an odd spell of slumber, while Mari, is a young student sitting in a Denny's. The Denny's in question is never revealed to us, but she enjoys sitting there, all by herself and alone, from time to time.
This time, however, she is pulled into a world very different from her own. Meeting people like a jazz musician that claims to have met her prior, a love hotel manager, a Chinese prostitute that had been abused, and many others, Mari's night has only started.
The Phenomenology of Time
On the inside, the story, one can't exactly tell, might be an investigation or a look into the human relationships that come after nightfall, it could be an analysis on the nature of time and how it moves, or, perhaps the most correct answer, it could be a Murakami tale, one that has something for everyone. A more than worthy pick from Murakami's novels. The Elephant Vanished and After the Quake are two other books we recommend.
---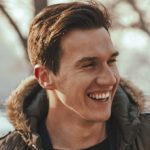 Michael is a graduate of cultural studies and history. He enjoys a good bottle of wine and (surprise, surprise) reading. As a small-town librarian, he is currently relishing the silence and peaceful atmosphere that is prevailing.