Promising Talent
Fredrik Backman is a Swedish contemporary fiction writer who has achieved worldwide acclaim. Seven of his books -with five of them being included in this list- have reached the number one bestseller status in Sweden and his books have been translated into more than twenty-five languages. Considering he started his writing career just ten years ago, these are very big accomplishments and he seems well on his way to getting even more successful.
Well-Seasoned Writer
The author's home city was Helsingborg which is in the Scania province. He first started writing with the "Helsingborgs Dagblad" which is a Swedish newspaper and later on, he wrote for a Swedish men's magazine called "Moore Magazine". After his highly successful debut in 2012 and the amazing results from its English translation in 2015, he attracted the attention of Atria Publishing Group which translated all his books into English.
---
Best Fredrik Backman Books
---
The Current Masterpiece
We are starting this article with the best selling one of Fredrik Backman's books. It is also the first of the Fredrik Backman books made into movies with the initial Swedish adaptation in 2015 and a remake in English that will include Tom Hank as the main actor which will be released in 2023. It is also the first ever book of the author to be translated into English.
A Character we are Familiar With
As you can excerpt from the title, the story revolves around a man called Ove. He is an old and grumpy man from the outside yet you could see his heart is in the right place if you looked closely enough. Do not get the wrong impression though, he is still a man with his faults. Just to name a few, his bitterness, habits from the old, and non-flexible worldview are some of them.
Yet as is the case for most people similar to him, these problems only come from a past filled with sadness that hasn't yet been relieved. This is when a cheerful young couple and their two small daughters come into play their parts in the story as a new family in the neighborhood. They introduce themselves to their new-neighbor Ove by accidentally running over his mailbox which will be the seed of the friendship between them.
Perfectly Balanced
The most enjoyable part of this one of the best rated Fredrik Backman books was how it balanced a story that has both very depressing and comedic elements. We see the main character Ove noticeably going through a lot of pain as a part of his daily life but this is made less heartbreaking with the comedy the book includes and the fact that Ove finally has a chance to learn
---
Unusual Choice
The latest book by Fredrik Backman, Anxious People attracts attention to itself by being a mystery book that the author does not usually prefer to write. It still feels very much authentic for the author though, it is an almost whimsical crime story with Backman's usual sense of humor and heartfelt tone worked into it. It is also worth mentioning that despite having been published just three years ago, it's the second most popular of Fredrik Backman books.
Gone Wrong
The title of the book refers to eight characters in the story who get taken hostage during an apartment viewing by a "bank robber" who had been as unlucky as his innocent hostages that day. The police are later on introduced to the setting and the book goes back and forth between the event and the police interrogations. It is very challenging to describe the rest of the story but I'll give it my best.
Hell is Other People
Basically, the real story of the book is how vastly different people each with their own secrets are forcibly kept together. As you can guess, being a hostage can get a little bit boring so the hostages have to choose between being subject to boredom and anxiety or talking with each other. The conversations get progressively sincere as time goes on and by the end, we get to bond with all of the characters including the policemen and the robber.
Puppet Master Fredrik
Fredrik Backman's new book mainly plays around with different personalities. It is a game of puppets mastered by the author; about the darkness that people can hide inside themselves, a bank heist, the suicide epidemic, the housing market, and a few more things. In fact, it concerns itself with so many important topics that I feel like I would have to read it two or three times just so I can actually understand everything.
---
The World of Junior Hockey
The best series by Fredrik Backman, Beartown Series is about a small town located by the side of an ice rink, the junior ice hockey team of the town, and the contemptuous nature of us humans. I know, Backman's books always sound a bit weird when you try to simplify them. I actually think it's a purposeful choice by the author to make his stories a little absurd so he can handle serious topics with less tension.
A Town at Risk
The series consists of three books. These Fredrik Backman books in publication order are Beartown, Us Against You, and The Winners. The first book starts off with Beartown being at the risk of getting abandoned as the forest engulfs it and nothing interesting ever happens. The hopes of restoring the town are kindled, however, with the junior hockey team reaching the semi-finals in the national tournament. If they manage to win the competition which seems possible, they might just save the town.
From there on in the series, we see the residents of Beartown desperately cling to the junior hockey team for the future of their residence and we witness what they are willing to do in their desperation. There are many disturbing acts committed throughout the series which reach a climax with the last book. After the things they go through, people of Beartown start to question themselves and their beliefs which only results in more desperation and more atrocities.
Best Series
Beartown is unique in the way that the author chooses to show the capability for evil the characters have. He does it very well too, by providing motives so great that makes you question yourself if you would commit the acts that the characters did. He doesn't fail to show us the innocence that lies in the heart of all the characters too. Being as finely produced as it is, Beartown is the undeniable best Fredrik Backman series.
---
"Socially Incompetent"
Next up on our Fredrik Backman books ranked list is a story of -although it is never explicitly mentioned in the book- OCD. Also, the main character is also one the author created some years before as a briefly shown side character in "My Grandmother Asked Me to Tell You She's Sorry". I had a bad feeling when I first picked up the book as I found the character unlikable in the previous book but it was thankfully an inept worry.
The status-quo for Britt-Marie is that she is a dainty woman who can't stop giving advice to people which they all receive in the wrong way. Her journey starts when she catches her husband, who sees Marie as "socially incompetent", cheating. Heartbroken and conflicted, she figures a change of scenery might help her feel better. Where does she choose to go you ask? A town in its dying bed located in the middle of nowhere, Borg.
A Lot to Take Care of
This turns out to be a good choice though, as Marie is an ambitious person at her heart who wants to prove herself and Borg fortunately has a lot of openings when it comes to jobs and duties. She comes into town and starts working as a caretaker in a recreation center which will be demolished very soon. As time goes on, her ambition leads her to play a helper's role in many of the town's residents' lives.
Simple and Meaningful
I would say this novel has the best story among all of the Fredrik Backman novels. It is a mindfully simple story. There is not really much going on but the things that do happen feel very meaningful and in place. I will not say much about it but the ending ties everything together beautifully too. This piece is definitely among the best Fredrik Backman books for me.
---
Is it Just Me or?
My Grandmother Asked Me to Tell You She's Sorry is the first fantasy book by Fredrik Backman on this list. Having read as much as I have, I have come to the conclusion that almost every adult fiction author has a book where they explore their style from the eyes of a young protagonist. Having the seven years old Elsa as its main character, this book is Backman's example for my made-up rule.
Tight as Thieves
Elsa is a unique child who lives with her grandmother, aged seventy. They are the bestest friends in the world. Elsa watches her grandmother chase away missionaries with her paintball gun and the grandmother tells bedtime stories to Elsa from a place called the Kingdom of Miamas in the Land-of-Almost-Awake where everyone is content with being unique in their own way just like Elsa and her grandmother.
Honoring Her Memory
The part that makes this book a worthy contender for the best Fredrik Backman book title starts with the grandmother's sad but kind of timely passing. Turns out, being as good a person as she is, grandma has written an apology letter for all the people she has wronged in his life. After taking up the task of delivering these letters, Elsa finds herself in a world of fairytales and also a little bit of misery.
Story Inside Story
What can I say? These pieces are always above average for adult-fiction writers and this one is no exception with being one of the best novels by Fredrik Backman. The part I liked the most about the book was how wonderfully it included other small narratives in the story. This is what being a child is all about after all, learning every story you can find along your way to adulthood.
---
Get Your Napkins Ready
This sorrowful story I will talk about is the second in the list of top-rated Fredrik Backman books. The author usually tries to let the reader down gently when it comes to the heartbreaking moments in his stories but this one is just… It is basically a downhill ride through the tear valley. The story does not have sad moments, it is sad all the way from the beginning to the end.
A Father's Last Amends
The book is a novella about a charming old man with Alzheimer's disease saying his goodbyes to his grandson. We learn all about grandpa's life as he shares them with his son, sitting right beside him on a bench; his achievements, his proudest moments, as well as his losses and regrets. Just behind the bench, a purple hyacinth is blooming. It was once the favorite flower of grandma, who we learn has also passed away due to Alzheimer's.
Too Much Weight for a Kid
On the other side of the story, listening to grandpa's stories is Noah. Who, unbeknownst to the granpda is not his son but his grandson. Although it is never openly discussed, we conclude that he has been by the side of his grandmother when her sickness was at its worse. And now, he has to witness his grandfather suffering the same fate as well. I don't even know who we should feel sadder for in the story.
Pure Emotions
This might just be the saddest novella I've ever read. The author lets go of the humor and absurdity he uses to soften the settings he uses and leaves us with only the emotional parts engulfed in heartbreaking beauty and love. The story is not only about loss but also the fear that comes with memory loss. This fear is embedded subtly into every single word coming out of grandpa's mouth and it nearly finished me once I noticed it. It's the single best Fredrik Backman book for me.
---
Tales of Fates
The last piece I will go over in this Fredrik Backman book reviews list is a collection of three short stories, one of them being "And Every Morning the Way Home Gets Longer and Longer" which I decided to write about separately above. While one of the remaining two stories is about a young man choosing a fate for himself, the other is about a grown man questioning the fate he chose.
Are you Happy Now?
The first story is the titular "The Deal of a Lifetime" which takes place on a Christmas Eve and is along the lines of a classic "spirit of the Christmas" story. As the main character, we have a businessman who managed to achieve the impossible and built a worldwide business from the ground by himself. Along the way though, he turns out to have lost his family and gut-wrenchingly, his daughter too.
Fight the Darkness
The last remaining story is "Sebastian and the Troll" which is another fantasy piece by the author. It tells the tale of a curious young boy who lives inside a glass bubble and one day wakes up to find a troll sitting right beside his bed. Turns out, the boy's bubble is about the burst and the troll has come to warn him about it. More importantly, he has to teach the boy how to fight his nightmares since he will have to do so when his bubble eventually breaks.
Could Be Much More
For me, The Deal of a Lifetime and Other Stories falls a bit short in quality compared to the best books by Fredrik Backman. I feel as though the author wanted to practice writing tragic stories and yeah, he succeeds in that. However, it is just not enough. For example, if Sebastian and the Troll was a full length book with the author's usual writing, it could very well compete to be the best Fredrick Backman novel. Stories are explored from one angle only and it leaves some things desired.
---
Final Thoughts
Fredrik Backman is an authentic writer who does not seem to be concerned with writing like someone else. He also seems to like trying out new things as almost all of his books are completely different than each other. This could be a good thing but I think it should be done in a balanced measure. It is far too easy for an author to try and be "too much" and end up with disappointments in their hands. Overall though, he is a very talented writer whom I'd like to read more of in the future.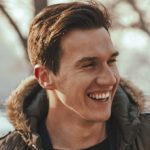 Michael is a graduate of cultural studies and history. He enjoys a good bottle of wine and (surprise, surprise) reading. As a small-town librarian, he is currently relishing the silence and peaceful atmosphere that is prevailing.