Ree Drummond
Ree is a humorous redhead, the wife of a cattle rancher (She calls him the Malborough Man), and a blog writer par excellence! The musings of her life, which are taken from her popular blog, have become the script for this best Pioneer Woman cookbook – The Pioneer Woman Cooks: Recipes from an Accidental Country Girl.
Life-Changing Decision
Drummond left her life in Los Angeles, where she was a staunch vegetarian, and married a cattle rancher in Oklahoma. After making that life-changing decision, she embraced the farm life and has raised a brood of children, accumulated a large number of pets, and is always cooking up a storm. Without further ado, let's now take a look at Ree Drummond's best cookbooks.
---
Best Ree Drummond Cookbooks
---
What Will I Find in This Book?
Drawing her inspiration from her cattle-ranch life in Oklahoma, Ree has compiled recipes that she calls "cowboy food". These consist of hearty, meat-based dishes with lashings of flavor. Her "cowgirl food" is more delicate in flavor and portion size, and covers the snacks, salads, sandwiches, and lighter meals with a touch of her vegetarian past. This is not only the first book on our list of Ree Drummond's cookbooks but also the Pioneer Woman's first cookbook ever published.
Calorie Alert!
Ree has produced this uncomplicated food in her state-of-the-art kitchen, keeping the cowgirl theme running through her baking, pasta, and hearty meals. Every recipe is imbued with her witty personality and earthy vibe. The recipes are not fancy food by any means. However, this makes them perfect for the beginner cook as they have clear instructions and follow basic cooking methods. So if you want to learn how to cook, this might be the best Pioneer Woman cookbook out of all Drummond's cookbooks.
Be warned that these recipes are not for the fainthearted, or anyone who has a heart problem of any sort! They contain lots of ground meat and are full of calories. While the recipes are sound, you may need to find alternative ingredients to make them less artery-clogging.
Excellent Photography
The cookbook is filled with stunning photographs of her dishes as well as giving the reader an insight into her life on the cattle ranch. She happily shares photos of her children, household pets, and her beautiful horses. This glossy cookbook will not look out of place on your coffee table.
How we mentioned above, this is Drummond's first cookbook and it has already made the New York Times bestselling list! She will entertain you with her wit while winning you over with her delicious cowgirl, farm-fresh grub. One of the best from the Pioneer Woman cookbooks list.
---
Straight From Oklahoma
The New Frontier by Drummond will make you envious and hungry in equal measure! This is one of Ree Drummond's cookbooks ranked as the best-selling according to the New York Times. It introduces us to the latest recipes that she has tested in her home kitchen on a remote cattle ranch in Oklahoma as it is one of Drummond's new cookbooks published in 2019. It provides updates on her amazing life and uplifts us with her love of cooking. Simply Ree Drummond's best cookbook!
The New Frontier
Ree is an innovative and inspiring cook who never stops evolving. While her basic mantra is "I cook hearty food" she has introduced new tastes, colors, and emotions to the ordinary daily fare that is on offer on the Drummond Ranch.
When you have a large family to cook for you need plenty of wholesome recipes up your sleeve. Everyone on the farm gets plenty of exercise and fresh air to work up an appetite, so Ree needs comfort food to hand. She also homeschools her children so Ree has prepared all the daily meals her family need. It is Drummond's recipe book that deserves a prime place on your bookshelf.
112 New Recipes
The New Frontier comprises 112 exciting new recipes to elevate daily meals to a new level. Reacting to some criticism about the calorie loading in the previous Drummond's books, she has worked on making these new recipes healthier while retaining flavor. That's partly a reason why it is one of the most popular Ree Drummond cookbooks and one of the best-selling Drummond cookbooks as well.
You will find recipes for breakfasts that will definitely get you out of bed and scrumptious soups and sandwiches for lunches and picnics. Dinners that will satisfy a hungry cowboy are a must in Ree's household and he always has space left over for dessert, so she has included a range of palate-pleasing ones.
What About Those of Us Who Have Busy Lives?
If you are wondering how you can manage to cook all these delicious meals when you have very little time, do not fret! Ree has the luxury of living on a cattle ranch, but her life is far from restful.
As a businesswoman, wife, and mother, she understands exactly how hard the average working family is working to juggle the daily demands and still produce the wholesome food that we all crave.
The Recipes
This Pioneer Woman's latest cookbook has recipes that are packed with seasonal flavor so that you can make the most of the freshest local ingredients. There are many reasons why this is one of the best-rated Drummond cookbooks. Here is a sample of the delights to choose from this cookbook:
Portobello Bun Burgers
Instant Pot Pumpkin Spice Oatmeal
Fried Tomato Sandwich (with pesto mayo and whole basil leaves)
Teriyaki Shrimp and Pineapple Parcels (the new way to stir fry)
Parmesan Crisps
Ranch Pork Chop Supper
Do I Need a Wide Range of Cooking Appliances?
Ree has used multiple appliances to make these recipes, but you can use whatever you have to hand and adjust the timings. The techniques for stir-frying, using an air fryer, instant pot, and a Dutch oven are all explained and the instructions are supported by a host of full-color photographs in this one of Drummond's best cookbooks.
A Final Word
As you experiment with these innovative recipes, you will find tips on how to adapt and replace ingredients to suit your taste. The most exciting aspect of The New Frontier is that you can make your everyday meals as exciting as take-out food, but with the assurance that everything comes from your kitchen and is guaranteed to taste good! It is one of the most amazing cookbooks by Pioneer Woman!
---
The Legend!
Drummond's story is certainly not rags to riches, however, it is about going from being a vegetarian to a cattle rancher's wife, which is just as diametrically opposed, I suppose.
She is now an award-winning pioneer cookbook author, photographer, businesswoman, and full-time mother and wife. I guess you could say she has a lot going on! And that is why we can rely on her to inspire even the busiest of us to cook the best food with this Pioneer Woman recipe book.
Food From My Frontier
With her down-to-earth wit and unpretentious style of cooking, she has won the hearts of home- cooks the world over. Her food blog is very popular and her best-selling Ree Drummond cookbooks are a spin-off from her writing. This is Ree's second cookbook and it is perfect for busy homemakers who need practical advice for getting nourishing food on the table as quickly as possible.
Drummond's photography is not just to make the food look pretty. It is a visual tutorial of each step of the recipe and we all know a picture speaks a thousand words. So, you cannot go wrong when you cook one of the delicious recipes from Food From My Frontier. This is one of the best-rated Ree Drummond cookbooks that will encourage even the least confident cook to have a go at making these tempting dishes for your hungry hordes.
Frontier Food, Not Fancy Food
Her style of food remains unsophisticated and heart-warming. Hearty grub for her hungry brood and I am sure it will impress you and your family too. Her love of food and cooking is apparent in every dish that she prepares and that is always the way to serve food in my opinion.
Just take a look at this list of enticing, yet basic meals that she rustles up daily: Perfect Pancakes, Cowgirl Quiche, Sloppy Joes, Italian Meatball Soup, White Chicken Enchiladas, and spicy Carnitas Pizza. I don't know about you, but I am sold! This is just the type of food that hungry men and kids crave. I admit that it is not diet food, but with a few adaptations, you could reduce the calories while keeping the flavor.
Pioneer and Popular
Having said that, Ree has included some meals for special occasions, but they are not minimalist dishes that have to be plated with tweezers! For instance, she has included her recipe for Osso Buco, Rib-Eye Steak with onion and blue cheese sauce, Apple dumplings, and Coffee Cream Cake, which sound and taste delicious but certainly would not be classed as fancy food.
Ree assures us that her recipes are the way to the heart of any man, woman, or child and I do believe that she knows what she is talking about. This is one of the best cookbooks by Ree Drummond!
---
Holiday Favorites
Drummond's fabulous pioneer style of cooking in A Year of Holidays makes every day seem like Christmas! This award-winning cook will have you in stitches as she helps you get into the spirit of any special occasion. Anecdotes about life on the cattle-ranch with her cowboy husband and a large family of children and pets give a feel of authenticity to the best Pioneer Woman cookbooks by Ree Drummond.
Ree understands what it's like to have many hungry mouths to feed and she knows what people like to eat daily as well as on special occasions. Books written by Ree Drummond are full of down-to-earth food that will be of assistance to beginners and remind others about the traditional food that might have been forgotten along the way.
Highlights
There are the ubiquitous photographs of her home and family, as well as the informative ones that represent the steps in each recipe. In other words, each one is a recipe for success! If you are looking forward to a laidback Christmas or a stress-free birthday party, then you will be in good hands with this Drummond's holiday cookbook.
She is certainly not a persnickety cook and she has a relaxed attitude to little adaptations and "surprises" like too much cheese or cream. She is a feel-good cook and she wishes the same for her many followers. Without judgment, she makes even the most inexperienced cook feel as if they can succeed at making a good representation of her recipes. If this does not sound like the best cookbooks by Ree Drummond, we do not know what does.
Dishes You Can Look Forward This Year:
Coconut Ginger Baked French Toast
Chipotle Chicken Chili, Dressing with Dried Fruit and Nuts
Broccoli-Wild Rice Casserole
Caramel Apple Pie
Turkey Pot Pie
Christmas Rum Pudding Cake
Entertaining and Easy
Safe in the knowledge that Ree has done all the hard work of researching and testing these recipes, you will be able to plan and deliver delicious meals for breakfast, lunch, and supper on any special occasion that you choose to celebrate.
With 17 recipes for Thanksgiving, romantic Valentine's dishes that will save you a bomb, and with treats to make from Easter through to Christmas, you will never be at a loss for treats that everyone can enjoy. If you are looking for delicious holiday treats, this is the best Ree Drummond cookbook to start with. Party all year round with Pioneer Woman panache!
---
Everyday Food
If anyone understands what it is like to juggle work and family commitments, then Drummond does. With her prolific blog and cookbook writing, cattle ranching, and caring for a large brood of kids and pets, she has empathy with your workload. That is why she has produced The Pioneer Woman Cooks: Come and Get It which is the last entry in our Ree Drummond book review!
What's in It for Me?
Plenty of straightforward recipes that require little preparation, but deliver a great punch of flavor, is what you can expect from this book. After all, it is one of the Pioneer Woman cookbooks ranked at the top! It is so easy to rely on the same old recipes and get stuck in a rut when you have to produce three meals a day for every day of the year. It becomes tedious for you and it must certainly be boring for your family.
Ree to the Rescue
This is one of the top Ree Drummond cookbooks that remind you that cooking for your family and friends should bring you joy and give them nourishment for their bodies and souls. So, she has tried and tested a selection of simple recipes that take the pain out of planning and cooking and put the fun back in!
Come and Get It! has more than 120 recipes for every possible time of day, as well as all the snacks, treats, and desserts that should be included just for the hang of it.
In the Nick of Time With the Pioneer Cook
This might be the Pioneer Woman's best cookbook for many and it reminds you that cooking for your family and friends should bring you joy and give them nourishment for their bodies and souls. So, Drummond has tried and tested a selection of simple recipes that take the pain out of planning and cooking and put the fun back in!
There is a wide range of dinners that are classified according to how long they take to cook. This is super helpful as you don't want to bite off more than you can chew when the kids are hanging around proclaiming loudly that they are "starving". Now you can be sure to rustle up a scrumptious meal in exactly the amount of time that you have to spare at the end of a busy day. So if you are looking for the Pioneer Woman's dinnertime cookbook, this is one of Drummond's cookbooks ranked at the top.
Beyond Practical
Ree also utilizes a range of kitchen appliances to either speed things up e.g. the Instant Pot, or slow them right down i.e. the lifesaving slow-cooker that takes so little effort to produce food that is always delicious no matter what you throw into the pot.
Ree is a very practical cook and she is not snobbish about using a few shortcuts to shake things up a bit. She also understands that sometimes busy cooks need to improvise when there just has not been time to shop for special ingredients. Why not use frozen dough or instant pancake mix when time is of the essence? This guilt-free home-cooking at its best!
Does Ree Bring Anything New to the Table?
This is one of the most popular Ree Drummond cookbooks, where you can find some delicious surprises and hidden gems. That is why it is one of the best Drummond cookbooks for the busy cook. I am talking about recipes like the Overnight Muesli, the Greek Feast, and the Citrus Salad with Vinaigrette. And the Fried Shrimp recipe is to die for!
There is also a range of baked goods for breakfast, a great selection of lunches on the go, and healthy, wholesome beef dishes with sauces that will have you salivating all over the photographs before the food even reaches your plate. Isn't it amazing that even though how many cookbooks Drummond has, she can still come up with new delicious recipes?
Dessert Alert!
Always leave space for dessert because the selection of quick and easy puddings are what you may think you don't have time for, but you really do! So, with the help and inspiration of Ree Drummond's best cookbook, you will be shouting "Come and Get it!" much to the delight of your family and friends.
We understand that it is difficult to decide which Pioneer Woman's cookbook is the best, but we hope it was a little bit easier to make up your mind with our Pioneer Woman cookbook review. Bon Appétit!
---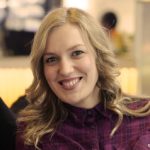 Alissa is an avid reader, blogger, and wannabe writer. (She's a much better cook than a writer actually). Alissa is married, has one human, one feline, and two canine kids. She always looks a mess and never meets a deadline.